3rd January 2020
 Recording of the Week

,

  Lines Written During a Sleepless Night: The Russian Connection
As temperatures remain stubbornly in single figures, my musical year's got off to a most apposite start with a journey through chilly climes in the company of Louise Alder: Lines Written During a Sleepless Night: The Russian Connection (released today on Chandos) sees the young British soprano exploring her family history with a programme of songs by Rachmaninov, Sibelius, Grieg, Tchaikovsky, Medtner and Britten. As she explains in a thoughtful booklet-note, several generations of her mother's family lived in Odessa in the late nineteenth and early twentieth centuries, and the album traces their path back to England via Finland and Norway during the First World War.
A recital of big-boned Romantic repertoire wasn't exactly what I'd expected just now from Alder, whose lithe, bright soprano and perky stage-presence have won her considerable acclaim in the lighter Mozart and Handel roles: many of the songs here (including Britten's The Poet's Echo, dedicated to powerhouse Russian soprano Galina Vishnevskaya, and the Sibelius songs, popularised by the great Wagnerian Kirsten Flagstad) are associated with darker, heavier voices, but she rises to their challenges quite superbly and the programme as a whole reveals an array of intriguing new colours and textures in the voice which look set to take her into pastures new in terms of operatic roles over the coming years. The cool, occasionally even steely timbre that's emerging suggests that her future lies in Northern and Eastern European repertoire rather than French and Italian heroines: she'd surely make a wonderful Governess in Britten's The Turn of the Screw, and the febrile sensuality on display in songs like Sibelius's Flickan kom ifrån sin älsklings mote made me wonder if Janáček's Katya Kabanova might be on the horizon a few years down the line.
Alder's easy facility with the various languages encompassed by the programme was another slightly unexpected delight for me, having heard her mainly in Italian-language roles until now: her incisive German was already a known quantity thanks to a mettlesome Sophie in Glyndebourne's Der Rosenkavalier a few years ago, but she's equally responsive and idiomatic in Russian, French and Swedish (listen to her expressive use of consonants to evoke the rustling reeds in Sibelius's Säv, säv, susa whilst maintaining immaculate legato and you'll see what I mean). She's especially delicious in the Reynaldo Hahn-ish French settings which Tchaikovsky wrote for the flamboyant Ukrainian-born Nina Koshetz, with just a hint of Edith Piaf creeping into her delivery in the two Sérénades. And on a purely technical level, the evenness and steadiness of Alder's voice is a constant pleasure: she negotiates the lower reaches of the Britten and Tchaikovsky songs without any ungainly register-shifts, high notes are integrated and secure, and on the rare occasions when a hint of breathiness is apparent (for instance in the first two Sibelius songs, and at the end of Medtner's Meeresstille) it's always in service of the text and atmosphere.
As on her widely praised debut solo album of Strauss Lieder on Orchid a couple of years ago, Alder's partnered by the superb young song pianist Joseph Middleton, who seems to have a special affinity with light lyric sopranos (he's recorded several wonderful albums with Carolyn Sampson, who shares many of Alder's vocal qualities, and knows exactly how to draw maximum colour from the instrument without overwhelming relatively slight voices). There's certainly plenty for Middleton to get his teeth into here, especially in the Rachmaninov songs, where the intricate filigree of Daisies sparkles with beguiling clarity and the postludes of Dream and A-u had me longing to hear him in something like the Op. 39 Études-tableaux, composed around the same time. He's also a born story-teller, anticipating shifts in atmosphere before it's spelled out in the texts when required, and conjuring up whole aviaries of birdsong worthy of Messiaen in Grieg's and Britten's depictions of nightingales.
Shot through with glimpses of spring around the corner, this imaginatively-programmed and gloriously performed recital is the perfect companion for a long winter's evening: if it gave me one or two 'sleepless nights' of my own, it was only because its many beauties continued to run through my mind well after lights-out.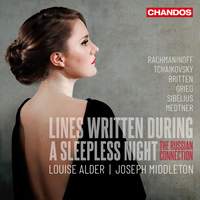 Rachmaninov, Tchaikovsky, Britten, Grieg, Sibelius, Medtner
Louise Alder (soprano), Joseph Middleton (piano)
Available Formats: CD, MP3, FLAC, Hi-Res FLAC