28th December 2019
 Obituary

,

  Peter Schreier (1935-2019)
The German tenor and conductor Peter Schreier, who was particularly noted for his performances of Bach, Mozart and Schubert, has died aged 84 after a lengthy illness.
Born in Meissen in 1935, Schreier was the son of an organist and cantor and began vocal training at a young age, singing with the Dresdner Kreuzchor under Rudolf Mauersberger and appearing as alto soloist on numerous recordings with the ensemble as well as making his opera debut at the age of nine as one of the Three Boys in Die Zauberflöte. He subsequently trained at the Musikhochschule in Dresden, and began his operatic career in 1957 at the Dresdner Staatsoper, where he won considerable acclaim as Belmonte and Tamino; he would go on to record both roles several times, and Mozart remained central to his repertoire throughout his long career. His operatic roles also included Pfitzner's Palestrina, Count Almaviva in Il barbiere di Siviglia, Wagner's Loge, Mime and the Shepherd/Young Sailor (Tristan und Isolde), and The Witch in Humperdinck's Hänsel und Gretel. Though Dresden remained his base for his entire working life, he also had long-term relationships with the Salzburg Festival (where he appeared for 25 consecutive seasons), the Berlin State Opera , the Vienna State Opera, and Bayreuth.
Schreier was also extremely highly regarded as a lieder singer, enjoying close relationships with Geoffrey Parsons and András Schiff (his recording of Schwanengesang with the latter won a Gramophone Award in 1990), and in oratorio; he once remarked that the prospect of performing Bach's Evangelists was one of his greatest motivations for becoming a singer, and recorded the Passions for conductors including Herbert von Karajan, Karl Richter and his mentor Rudolf Mauersberger as well as doubling as conductor and Evangelist on recordings of the St. Matthew, St. John and St. Luke Passions and the Christmas Oratorio later in his career. (Schreier had studied conducting alongside singing at music college, and from 1970 onwards he pursued a dual career, working regularly with the Staatskapelle Dresden; his discography as a conductor includes Acis and Galatea, the Brandenburg Concertos, and an album of Mozart arias with the Finnish soprano Soile Isokoski and the Tapiola Sinfonietta on Ondine).
Schreier retired from opera in 2000 (his final staged appearance was as Tamino in Berlin), and from oratorio five years later, though he continued to perform lieder whilst his health permitted. He died in Dresden on Christmas Day, and is survived by his wife Renate and their two sons. Schreier's many awards and honours include the title of Kammersänger (which was bestowed on him three times), the Royal Academy of Music/Kohn Foundation Bach Prize, and the Leipzig Bach Medal.
Peter Schreier - Ten Great Recordings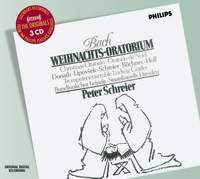 Helen Donath, Andrea Ihle, Marjana Lipovsek, Eberhard Büchner, Robert Holl
Staatskapelle Dresden, Rundfunkchor Leipzig, Peter Schreier (conductor & Evangelist)
Available Formats: 3 CDs, MP3, FLAC
Edith Mathis, Janet Baker, Peter Schreier, Dietrich Fischer-Dieskau
Münchener Bach-Orchester, Münchener Bach-Chor, Die Regensburger Domspatzen
Available Formats: 3 CDs, MP3, FLAC
Gundula Janowitz, Peter Schreier, Martti Talvela
Wiener Singverein & Symphoniker, Karl Böhm
Available Formats: 2 CDs, MP3, FLAC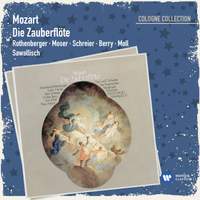 Peter Schreier (Tamino), Anneliese Rothenberger (Pamina), Edda Moser (Königin der Nacht), Walter Berry (Papageno), Kurt Moll (Sarastro), Theo Adam (Sprecher)
Bayerisches Staatsorchester, Wolfgang Sawallisch
Available Format: 2 CDs
Peter Schreier, Sviatoslav Richter
Available Format: Presto CD
Peter Schreier, András Schiff
Available Format: Presto CD
Theo Adam (Wotan), Yvonne Minton (Fricka), Peter Schreier (Loge), Christian Vogel (Mime), Siegmund Nimsgern (Alberich), Marita Napier (Freia), Eberhard Büchner (Froh), Karl-Heinz Stryczek (Donner), Ortrun Wenkel (Erda), Roland Bracht (Fasolt), Matti Salminen (Fafner)
Staatskapelle Dresden, Marek Janowski
Available Format: 2 CDs
Peter Schreier (Palestrina), Siegfried Lorenz (Borromeo), Ekkehard Wlaschiha (Severolus), Fritz Hübner (Madruscht)
Berlin Staatskapelle Orchestra, Otmar Suitner
Available Formats: 3 CDs, MP3, FLAC
Peter Schreier, Leipzig Radio Symphony Orchestra, Herbert Kegel
Available Formats: CD, MP3, FLAC
Håkan Hardenberger (trumpet), Irene Grafenauer (flute), Eckart Haupt (flute), Maurice Bourgue (oboe), Thorsten Rosenbusch (violin), Simon Preston (organ)
Kammerorchester C.Ph.E Bach, Peter Schreier
Available Format: 2 Presto CDs