21st October 2019
 Interview

,

  Gianandrea Noseda on Shostakovich
The Italian conductor Gianandrea Noseda embarked on a complete cycle of the Shostakovich symphonies with the London Symphony Orchestra back in September 2016, beginning with Symphony No. 5, and last November he conducted what Classical Source described as a 'blistering performance' of its predecessor at the Barbican which was recorded and released on the orchestra's own label at the beginning of this month.
I met up with him at LSO St Luke's this summer, the day before the orchestra headed off on tour to Riga, to talk about the musical and logistical challenges posed by the Fourth, how its performance history was impacted by Pravda's infamous attack on the opera Lady Macbeth of the Mtsensk District, and the reception of Shostakovich's music in the UK and in Noseda's native Italy.
The Fourth is one of Shostakovich's least-recorded symphonies - do you have any theories as to why that is?
There are certainly other Shostakovich symphonies which are more recorded than 4, yes – 5, 8, 9 10 spring to mind. It's one of the symphonies I enjoy conducting the most, not only out of Shostakovich's works but in general. The sheer scale of the piece might be one of the reasons for its neglect, and there's also the fact that especially the first movement in particular is terribly difficult, not just from a technical point of view but in terms of finding a way to get through it in a musically convincing way. Shostakovich is so full of ideas in this symphony, and he does some incredible things with orchestration, but in structural terms things aren't quite as tight as usual: I'm not saying it's a badly-crafted symphony as such, but it lacks that tautness which is so characteristic in his music.
To expand a bit on the challenges of the first movement, the big fugue in the coda is among the most difficult passages for the strings, and it really needs to be taken at an almost unbearably fast tempo: the winds, brass and percussion then join the fray in turn, so there are some very exposed and difficult corners for everyone. The piece also calls for a huge orchestra - ideally a little over 100, because you need a big string section and a lot of extra percussion, so it's very expensive to perform and especially to record…and if you don't have the option of doing it live, it's extremely hard to find someone to pay for a studio recording! And there's the question of venue: it really needs to be done in an acoustic which can handle vast amounts of sound, as well as somewhere which can accommodate all the players in terms of space.
How much was the work influenced by contemporary political events, and especially by Shostakovich's complex relationship with Stalin's government?
Shostakovich was composing the Fourth Symphony at the same time as Pravda launched their infamous attack on Lady Macbeth of Mtsensk, and he continued working on the piece even in the aftermath of all that. It was particularly cruel for Shostakovich, because the first performances of Lady Macbeth were very successful: at the beginning even Stalin loved the opera, but somehow after a few performances it was banned (maybe because Stalin was negatively influenced by Andrei Zhdanov). The score was decried as modernist cacophony, not 'music for the people': it was absolutely vicious stuff, and being attacked like that in your own country could really break the spirit of any composer. I still don't really understand why Shostakovich came into the Soviet firing-line so suddenly, but just in order to survive in that environment he started work on the Fifth Symphony, and apparently withdrew No. 4.
From my perspective, I actually don't think he takes a more adventurous path in the Fourth if you consider it in relation to Symphonies Nos. 2 and 3 (and especially the explosive First Symphony, which is a work of youthful genius): the Fourth is a gigantic work and it's written a bit like a monstrosity, but it's not particularly dissonant or (as Zhdanov might have put it) 'cacophonous'!
The LSO made a live recording of the symphony with Rostropovich during their Shostakovich Festival in the late 1990s - were you present for that performance?
I wasn't, and I don't actually know that recording (I'm very familiar with his No. 11), but I do know that Slava had huge affection for both Lady Macbeth and for the Fourth Symphony. In fact No. 4 seems to be a symphony which all the Russian conductors love very deeply; I remember going to an incredible performance with the Mariinsky Orchestra at the Philharmonie with Valery [Gergiev] in 2002/2003, and I have to confess that it wasn't a work which I knew particularly well at that point but it really blew me away. And in that same season Yuri Temirkanov did the piece with the St. Petersburg Philharmonic, which was also very special.
What was the reception of Shostakovich like in Italy when you were growing up?
Shostakovich certainly wasn't a great box-office draw in Italy when I was a student: it's a little bit better now, whereas in the UK he's a very good seller and really always has been. Perhaps that's partly because Shostakovich was a very close friend of Britten, with Rostropovich as the connecting link…I also think there are elements of Shostakovich that are very much connected with the Northern countries: composers like Sibelius or Nielsen, who are even more extreme in that respect, still aren't as popular in England as Shostakovich. Of course even in Italy if you program Shostakovich 5 or 8 you'll get a very good audience, but not so much for Nos. 15, 11 or 4! That's partly why I started with 5, 8, and 4; it's not that I fear symphonies like Nos. 11 and 15, but when you begin by putting your spotlight on the symphonies you know better and expand from there, you start to see the symphonies which you didn't immediately feel at ease with in a different light and can understand their language better. In Nos. 14 and 15 especially, Shostakovich becomes very much focused on the role of the composer: it's towards the end of his life, so he's doing a lot of thinking about how artists can influence society for the better, as well as confronting his own mortality. You need a certain gravitas to approach these symphonies, so that's why we decided on doing them in this order: next we'll do 6, 7 and 9 this season, then Nos. 13-15 two seasons from now.
Your first Shostakovich recording was with the BBC Philharmonic back in 2006 - how did that programme come together?
Yes, we did the Michelangelo Songs, the Six Poems of Marina Tsvetayeva and the symphonic poem October, all on one disc. Chandos asked me to do that project because of the Michelangelo connection – they knew about my relationship with the Mariinsky Theatre, and they liked the idea of having my Italianate soul alongside Shostakovich's Russian one! Shostakovich was inspired by Michelangelo not as a sculptor but as a writer: Michelangelo composed 166 sonnets, which are almost incomprehensible for a modern Italian speaker as he's even more archaic than Dante in The Divine Comedy. The scale and the tone of the language is really like one of his big marble sculptures, grand and sweeping and almost Classical in style, so Shostakovich asked someone to translate some of the verses into archaic Russian to preserve that quality; during the recording I remember asking our soloist Ildar Abdrazakov (who's a good friend of mine) if he could understand the Russian translation and he said 'I understand the general meaning, but certainly not every single word – the language is so old-fashioned but it sounds glorious!'.
How involved are you with the production of the LSO Live recordings, and how tricky is the Barbican acoustic when it comes to recording?
The Barbican isn't easy, especially when you have a massive production of sound as with Shostakovich 4: what works when you're caught up in the atmosphere and energy of a live concert doesn't necessarily translate to listening at home or with headphones, when you're relying solely on the impact of the sound. But the LSO Live guys really know their stuff, and now they know more or less what I want to get from the microphones: it's nice to create a real ongoing relationship with a producer and sound-engineer. I give the team carte blanche with the first edit, and once that's done I always go through the recording with the producer and the sound-engineer and ask them to trim this or that; I'll usually listen to the second or third edits, but by that point I tend to find that it's already as good as you can get!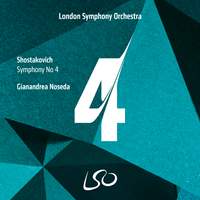 London Symphony Orchestra, Gianandrea Noseda
Available Formats: SACD, MP3, FLAC, Hi-Res FLAC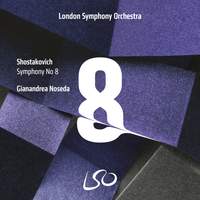 London Symphony Orchestra, Gianandrea Noseda
Available Formats: SACD, MP3, FLAC, Hi-Res FLAC
London Symphony Orchestra, Gianandrea Noseda
Available Formats: MP3, FLAC, Hi-Res FLAC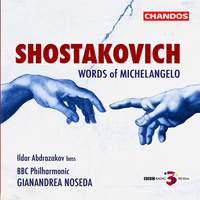 Ildar Abdrazakov (bass), BBC Philharmonic, Gianandrea Noseda
Available Formats: CD, MP3, FLAC, Hi-Res FLAC