10th September 2012
 Recording of the Week

,

  Mozart's Don Giovanni
Yannick Nézet-Séguin's Mozart series certainly starts with a bang! From the searing, blunt opening chords of the overture (the allegro taken at a breathtaking lick), it's clear that we'll be meeting a libertine whose appeal centres on primal vitality rather than on suave charm – and when he eventually appears, Ildebrando d'Arcangelo's virile, attractively rough-round-the-edges bass-baritone sounds better than ever before on disc.
It says much that he's not upstaged by his very classy sidekick here: Luca Pisaroni's recent Leporello at Glyndebourne was so effortlessly charismatic that he eclipsed even Gerald Finley as his master. Next to d'Arcangelo, he sounds like a younger and more vulnerable 'wing-man', but every scrap of humour, resentment, grudging admiration and fear comes across just as powerfully as before. (He also does such a convincing job of imitating Giovanni's voice when seducing Donna Elvira that I had to check the booklet to make sure that it wasn't actually d'Arcangelo singing!)
The opera's not short on terror even before the supernatural rears its head, and this has to be one of the most frightening Giovannis I've ever heard. The Commendatore's death is shockingly, audibly brutal, with the horrified aftermath suggesting that both master and servant are aghast at what's happened, and both Anna's narration of her assault and Zerlina's screams as she's molested at the party are bone-chilling. Both the 'Donnas' are thrillingly sung, full of nuance and vocal drama that leaps out of the speakers: Joyce DiDonato conveys both Elvira's fury and her fragility within the first minute of her music, whilst Diana Damrau's Anna manages to sound both tangibly traumatised and technically impeccable throughout. She has a slimmer sound than many of her predecessors, but manages the relentlessly high tessitura without the slightest strain, even ornamenting up to a high D at the end of Or sai che l'onore where many other Annas begin to flag! She's well contrasted with Elvira's tart mezzo, and they blend beautifully in the ensembles (try the sublime 'Mask-Trio'): again, the upper reaches of what's usually considered a soprano role hold no terrors for DiDonato and as Nézet-Séguin includes the two arias written for the Vienna premiere we get to hear her in Mi tradi (taken down a semitone, as with many other mezzo Elviras).
Reservations? Mojca Erdmann's sweet-toned Zerlina sounds rather bland next to the crackling theatricality of the other two ladies (though the booklet informs us that she portrays the peasant-girl as a 'thoroughly knowing young woman with no illusions' this doesn't exactly jump out from the recording), but for many the deciding factor will be Rolando Villazon's Don Ottavio. The Mexican tenor is relatively new to Mozart and perhaps not everyone will take to his grainy, occasionally pressured timbre, but it's an impassioned and red-blooded reading of a role that often goes for little and the two arias are wonderfully done. The series will feature him in all seven operas: I look forward to his Tito and Idomeneo immensely.
This fabulous set isn't the only Giovanni that'll be coming our way this autumn. If you're amenable to updated opera in translation (and reasonably broad-minded!) then you might want to look out for Juan, a 2010 film by Kaspar Holten, the new director of opera at Covent Garden. Christopher Maltman plays the anti-hero as a hedonistic experimental artist, with Holten taking inspiration from films such as The Bourne Trilogy and Traffic.
And for Mozart-lovers with no room for another Giovanni in their collection, René Jacobs's La Finta Giardiniera will be out on 1st October, presenting the 'Prague' version of the score from 1796. Re-orchestrated 'to a very high standard' (Jacobs) by an unknown hand to sound more like late Mozart, this is its first outing on disc and the recording boasts a stellar cast of Jacobs stalwarts. You can pre-order both these products via the links below: we have a video-trailer for Juan and sound-samples for Finta.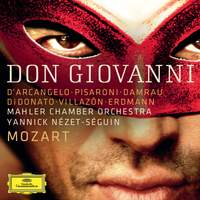 Ildebrando D'Arcangelo (Don Giovanni), Luca Pisaroni (Leporello), Diana Damrau (Donna Anna), Joyce DiDonato (Donna Elvira), Rolando Villazón (Don Ottavio), Mojca Erdmann (Zerlina), Konstantin Wolff (Masetto), Vitalij Kowaljow (Il Commendatore), Mahler Chamber Orchestra, Yannick Nézet-Séguin
Available Formats: 3 CDs, MP3, FLAC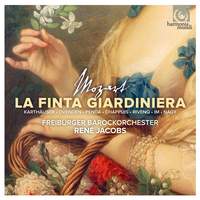 Sophie Karthäuser (Sandrina/Violante), Jeremy Ovenden (Il Contino Belfiore), Alexandrina Pendatchanska (Arminda), Marie-Claude Chappuis (Ramiro), Sunhae Im (Serpetta), Michael Nagy (Nardo/Roberto), Freiburger Barockorchester, René Jacobs
Available Formats: MP3, FLAC, Hi-Res FLAC