UPDATE: Royal Mail have now resumed shipments on their TRACKED, TRACKED & SIGNED and SIGNED services but delays should be expected, please choose these services if available to you or FEDEX if your order is urgent.
9th July 2019
 Interview

,

  Nicky Spence on Janáček
Janáček's operas have figured prominently in the Scottish tenor Nicky Spence's schedule over the past few years, and his visceral, heroically-sung account of The Diary of One Who Disappeared with Julius Drake and Czech mezzo Václava Housková has been one of the stand-out releases of the summer for me – part song-cycle, part miniature opera, the tale of a farmhand who leaves his family and village behind to embark on a new life with a gypsy-girl who's carrying his child comes across in all its earthy, erotic glory on the recording, which was released on Hyperion on 28th June.
Nicky was kind enough to take some time out of his preparations for Rimsky-Korsakov's The Tale of Tsar Sultan at La Monnaie to talk to me about his passion for Czech repertoire, the challenges and pleasures of mastering the language, and his plans to take on more Janáček on stage in the not-too-distant future…
Czech repertoire has played a pretty big role in your operatic career and discography: when and how did you get the bug?
I have a bit of an aversion to the rum-ti-tum operas of Donizetti and the sillier Verdi, so I've always sought out other repertoire which is more truthful. Janáček and Dvořák at his best are basically plays set to music in Czech speech rhythm. I remember seeing David Alden's production of Jenůfa at the London Coliseum when I was a student and being entirely changed by its subject-matter, honesty and immediacy. This epiphany led to my hoarding all of Janáček's scores into my library and when hitting upon The Diary, the love affair really began.
How did you set about learning the language, and what are the main challenges for native English-speakers?
My relationship with the Czech language as a non-native is always evolving. My first few operas in Czech were filed under 'it's complicated' but the more I've explored the grammar and vocabulary through the repertoire, I'm aiming further towards an idiomatic feel with each piece I undertake. This is all impossible of course without the support of tremendous coaches such as Lada Valešová, who has been an inspirational mentor for me in this. Vocally, once you've mastered the few sounds which don't exist in spoken English, the Czech language is ideal for the voice as it sits forward in the resonance and feels legato in nature, with so much potential for expression in the language. As a keen exponent of his music, I feel a duty to try and commit to the Czech language like a native.
The Diary has been staged as a sort of miniature opera on several occasions (most recently at the Royal Opera House's Linbury Theatre last month) – have you seen it performed like this, and would you be tempted to follow suit?
Borne from his obsessions with the subject matter, Janáček was almost cloying with his intentions for the mise en scene which isn't always possible, but I'd love to collaborate with a video artist like Netia Jones one day to further realise what Janáček had in mind. I was really sad not to see the recent Ivo van Hove incarnation of the piece on its rounds. You always need real imagination to find a suitable programme-fellow which wouldn't feel inferior. I think that's why many promoters have turned to commissioning living composers to write partner pieces inspired by similar themes or to present it next to an instrumental work. I was lucky enough to be able to perform The Diary nearly a dozen times in recital before we got to a recording environment and each of those times and the opportunities since have felt very much staged to me. The narrative is too true with such an honest arc that I feel it's impossible to deliver Janáček's honesty without embracing it as he originally intended.
Most of the recordings of the cycle to date (and there aren't too many of those!) have come from rather lighter-voiced singers: what are the particular vocal demands of the writing, and do you see any parallels with any of the Janáček roles in your repertoire?
In my mind, Janáček isn't a 'notes on a page' kind of composer, and I don't ever really think of sizes of voices per se: it's more about intention and projection of character for me. A lot of his music could have been written in simple time but Janáček pasted his melodies and leitmotifs together with complex rhythmic measures in a cut-and-shut style of notation, changing time-signatures every few bars. I think it's more important to embrace the effect Janáček was going for, which is further from the page in emotion but entirely achievable if you devote yourself to what he's written. In terms of vocal demands, it's diarised somewhere that the original tenors Janáček had in mind for the role in The Diary found the punishing tessitura too demanding. Like a lot of his big tenor writing (Laca in Jenůfa, Albert in Makropoulos etc), the vocal delivery is so emotionally led that once you've worked out the vocal challenges of the piece in the studio such as the two climactic top Cs in the final stanza in The Diary, the rest of it sees to itself in performance. Janáček would never be hoping for the same kind of top C you'd expect in a showy Rossini aria anyway.
The Diary starts off like a conventional song-cycle in the Schöne Müllerin mould, but develops in a different direction altogether – could you tell us a little about the more radical aspects of the piece?
I think The Diary is an absolute gem within the song repertory. It's quite incomparable to anything else, as it sits between the stools of song cycle, opera and solo piano work. It also doesn't necessarily conform to constructs established by the other great Lied composers, as its primary purpose is story-led rather than depicting particular atmosphere and moods. However, I do think there are parallels between Janáček's connection to the text of the 'anonymous' farmer and his beloved landscape of Moravia and Schubert's decision to set Müller in his great cycles which were similarly entrenched in a pastoral setting.
Ian Bostridge ploughed a field as preparation for performing the piece back in around 2000 – did you?!
Ha! I grew up on a farm so those activities and smells were already joyfully furrowed in my sensual memories... top marks to Ian for dedication though! I also grew up singing folksongs so I think there's something of a resonance between my Celtic heritage and the land of Moravian folksong.
The Moravian Folk Songs are much earlier works – how similar are they to The Diary in terms of style and themes?
Janáček is a man of the land and so many of his operas (such as Káťa Kabanová and certainly Jenůfa) are webbed with folk tunes which is where so much of his music began. I think Janáček saw this idiom as musical truth in its most honest and raw form, which didn't require musical translation for the listener. It's poignant, too, that in his letters he always daydreamed of bringing Kamila Stösslová [his muse in later life] to his personal idyll of Hukvaldy where so many of these folksongs originated.
What's coming up for you more generally over the next couple of years in terms of role debuts and other new repertoire?
I'm continuing the Slavic theme next season and singing my first staged Prince in Rusalka, and Lensky in Eugene Onegin - but of course, Mr Janáček is never far away too, as my first Albert in Makropoulos Case and that delicious rarity Mr Brouček are calling. Away from the stage, I'm most excited about recording my first Die Schöne Müllerin for Signum's Schubert Cycles in English translation. It will be a great experiment in making the works more accessible, and having worked recently with Jeremy Sams and his translations of Wolf's Italienisches Liederbuch for the stage, I know that our approach will very much uphold the composer's intentions while potentially finding Schubert even more fans.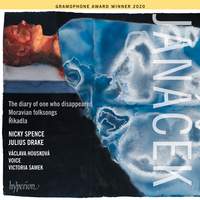 Nicky Spence (tenor), Julius Drake (piano), with Václava Housková (mezzo), VOICE, Victoria Samek (clarinet)
Available Formats: CD, MP3, FLAC, Hi-Res FLAC