21st June 2019
 Recording of the Week

,

  The Fellini Album - The Film Music of Nino Rota
Just as Hitchcock had his Herrmann, and Spielberg has his Williams, the great Italian director Federico Fellini's composer of choice (writing music for over two-thirds of his films) was Nino Rota, an incredibly prolific author of more than 150 film scores in total (arguably the best-known of which was for Francis Ford Coppola's The Godfather), alongside numerous concertos, orchestral works, and an opera.
This collaboration is honoured in a delightful album from Filarmonica della Scala and Riccardo Chailly, who present suites from five Rota-scored Fellini films. Chailly's affinity for Rota's music (indeed, in 1974 a young Chailly conducted Rota's piano concerto with the composer himself as soloist) is evident throughout every second of this performance.
It's clearly in the players' blood, too, with an effortless charm that is immediately apparent: there's a graceful magic to Amarcord that had me smiling right from the initial passage for muted trumpets and saxophone solo. The main theme itself, with its bittersweet, tenderly nostalgic feeling, fits the film's mood perfectly, and is frequently heard either on a pleasantly strumming mandolin or on a warmly delicate solo violin with piano accompaniment.
One of the often-noted features of Rota's film music is the abundance of pastiche and quotations of popular tunes and classical works that make their way into his scores, humorously intruding on an otherwise serene moment. So, bursting in between gentle statements of the main theme can be heard snatches of songs such as Stormy Weather, and at one point a solo trumpet comes crashing in with a cheeky rendition of La Cucaracha!
This sort of thing happens regularly, whether it be general allusions to other composers' styles (such as the chromatic writing for vibraphone and tremolo strings during a graveyard scene from Otto e mezzo that could be straight out of a Bernard Herrmann score, or the title music from La Dolce Vita that sounds like a cross between Respighi and Miklós Rózsa), or more direct "borrowings" (for example Carlotta's Gallop from Otto e mezzo, which with its manic intensity and insistently reiterated opening note is undoubtedly intended to evoke Khachaturian's Sabre Dance). One of the more overt of these occurs in Casanova, where Rota deploys the famous repeated chord from Stravinsky's The Rite of Spring during a bizarre, riotous scene at the court of the Duke of Württemberg, in which men sitting atop enormous stepladders bash away continually on several pipe organs dotted around the walls of the court.
Fellini's love of the circus is a running theme through many of these films, and Rota takes the opportunity to acknowledge this musically, most obviously by using Fučík's Entry of the Gladiators: there's a hint of it in a track from La Dolce Vita entitled Parlami di me (a la Circus), and, perhaps unsurprisingly, a full-blown quotation in the score for Fellini's 1970 exploration of circus life entitled simply The Clowns. Whatever the required idiom, though, there's no questioning the alacrity with which the La Scala players throw themselves into this music. Straight after the aforementioned organ-based merriment from Casanova comes a complete contrast with a movement entitled La poupée automate. It's calm yet eerie, with unsettling contributions from flute and celeste as Casanova encounters and dances with a mechanical doll.
It's often said that Amarcord is one of Fellini's most personal films, and I get the impression that it's a favourite of Chailly's too, for it not only opens but also closes the album, with a reprise of the theme that serves as an ideal coda (or perhaps, given the circumstances, I should say "End Credits"). Elegance and class radiate from this joyous album dedicated to one of the most justly-celebrated cinematic partnerships.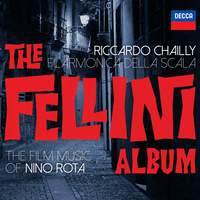 The Film Music of Nino Rota
Filarmonica della Scala, Riccardo Chailly
Available Formats: CD, MP3, FLAC, Hi-Res FLAC