30th May 2019
 Interview

,

  Xavier Sabata on L'Alessandro amante
Tomorrow night Xavier Sabata steps in to replace Marie-Nicole Lemieux as Ottone in a concert-performance of Handel's Agrippina with Il Pomo d'Oro at London's Barbican, opposite Joyce DiDonato in the title-role. Earlier this spring I had the pleasure of speaking to him about his recent album on Aparté, which explores the many and varied depictions of Alexander the Great in baroque opera and oratorio, taking in arias from works by Handel, Porpora, Vinci and Steffani. Read on to discover more about why he chose to focus on arias which present the Macedonian king as a lover rather than a fighter, and where Andy Warhol fits into the project…
The album's title is Alessandro amante – is your focus squarely on Alexander as lover rather than as warrior-hero?
The character was certainly very present in the baroque period: when I first started looking through manuscripts I never thought that there would be so many different incarnations! But very early in my research two different Alessandros began to emerge very clearly: the first reflected the warrior, and was typically written mainly for the high Neapolitan castratos, with plenty of top notes and crazy coloratura. But many of them were also were written for what I think of as the 'indoor' Alessandro: the lover, or the soldier after battle, and those roles tend to be written for contralto voice. Eventually I came across a libretto of this unknown opera entitled Alessandro Amante, and gave me my inspiration on how to organise the programme. Of course I had to include some of the martial stuff as well in order to give a more rounded portrait, but my main focus was on the 'amante' side – partly because it suits my voice and personality better, but also because that's where you see more contradictions about the character.
What historical sources (if any?) would these composers and librettists have engaged with when bringing this character to life?
In a lot of cases the literal connection is actually very vague – they used some of the battles and some of the real historical trajectory of the character, but they don't reflect the reality of Alexander the Great at all. Plenty of composers took up the figure of Alexander, but they developed it in totally different directions to cater to the commercial needs of the city in question, because writing opera for Rome was of course a very different matter than writing for Venice or for London. And I found it absolutely fascinating to see how this one historical figure was reimagined so many times to accommodate the needs of particular towns and audiences. For instance in the case of Antonio Draghi (one of the less famous composers on the album), it's more akin to an oratorio: he uses Alessandro as a vehicle to talk about morals of rulers and their use of power, so rather than going too deeply into the emotional aspects of the character it's more about how to reign and practise law. But then you have other composers, like Handel in Poro, who do focus more on that emotional side – and through including Handel's Poro as well as Alessandro we have the opportunity to see Alessandro through the eyes of others. Not every aria on the album is sung by Alessandro himself: some are sung by characters who are observing him or close to him.
Are there any instances of composers drawing parallels between Alexander and contemporary monarchs?
Certainly the use of historical figures to talk about actual rulers was very common in the eighteenth century, but I didn't delve too deeply into all of that. What did strike me was that Alexander was used in a very witty way by Handel in his opera Alessandro: he uses the figure of Alexander to tell the story of what he himself was living through in his company, with this triangle of three singers (the sopranos Francesca Cuzzoni and Faustina Bordoni, and the great castrato Senesino) who were making his life totally impossible! He depicts Alessandro as this very decadent ruler, but really it's all about Senesino who had these two women who were in love with him and at each others' throats the whole time. And Handel was caught up in the middle of all this, having to write exactly the same amount of arias (the same amount of notes, even!) for both women, so what he does here is not just very funny but also very clever.
And the Bononcini work (Euleo festeggiante nel ritorno d'Alessandro Magno dall'Indie) is something else altogether, isn't it? It's not oratorio and certainly not opera…
Right from the start I knew that I wanted to include something from that work, because I love Bononcini's music, and I don't think that we do justice to him or indeed to his family; there was actually a whole dynasty of Bononcinis, but we barely stage anything by any of them today. The one who lived and worked in London alongside Handel, Giovanni Battista, was a really great composer, and I chose two very different arias to reflect that. The album opens with Da tuoi lumi fulminato, which is sung by the soldier Ofestione whom some historians say was the lover of Alexander the Great as well as his military deputy, and for me that was another colour that I wanted to include on the album – on one level it's a battle aria but it's also a love-song to Alessandro, and I found that a very interesting place to go. Then there's Chiare faci al di cui lume, which is sung by Alessandro himself; it's essentially a strophic song with continuo and only a few other instruments, and for me it conjures up an atmosphere of him sitting by the fireside telling a story to his beloved and other people who are close to him. It's a very strange, beautiful aria has exactly that inward quality that I was trying to find to portray that 'indoor' Alessandro, away from the battle-field and the public gaze.
You're known for creating very striking artwork for your albums, and this one is no exception! What's the story behind the cover-image?
I try to conceive each of my recordings as a complete work of art, and I refuse to do things that just have a promotional purpose – of course I want my discs to sell, but I also want to be happy about every album as an artistic project. When it came to Alessandro I didn't want to do something very literal, with me impersonating Alexander the Great on the cover, but I also didn't want to just have a straightforward portrait of myself. I came across Andy Warhol's wonderful Masterpiece series of portraits, one of which is of Alexander the Great, and used that as my inspiration; Warhol's astonishing use of colour (pink, and yellow and red) makes it immediately obvious that we're focusing on Alexander the lover rather than the warrior. I would have loved to have featured the portrait itself inside the booklet, but unfortunately that was impossible because of the copyright fees.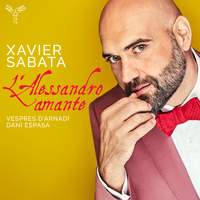 Xavier Sabata (countertenor), Vespres d'Arnadi, Dani Espasa
'Sabata sings this complex programme with his customary elegance and flair. His dark, warm alto has always sounded good in slower arias, where the long lines flow with ease and his breath control is exemplary…His coloratura, always placed at the service of characterisation or drama, can be spectacular…A wonderfully accomplished recital, and highly recommended.' (Gramophone)
Available Formats: MP3, FLAC, Hi-Res FLAC