5th June 2019
 Interview

,

  Martin James Bartlett on Love and Death
Taking its title from a movement of Granados's piano suite Goyescas and also featuring music by Bach, Schumann, Liszt and Prokofiev, Martin James Bartlett's debut recital on Warner Classics was one of my May Editor's Choices, thanks to the young British pianist's insightful programming and wonderfully lyrical playing. I spoke to him shortly after the album's release about the various connections between the works, his love of opera and song repertoire, and the 'cryptic messages' hidden within much of this music...
You've been performing a recital on the theme of Love and Death with the tenor Ben Johnson in concert this month - did the programme for your solo album evolve from that collaboration, or the other way around?
I'm a huge opera fan, and lots of the repertoire on the album derives from song or opera in its original form - but that came about more by accident than by design! Liszt's Widmung is derived from a song in Schumann's Myrthen, and he also originally conceived the Petrarch Sonnets as songs and subsequently transcribed them for the piano; the second movement of the Prokofiev War Sonata, too, is based on a beautiful song called Wehmut ('Sadness') from Schumann's Liederkreis Op. 39. And of course the majority of the Bach chorales are based on vocal music, too, as is the Liszt Wagner transcription. I've worked with Ben before, and we thought it would be great to put a recital together where the first half would finish with the Sonetti in their original form and the second half would open with me performing the solo piano versions by Liszt. It's fascinating to see which bits Liszt changed and refined along the way: the second version has so much more detail than the original, so at some point he obviously decided that he wanted to make it absolutely clear how things should be interpreted. I just found that whole process of comparison really rewarding, and it's informed my own playing of both works so much.
These are two enormous themes to grapple with in terms of programming – how did you start narrowing your options down?
The album's titled Love and Death, which seems a perhaps a little morbid – there is so much more love than there is death on the album! But I think the two in some ways go hand-in-hand: if you look at something like Romeo and Juliet, for instance, most of the great love-stories end in tragedy, and that makes them even more special and beautiful.
I knew I wanted to have a themed album, but I didn't want it to be crass in any way. The idea started to coalesce when I was playing the Liszt Widmung transcription a lot, and started looking closely at Rückert's text for the Schumann original: it begins with 'You are my heart, you are my soul…', but later on it says 'You are also my grave...'. That really got me thinking about how I could incorporate these two monumental elements together in a disc, which I knew would be quite a challenge!
Schumann's setting of Widmung ends with a quotation from Schubert's Ave Maria, which set me off thinking about heavenly love or agape, and eventually sent me back to Jesu, Joy of Man's Desiring - I thought that would be such a beautiful way to open the disc, with something that is perhaps (depending on your mindset) the most pure form of love. The title Love and Death is actually taken from the Granados piece, which I chose because it so awfully mirrors his own life, which was tragically ended when he tried to save his wife who was drowning overboard on a cruise-liner on their way back home from a recital that he had done in the USA. And that idea of 'love-death' took me straight to Tristan und Isolde, because Granados's end is so closely linked to the plot of Wagner's opera.
Aside from looking at the texts themselves, have any particular philosophical writings on these themes struck a chord with you?
Not so much philosophy, but I've really immersed myself in looking at the composers' lives. In the case of Prokofiev in particular, there are so many insights: he was writing the second War Sonata whilst in the process of mourning the death of his two best friends who had died under Stalin's regime, however Stalin thought was great and awarded it the Stalin Prize! The second movement sounded familiar, and I found that in fact it's drawn from the Schumann song Wehmut about a caged nightingale singing sorrowfully, so in a sense when I'm playing the Prokofiev I'm also playing the Schumann and the text from the song. And I've also done a lot of work looking at the cryptic messages that are hidden within most of this music – so for example the Prokofiev sonata, the first movement, near the end there's a very high-pitched repeated pattern that sounds as if it could be Morse Code, and after some closer inspection I realised that it is Morse Code, and it stands for Victory. And I love music that has all of these hidden meanings. The album's titled Love and Death, which seems perhaps a little morbid – there is so much more love than there is death on the album! But I think the two in some ways go hand-in-hand – if you look at Romeo and Juliet, for instance, most of the great love-stories end in tragedy, and that can make it even more special and beautiful.
And many of the composers here are interconnected through their lives and/or their music...
Yes, there are so many connections that I could map them all out on a whiteboard! Aside from the relationships between composers and arrangers, of course Wagner had a very close and complicated personal relationship with Liszt: Liszt's daughter married Wagner, which then sullied that relationship a little (Liszt didn't attend Wagner's funeral, though he did write a piece for it). And also there's a lineage of great pianists throughout the disc: we start with Busoni, a god amongst pianists not only for his transcriptions but also for his own playing, and then we move to Myra Hess's transcriptions. Hess was playing German music in the 1940s in Britain (she performed Jesu, Joy of Man's Desiring in the National Gallery, no less) and people loved it, so I thought it was really important to show that instance of music breaking down boundaries. And then there's Liszt, who invented the term 'virtuoso', and following that we have Granados, who sadly died after giving a recital in the US for Woodrow Wilson. I wanted to finish with Prokofiev, who loved the piano and was a wonderful pianist himself, but was also very close to Sviatoslav Richter, another god of the piano. So as well as the vocal thread I mentioned earlier, the programme's really piano-based as well, and harks back to this golden age of piano-playing.
It sounds like there's ample material for another album…
Certainly! There are so many other things on this theme that I would like to put down on disc – there's an astonishing transcription of the last act of Rosenkavalier by Percy Grainger, which is all about love tinged with sorrow that her lover is leaving her for someone younger. Then of course there are the other Prokofiev War Sonatas, which were written during his time of great sadness, and so much more love-music by Liszt…If I had it my way I'd release a boxed set of 20 CDs, but it's good to start with one! And I do love the simplicity of the album in its current form.
I was wondering if you'd heard Igor Levit's Life Album, which explores similar ideas from a different angle and also includes some Liszt/Wagner...?
When I was recording the Tristan paraphrase I really wanted to get two very different interpretations to explore, so I found his recording from Life, and what I think is an unbelievable recording by Vladimir Horowitz – it's his final recording, and I think it was finished about four days before he died. (In fact the recording was spread over several days, because he didn't quite have the strength to do it in one session). It's fascinating to see how they do things so very differently, and both of them gave me a great amount of inspiration when it came to recording myself.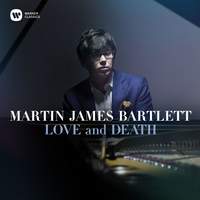 Bach, Liszt, Schumann, Granados, Wagner, Prokofiev
Martin James Bartlett (piano)
Available Formats: CD, MP3, FLAC, Hi-Res FLAC, Hi-Res+ FLAC