19th March 2012
 Recording of the Week

,

  Haydn from Thomas Fey and the Heidelberger Sinfoniker
One series that I've been consistently enjoying over recent years is that of the Haydn Symphonies from the Heidelberger Sinfoniker under Thomas Fey. Founded by Fey in 1994 the Heidelberger Sinfoniker has become particularly known for its performances of the Viennese classical composers Haydn, Mozart and Beethoven and their ongoing Haydn cycle has been widely praised by critics all over the world.
Thomas Fey
They're not working through them in number order, and Volume 16 (I guess about half way through) has just been released and contains Symphonies Nos. 90 and 92 (the 'Oxford'). Coming between the more famous Paris (82-87) and London (93-104) symphonies, these two works contain all the craft and ingenuity that characterises his mature symphonic style, and it is an absolute pleasure to hear them in performances like this.
Fey claims in his booklet note that his intention with these recordings is to "dust the antiquated traditions off 'Papa Haydn' that the nineteenth and twentieth centuries loaded onto him". That makes it sound a bit like an exercise, and I think does him a disservice, as it seems to me Fey is rightly more interested in recreating the spirit, drama and character that Haydn would have wanted rather than strictly the sound world.
Fey studied the principles of historically authentic performance with Nikolaus Harnoncourt at the Mozarteum in Salzburg and it is clear that he combines that knowledge along with his sound musical instincts in everything he does.
It is also clear that the orchestra have just as much understanding of 'authentic' performance practice as Fey does. While the strings and woodwind are using 'modern' instruments, the phrasing and articulation of the wind, combined with the bowing style and lightness of touch from the strings means that they fit perfectly with the historical instruments used by the brass and timpani.
The modern wind instruments have plenty of colour in their sound and frequently ornament the repeats as a singer would have done, although it is certainly not something you hear in orchestral playing very often. Short notes aren't too short and off-beat accents are amusingly emphasised. Slow movements are tender but never sentimental, while fast movements sparkle with real excitement, (I'm convinced the players really are having fun!).
The natural horns and trumpets rarely have to temper their sound like their modern equivalents would and their contributions add as much colour as they do power. Fey varies his tempos quite significantly throughout the movements but if never jars as it is always in keeping with the character of the music. This is really exciting playing – bold and daring and invariably seems to somehow feel 'right'.
This is a series well worth hearing and if you're not familiar with any of the previous releases this is as good a place to start as anywhere. And what's more we're currently offering 20% off, along with everything on the record label Hänssler. Sound samples and download options are available via the links below. Enjoy!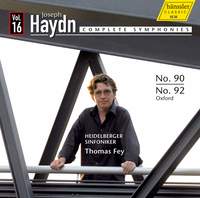 Heidelberger Sinfoniker, Thomas Fey
Available Formats: CD, MP3, FLAC