US deliveries: Unfortunately we are receiving reports that some US orders are taking longer than usual to arrive. Find out more >>
Latest update: Changes to international postage charges. Find out more
13th May 2019
 Interview

,

  Melvyn Tan on Miroirs
Released at the end of April on Onyx, Melvyn Tan's new album Miroirs traces Ravel's inspirations by interspersing the movements of his eponymous five-movement suite with music by Liszt and Scarlatti, and prefacing the Valses nobles et sentimentales with Weber's Invitation to the Dance (composed almost a century earlier). I spoke to him last month about how the programme came together.
What set you on the path of tracing Ravel's inspirations like this, and how direct was the influence of Scarlatti, Weber and Liszt upon his music?
I was working on Ravel's set of pieces Miroirs, and I was devising a programme for recitals in the coming seasons. I remember reading Vlado Perlemuter's book on Ravel a while back and he mentions these pieces and cited Liszt's Feux Follets as an inspiration for Noctuelles. So I took this as an idea to make a programme of 'musical mirrors' in which Ravel might have known or even played these pieces which to my mind mirror Ravel's own compositions.
Why do these particular Scarlatti sonatas strike you as especially apposite?
When it came to Alborada del gracioso I wanted something intrinsically Spanish which also was inspired by the strumming of the guitar. I remember learning these Scarlatti sonatas when I was a student; I re-looked at them and was immediately struck by the similarity in feel, starting even with the same notes and key. The repeated note 'strumming' was even more of a coincidence! And in both instances, extremely difficult!
This is your second album to explore the connections between a cluster of composers, following Master and Pupil in 2016; do you have plans for more projects along these lines, either in the studio or in recital?
I think one has to strike a note with 'individual' programming these days, hence the cluster of composers as you call it, but in each group I try to make a musical relevance and form a link, so it is not a random cluster as it were. The Master and Pupil had exactly what the title suggests: Beethoven, Grandest of Grand Masters, taught the very young Czerny, who later taught the very young Liszt… One of my big regrets is not having had the chance to finish my Beethoven solo cycle for EMI. The last three sonatas of Beethoven are part of my coming season's repertoire and perhaps, at a later date, a recording. Who knows?
You've given several recent recitals which intersperse French repertoire with readings of Proust and Virginia Woolf – if you were to take the same approach with this programme, which texts would you choose?
Probably writers and poets who were contemporary to Ravel, and who knew each other. Stéphan Mallarmé comes to mind, and maybe his close contemporaries Paul Valéry and Léon-Paul Fargue. Possibly Verlaine too? Interestingly enough, Virginia Woolf did have some very eloquent things to say about music and performance, though she did not play an instrument herself. I think music and texts by contemporary writers give us a wonderful insight into the machinations of both the writers and the composers… Audiences love this combination. We're talking mirrors? It mirrors their thoughts and energies into listening to the texts and alternating with the wonderful music.
To tilt the 'mirror' in another direction, can you point to any later works which have been strongly influenced by Miroirs?
I am not sure how much I want to tilt this mirror…! Certainly it's not something I have hugely considered in putting this programme together. Having said that, I would guess that Une Barque sur l'Océan has gone a long way in influencing many others in the concept of the writing rippling waves and crashing arpeggios and thundering chords. Szymanowski perhaps, in his Preludes?
You've been a passionate advocate of the use of historical instruments over the course of your career – could you tell me a little about the instrument you've used for this recording, and what special qualities it brings to Ravel's music?
I used a five-year-old Steinway on this particular recording, so there is no special link to Ravel. As I decided to do the recording in Singapore at the Yong Siew Toh Conservatory of Music after a tour, it seemed to be the most sensible (and practical) option at the time, and bringing in an old Steinway would have incurred all sorts of nightmares… Mainly making the instrument stay in tune in 85% humidity and ensuring the action of the piano performed at its best every day. And no Interpol officers. And no technical wizard at hand 24/7!
Melvyn Tan (piano)
Available Formats: CD, MP3, FLAC, Hi-Res FLAC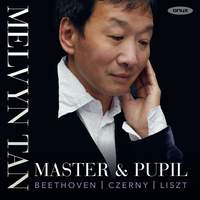 Melvyn Tan (piano)
Available Formats: CD, MP3, FLAC