2nd May 2019
 Interview

,

  Jess Gillam on RISE
Since her exuberant performance in the final of the BBC Young Musician of the Year Competition in 2016 and equally irrepressible appearance at last year's Last Night of the Proms, the young saxophonist Jess Gillam has established herself as an engaging broadcaster and passionate advocate for music education as well as winning legions of new fans for her instrument. Last year Gillam became the first saxophonist to sign an exclusive contract with Decca, and her debut solo album, RISE, was released last Friday; I spoke to her last week about the eclectic mixture of repertoire on the disc, her own early musical training, and the new commission RANT!, which was composed for her by her mentor John Harle and draws on folk-songs from her native Cumbria.
With David Bowie and Kate Bush alongside Dowland and Milhaud, this is a pretty diverse debut album: is there a common thread running through it?
For me the album is just a reflection of the music that I love – every single piece is on there because it created some sort of emotional reaction in me. I played Escapades (the theme from Catch Me If You Can) at my first-ever prom, which was the John Williams concert in 2017, and I did Michael Nyman's If at Proms in the Park last year, right before playing Scaramouche in the Albert Hall! Iturralde's Pequeña Czarda and Wiedoeft's lovely Valse vanité are both pieces that I perform really regularly in recital, and have become very important to me – Pequeña was also on my programme for the BBC Young Musician of the Year final in 2016, because I knew I'd feel completely comfortable with that style under pressure!
The recording also includes a piece by John Harle, with whom you've worked for a few years now…
Yes, John actually produced the album and he's my saxophone teacher as well, so we have a really close relationship. My mum knew that I was desperate to have a lesson with him for a long time, so she organised one for my sixteenth birthday; everything grew from there, and we've worked together quite intensely ever since. John is just wonderful – he's a fantastic musician with so much experience and knowledge, and he's incredibly generous about sharing all of it. His piece RANT! is a brand-new commission for the album, and it's based on folk-songs from Ulverston in Cumbria, which is where I come from.
Speaking of which, could you talk me through your own early musical education?
I first picked up a saxophone when I was seven, at the Barracudas Carnival Arts Centre in Barrow, which was a free community centre that held all kinds of workshops that were accessible for everybody - as well as saxophone and percussion sessions you could do dance, stilts, you name it! There was a real joyful community spirit about the place, and I loved it. Then I started having lessons on a private tuition scheme through a local high school; the students would teach primary school children for two pounds a week, and you'd get your own half-hour lesson. It's a bit like El Sistema where you pass the knowledge down, and from there I went onto the Junior Royal Northern College of Music when I was 13. Both the primary tuition scheme and the Carnival Centre have had their funding axed or heavily reduced since then, though, and I feel really fortunate to have had those opportunities and experiences available to me. We know all about the enormous benefits of learning music, and how many opportunities and experiences it can open up beyond just getting up on stage and performing; it's enriched my life so very much, and I feel that I have a duty to make sure that similar opportunities are there for other children in the future.
How much mentoring and teaching have you done so far, and do you see that being a significant part of your future?
I started teaching when I was about 13 or 14 at the Carnival Centre, tutoring a couple of the groups there; then I taught a boy with Down's Syndrome for quite a few years, which was such a rewarding experience. I absolutely love teaching, but with performing so much at the moment it's very difficult to maintain the sort of continuity you need for regular pupils. I'm now a patron for Awards for Young Musicians, who supported me earlier on in my career and have a mentoring scheme for alumni; more generally, I try to make contact with similarly-placed young musicians in whatever way I can, including going into schools to give talks and informal performances.
Do you have any plans to commission and/or premiere any new repertoire?
Yes! Commissions are going to be a real essential part of my career, I think, and I've commissioned quite a lot already. For me, one of the most exciting things about the saxophone is that it's a relatively young instrument compared to the violin or piano, which means that its story and its repertoire are still being created. I can't really go into detail yet, but there are some collaborations coming up which I'm already very excited about…
Given that relative youth of the instrument, transcriptions are obviously likely to feature quite prominently too, and indeed we have a couple on this album: which instruments' repertoire translates particularly well to the saxophone for you?
I think a lot of oboe music works brilliantly on soprano saxophone – they have a very similar shape, and the conical bore means that they resonate in quite a similar way. And often music for voice translates well, too: a wind instrument operates in such a similar way to how you would sing, and that reliance on the breath means that you have the same direct connection to the body and the emotions that singers do. One of the things I love about the saxophone is that it's such a genuine instrument: everything you do is a very direct representation of what comes out!
One final, non-musical question: you tend to think outside the box with your concert-wear as well as with your repertoire, and the album-cover is no exception! Was the beautiful embroidered suit you're wearing designed specially for the project?
Ha, it's nowhere near as posh as that – I just got it from Zara!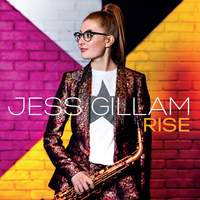 RISE was released on Decca on 26th April.
Available Formats: CD, MP3, FLAC, Hi-Res FLAC