UPDATE: Royal Mail have now resumed shipments on their TRACKED, TRACKED & SIGNED and SIGNED services but delays should be expected, please choose these services if available to you or FEDEX if your order is urgent.
28th March 2019
 Interview

,

  Tamara Stefanovich on Influences
For her debut album on Pentatone, Belgrade-born pianist Tamara Stefanovich explores music from 'the countries that most influenced, enhanced, and "made" me who I am' in a programme which encompasses Charles Ives's Piano Sonata No. 1, Bartók's Improvisations on Hungarian Peasant Songs, Messiaen's Cantéyodjayâ, and Bach's Aria variata alla maniera italiana. I spoke to her earlier this month about the threads which draw these four very different works together, and how each composer draws inspiration from their encounters with different cultures and genres…
You once considered studying literature alongside your performing career – are there any particular writers who have informed your thinking on the ideas of digressions and cultural encounters which you explore in your programme?
I was obsessed with Thomas Mann when I was 12 or 13, and read all of his novels and then all of the criticism I could get my hands on. Here was someone who needed a certain type of structure, but also took so many diversions along the way: for instance in Der Zauberberg where he devotes a whole chapter to talking about the snow and nature from an almost Romantic perspective, or in Doktor Faustus where he spends entire chapters talking about biology and musicology. For me it's like having little windows which you open: you decide whether what's behind the window is interesting or not, and then you close them and continue along your own route. And as a musician it's extremely important to me to be always on the look-out for other potential paths and possibilities: you may light on a path that you might not to want to take for the next fifteen years, but maybe you follow it for the next five minutes!
There's a lot of anxiety about borrowing from other cultures today...
There is a lot of fear about everything today, and much of it comes from this need to define things that are no longer definable. The first thing that you read in a biography is always where an artist comes from, and I'm always having long discussions with my agent about this because I don't know where I come from: my country doesn't exist any more, so who am I?! So many countries and cultures are more mixed now, and I think it's a wonderful thing to allow that mixture and drop our obsession with classification.
Even in an age where everything is available, all of the time, there are still cultures which we know almost nothing about, perhaps because we have a certain Western arrogance where we still think that everything happens in Europe. To take an example from the visual arts, we think Seurat and Signac invented pointillism...but then you look at the Australian Aborigines and see that they've been doing this technique for 40 000 years! I don't think it's a case of us having taken it away from them - but perhaps it's possible that we didn't begin everything, and perhaps there's some universal language that is transferred in a more ephemeral way. It's similar to Ligeti and what he's done with the Aka Pygmies: he integrates their techniques into his music, but it's still Ligeti! Of the four composers I'm playing on the album, some of them have gone quite far from home (like Messiaen with the Indian rhythms), and some of them (like Ives) have looked on their doorstep to find influences, but they still sound like themselves: they're not costumed, it's not a carnival or a masquerade.
Following up on that idea of carnival, do you feel a certain sense of 'the parade passing by' in the Ives sonata, with its strains of marching-bands and flirtations with ragtime and folk?
Ives's First Sonata is far less well-known than the Concord, and there's a flexible creativity here which I find extraordinarily touching – there is no creative anxiety at any moment in his music, just a strong need to allow hybridity and plurality to exist as they are. Ives was very lucky to have a father who gave him piano lessons in a far from normal way: he had him playing Mozart sonatas, but the left hand would be in F sharp major and the right would be in C! He called it 'testing of the ears', which is a phrase I love: this is what I always want my audience to experience. He allows so many things to go into his own very improvisatory style: the music of marching-bands, rag-time, blues. It's a little bit like you're going on a walk in an unknown city without a map – you wander into a church and hear snatches of hymns, then you're out on the street with a marching-band passing by, and you allow them to wash over you without losing your step. It puts me in mind of a director that I'm very obsessed with, Christoph Marthaler, who positions so many things on the stage in a way that's never overwhelming: it's not like you're watching a tennis-match and constantly looking left-to-right and back again, it's a polyphonic experience.
Do you find a similar 'flexible creativity' in Bartók's music?
Bartók is another composer who looked on his doorstep for inspiration, in the form of peasant songs. I think what's very beautiful with Bartók is that there is always this need to sing and to dance and to talk, and the folk music is the basis of everything. He allows it to blossom, but never to overspill: his music always has a very tight structure (which I often think of as like a skeleton), but for me that tightness is comforting rather than confining.
Messiaen certainly ventures much farther from home than Ives or Bartók - how far did you yourself go in terms of exploring the Indian techniques which he incorporates into Cantéyodjayâ?
The Messiaen is a bit like opening a sequence of exotic boxes, and every one of them contains one of these specific Indian rhythms with fantastic titles that nobody can pronounce! A couple of years ago I was teaching a masterclass as part of a course which also offered the students a week of lessons with a tabla master; I applied as a student, and it was an absolute dream for me. On the face of it Indian rhythms seem extremely simple, but the process of stacking up and mixing these building-blocks is a roller-coaster for any Western musician. The discipline of the rhythms has a vitality and a vigour, and Messiaen had his own specific method of organising all of that: it's very exuberant, and I love the process of containment and exploration, almost as if he's kicking those boxes open and then wrapping them back up in an entirely different way!
Bach is the odd man out here in terms of chronology, and is also the least well-travelled of the four composers on the album…
It's extraordinary that someone who had never really travelled always had this free spirit: when you hear the Brandenburg Concertos it seems impossible that he never went to Italy and experienced Vivaldi! There's this image of Bach being far more contained than he really was, when in fact he was someone who was actually very subversive: he was always very suspicious of authority, always picking fights, and often seen as actively disturbing by his contemporaries. When you read the critics of his time saying 'It's much too chromatic!', it reminds me of how people were always criticising Boulez, who's now widely acknowledged as a complete master – it's as if we always have to go through this kindergarten stage of criticising new things. It's interesting that Bach wrote only two sets of variations (this is the only set apart from the Goldbergs), and never wrote an opera: both of these genres would have been an easy way to gain an audience, but of course he didn't take the easy route! The Variations do have some contrapuntal writing, but most of them simply feel as if he's just seeing how many accessories he can weave around something that's already very ornamental. It's very hard to elaborate on a theme that already has so many clothes on – it's a mystery on its own.
Do you have any plans to explore these ideas further, either in recital or in the studio?
I've loved putting all of these composers on the table together just to see who comes from which family. What has always intrigued me in pieces is how far they venture beyond the comfort-zone, and I'm not talking about only my passion for music of our time - so maybe I'll do something similar with Études, because that's a genre that has encouraged so many composers to go so far...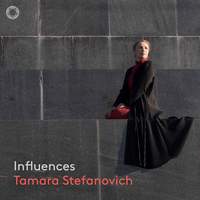 Tamara Stefanovich (piano)
Influences was released on Pentatone on 15th March.
Available Formats: SACD, MP3, FLAC, Hi-Res FLAC