24th September 2018
 Interview

,

  Sir Thomas Allen on September Songs
Regular readers may remember that Sir Thomas Allen's witty, bitter-sweet September Songs was one of my Editor's Choices last month; since then I've had the opportunity to have a chat with the man himself about his lifelong affection for the Great American Songbook, the challenges and rewards of 'crossing over', and his flourishing dual career as a singer and opera-director…
You've been dipping into Broadway and music-theatre in concert for a good few years now (I remember you singing the duet from Gigi which appears on this album with Dame Felicity Lott at a recital in Oxford around a decade ago) – how long has it been a part of your repertoire?
It was really always there aurally: I grew up surrounded by it in an amateur fashion at home, with local productions of Oklahoma! and Brigadoon and that kind of thing, as well as listening to countless records by Bing Crosby and Frank Sinatra (who I've always regarded as a model in this kind of music). I wasn't born with an operatic spoon in my mouth - it was more of a Kojak lollipop!
I made a record a few years ago of songs and scenes from the shows (Carousel, Oklahoma!, The King & I and others), but I've always loved what's known as the Great American Songbook, and after the discipline of the kind of musical life I've had, I just thought it was time to give it a try. It's also come about partly through my chancellorship of the University of Durham, and getting involved with what the students do there: every year they somehow produce a wonderful big band and play all this repertoire, and inevitably our paths crossed. We decided to do a concert together of a lot of this material, and out of that I thought 'Well, I'd like to do this kind of thing more often'! There's a relaxation within it that you can enjoy in a way that I've never been able to with other music; it's just a different way of expressing myself, and I love it!
Are there any musical theatre roles that you could see yourself taking on now, or any that you regret not having had a crack at earlier on in your career?
The only full role that I did was Fred/Petruchio in Kiss Me, Kate, which I performed on quite a few occasions – I did it at the Brisbane Festival in Adelaide a few years back, in what began as a concert performance and grew and grew until suddenly we had a big show! I've also done bits and pieces of Sondheim, and sung excerpts from Carousel a lot; a full-scale Carousel would've been a real ambition at an early stage in my life, but of course there's only a narrow window before you just get too old to play Billy Bigelow! It's a brilliant, wonderful piece - every bit as good and in some cases quite a bit better than a lot of operas I could mention, right from that fantastic overture.
And in Kiss Me, Kate, you've got all kinds of great things coming together: the genius of Cole Porter, then all the Shakespeare references, and of course it has a terrific story. I think the only other thing that came up was the possibility of doing South Pacific (in New York and at the National Theatre in London), but you really do have to be brave and make the decision of thinking: 'Well, I'll just not take on any opera work for the next three or four years and hope I can make this work!'. In the end, juggling diaries and calendars was just too difficult, but it hasn't stopped me from going and enjoying this music. I absolutely love this kind of stuff, and I've never regarded opera as being the apotheosis of music-theatre – I think there are some immense achievements in other genres.
You mentioned experiencing a sense of relaxation when you're singing this music – how much technical nipping and tucking does it take to 'cross over' from your usual repertoire, and are there different technical challenges involved?
In a way, yes; I'm going to state the obvious here, but a mistake that a lot of my breed make (and I'm maybe including myself in this) is in treating this kind of stuff as an extension of what we normally do, whether that's opera or big orchestral pieces or classical song – it isn't, it's a different genre, and you have to approach it as such. The way you deliver the text, for instance, is so important, and it doesn't have to have that sustained weight of bel canto behind it; getting that right is tricky, but in a sense it's no different from moving from French songs like Duparc and Fauré through to Schumann or Wolf or Mendelssohn.
I think for me the hard part is simply loosening up and allowing oneself to click the fingers or whatever it takes - it's a very different world from the one I know so well! But that's also a real luxury and a privilege: it's rather like singing Mozart recitative, where you have the time to properly consider a line and deliver it exactly where you feel it needs to be emotionally. There's a certain degree of freedom there, and I love that, because you're expressing yourself much more as an actor would in a straight play. The songs from the American Songbook (whether it's Harold Arlen or Cole Porter or George Gershwin or Jerome Kern) are like small scenes in themselves – they're brilliant dramatic miniatures that you can really play out like theatre, and the texts are so wonderful. I've learned such a lot from listening to Sinatra and others, and through performing it myself.
You've clearly lived with a lot of the songs on the album for a long time – did you make any new discoveries in the course of putting the programme together?
I was introduced to the piece from Allegro, 'Come home, Joe', when it cropped up in a concert I was doing with John Wilson some time back; another lovely find was 'My Ship' by Kurt Weill, which is just the most glorious little melody. The sentiments are all very sugary, but who cares?! And I also love 'Some Other Time', which comes right at the end of Bernstein's On The Town and has a wonderful, wistful quality to it – I feel Bernstein might have argued with my use of the word 'wistful' there, but then again he used to argue about everything! He was in every sense an extraordinary man, in good ways and bad ways too…
It sounds like there's a story there…did you come into contact with him much as a conductor?
Yes, I worked with him when he came over to conduct the BBC Symphony Orchestra in the early 1980s, and we performed his SongFest; alongside West Side Story it probably pales, but it was in that sort of idiom. And it was in that same concert that he conducted the slowest performance of the Enigma Variations that's ever been heard…it was pretty notorious, and I'm sure there are acres and acres of material about it online! I spent a week with him, and in all honesty it wasn't the happiest of times.
You have wonderful chemistry with the soprano Lucy Crowe in the songs from Gigi and Call me Madam: how did your paths cross?
I've known Lucy since she was a young student – I was involved with masterclasses and the like with her and always knew that she was going to be something special, so I've tried to be there for her at different times in her career. We decided it would be good to have a guest on the record, and there were one or two candidates but I was very pleased that we landed Lucy in the end. She came down and recorded the whole lot in less than a day during her performances as the Countess in English National Opera's Marriage of Figaro; she's such a generous girl, and as with a lot of that younger generation it's amazing how easily adaptable she was to a completely different style. She understands this idiom perfectly, and she's very versatile. So many singers are: one tends to assume, rather like with actors, that they're either villains or clowns, but sometimes it's good to get the clown playing the villain or the tragedian and vice versa!
What's coming up for you in the 2018/19 season? I gather you're directing a Zauberflöte for Scottish Opera fairly soon…
I am, and just before that I'm directing Le nozze di Figaro at the Royal College of Music; then there are various concerts of songs from the recording mixed in with my standard repertoire, and after the Magic Flute revival in Scotland I'm returning to Covent Garden in the New Year as Don Alfonso in Così fan tutte. The Armani [Jonathan Miller's long-running production, originally costumed by the iconic Italian designer] has gone and the new production has a period-costume, very traditional look, but with a far from traditional view of the piece…I gather it starts with us all taking applause and then the whole thing somehow plays out in reverse, so I wait eagerly to have all of it explained to me!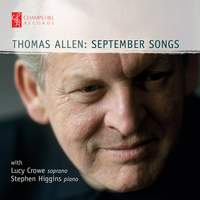 Sir Thomas Allen (baritone), Stephen Higgins (piano); with Lucy Crowe (soprano)
'As one might expect, he approaches this repertory straightforwardly and with his customary directness...It's a fine, consistently engaging disc, witty and touching in equal measure.' (Gramophone)
Available Formats: CD, MP3, FLAC, Hi-Res FLAC