30th July 2007
Recording of the Week

,

Haydn - the most underrated great composer
A new recording by the Berlin Philharmonic under Simon Rattle playing Haydn will bring joy to a lot of people's lives. I think Haydn gets a raw deal. He was a hugely prolific composer who, in addition to the hundred plus symphonies, wrote seventy odd string quartets, forty something trios and a dozen masses. Then there are the sixty odd piano sonatas, a bunch of concertos for various instruments and of course the two great choral works 'The Seasons' and 'The Creation'. Oh, and there are a stack of operas as well, the most famous being one of his last ones, Armida.
Rattle rehearses Haydn
The vast majority of these works are masterpieces and I have just made a mid-year resolution to get to know more of them, so expect more gushing Haydn paragraphs over the coming months as I discover things.
Rattle's new Haydn recordings leap off the page in superbly captured concert performances. Filled with energy, charm and humour, you can hear in every bar the fun and enjoyment the scaled down Berlin Philharmonic and Rattle are having. It seems that classical repertoire is appearing less and less on the programmes of the major Symphony Orchestras - presumably because it is now considered unfashionable for them the play it, the period instrument brigade having claimed it for themselves - so I'm pleased to see Rattle fighting back, and hopefully other orchestras will hear this and think likewise.
Rattle's new disc is out next Monday. It is two discs for the price of one and will bring guaranteed joy to your life ...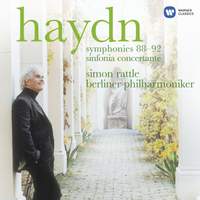 Available Formats: MP3, FLAC, Hi-Res FLAC