22nd June 2018
Recording of the Week

,

Buxtehude's Abendmusiken from Vox Luminis
A popular story about JS Bach recounts how as a young man he made a 280-mile pilgrimage on foot – from Arnstadt in Thüringen all the way to Lübeck on the Baltic - to hear an illustrious contemporary in performance. (Last year author Horatio Clare even retraced this mighty trek for BBC Radio 3's Bach Walks project). What could have been so prestigious as to warrant such a long, arduous and undoubtedly dangerous journey? Answer: the famous 'Abendmusik' concerts organised by Dieterich Buxtehude. Buxtehude was at this time the organist at the Marienkirche in Lübeck; these concerts were already a long-standing tradition in the city but were expanded in scope and ambition during his tenure, and contemporary travel guides noted that they were a phenomenon occurring nowhere else in Europe.
Today's Recording of the Week sees two noted early music ensembles (Olivier Fortin's Ensemble Masques and Lionel Meunier's choir Vox Luminis) join forces to recreate an example of an imaginary 'Abendmusik' concert, featuring a mixture of cantatas and instrumental music by Buxtehude. It's easy to see what an impression must have been left on the young Bach by these works – nowhere more so than in Buxtehude's setting of Jesu, meine Freude, which takes the form of an extended motet, treating each verse of the chorale in a novel way reflecting its text, almost exactly as Bach would later do with his own large-scale motet setting those same words in 1723. It's interesting to compare Buxtehude's responses to each portion of the text with Bach's: it would of course be pointless to try and pick a winner by comparing different pieces from different musical generations, but Buxtehude's solo-verse settings are definite highlights. Bass Sebastian Myrus's 'Trotz dem alten Drachen' shifts nimbly between the spikily defiant and the self-assured, while 'Gute Nacht, o Wesen', set for solo soprano and delightfully sung by Caroline Weynants, is the perfect set-up for the choral tutti that brings the work to an optimistic close.
The album opens, though, with an even more dramatic cantata – a German-language setting of the imagery-rich Psalm 69 ('Save me, O God, for the waters are come in unto my soul'), with a particularly arresting first movement sung by Myrus. Following his unrestrained cries to God for help (definitely very much in line with Protestant ideals about clarity and immediacy in text-setting) the full choir vividly depicts the psalmist's floods of water in overlapping waves of polyphonic melody. A semi-chorus movement for six of the ten singers provides a contrast with the full-choir sound; the difference between full choir and these reduced forces is subtle but noticeable.
Interspersed among the four choral works are three trio sonatas (a plausible enough intermixture for concerts that were neither wholly secular nor entirely sacred in nature) which allow the instrumentalists of Ensemble Masques to shine on their own. A particularly striking feature is Buxtehude's scoring; the use of obbligati for violin and viola da gamba, whose contrasting timbres play off each other very effectively, seems to encourage the players to bring out the individualism of their lines. The combination of innovative scoring and exquisite performance makes these sonatas really stand out from the crowd, and it's particularly noticeable how easily the musicians change gear from a largely accompanying role to the chamber style called for by these instrumental interludes.
Something that struck me on listening to this disc was how effective Buxtehude is at creating drama and tension without resorting to more boisterous Mediterranean techniques. While it's often rightly observed that the supreme achievement of his successor Bach was the merging of Northern and Southern European musical philosophies into an integrated whole, it would be wrong to dismiss Buxtehude's own style as somehow lacking, needing an infusion of Southern energy to bring it to life. The sensitive and subtle performances by Ensemble Masques and Vox Luminis clearly demonstrate that the Northern approach is more than capable of standing on its own merits. The story of Bach's visit to Lübeck has been passed down the ages, and it's wonderful finally to be able to hear for ourselves what all the fuss was about – pace The Proclaimers, these are definitely performances worth hiking three hundred miles to hear!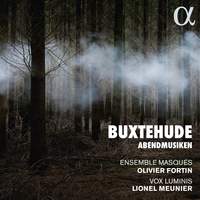 Vox Luminis & Ensemble Masques
Available Formats: CD, MP3, FLAC, Hi-Res FLAC