8th June 2018
 Recording of the Week

,

  Francesco Piemontesi performs piano music by Franz Liszt
Although perhaps not quite as technically demanding as the Transcendental Etudes or the Réminiscences de Don Juan, the three volumes of Franz Liszt's Années de pèlerinage (Years of Pilgrimage) are certainly not easy to master, requiring enormous virtuosity combined with sensitivity and beauty of tone in some of the more lyrical passages. Fortunately these are all qualities that Swiss pianist Francesco Piemontesi possesses in abundance, and so I have been delighted to get to know his recording (due out next week on CD but available now to download) of the first "year" in the series, namely Suisse.
This Swiss year comprises nine pieces (mostly reworkings of an earlier work, Album d'un voyageur), each of which functions as a miniature tone-poem inspired by Liszt's travels, some of which are based on real places such as the Walensee or the William Tell Chapel on the shore of Lake Lucerne, and others that are more general in nature, including Pastorale and Orage (Storm).
It is in movements such as this Orage where Piemontesi's virtuosity is on full display. As the name suggests, this is a mightily tumultuous movement, full of fiendish writing: double octaves, huge leaps, and lightning-fast arpeggios, not to mention the tremendous power, all the while requiring a sense of line and phrasing. Even within this maelstrom of tempest-tossed chords, he takes care to observe all the markings, so that in the middle of a long chain of double thirds, for example, you can still hear the accents that are marked every half-bar. Furthermore, as ferociously loud as many of Piemontesi's left-hand chords are, they are never just noise: you can still hear the notes in them, allowing the changes of harmony to come across. This is extremely invigorating to listen to; I can't think of many other recordings that approach this level of turbulent frenzy.
This is followed by the work's centrepiece, the 13-minute Vallée d'Obermann, inspired by a novel of the same name by Senancour set in Switzerland. Again, this contains some furious writing, and yet even in the fiercest passages it's never an ugly or harsh sound. These outbursts are contrasted with some beautifully still episodes, and the way that Piemontesi shifts between torrid virtuosity and a delicately expressive touch is most impressive. This is a quality very much present in the cycle's opening movement, too, Chapelle de Guillaume Tell. There is great power in the chords, but with great power comes great refinement: there's an expressive freedom and an eloquence to his way with this movement's Beethovenian melody that is quite enthralling.
This magical touch is carried over right through to the final movement, Les cloches de Genève, the ending of which is delightful. After the veritable onslaught of notes in previous movements, the idea that Liszt should end with a simple chordal passage brings an immense sense of satisfaction and finality to the piece, aided by Piemontesi's tender touch and the space that he gives to chords.
As a bonus, a DVD is included with a film by celebrated documentary filmmaker, Bruno Monsaingeon, which offers a fascinating insight into the many literary influences on Liszt's work, and includes interviews with Piemontesi himself offering his thoughts on the piece. I'm told that Piemontesi has already recorded the Deuxième année (Italie), and hopefully the Troisième année will eventually follow also. On the evidence of this Swiss outing I can't wait to hear them!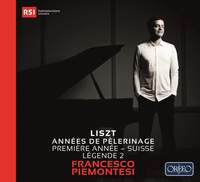 Francesco Piemontesi (piano)
Available Formats: CD + DVD Video, MP3, FLAC, Hi-Res FLAC