20th June 2018
 Interview

,

  Francesco Piemontesi on Liszt
It's been a long time since the Presto editorial team were so thoroughly knocked out by a solo piano recital as we were by Francesco Piemontesi's recent account of the Swiss chapter of Liszt's Années de pèlerinage (I think the last recording to cause such collective jaw-dropping was Daniil Trifonov's set of the Liszt Transcendental Études back in late 2016, and Piemontesi's playing here certainly gives that album a run for its money in terms of both virtuosity and musical imagination). Reviewing the recording for our newsletter earlier in the month, James praised the 'torrid virtuosity and delicately expressive touch' on display in Vallée d'Obermann and the 'immense satisfaction and finality' which Piemontesi brings to the closing movement Les cloches de Genève.
I spoke to Francesco shortly after the recording was released about his personal connections with the locations which Liszt depicts in this first 'Year of Pilgrimage', his collaboration with the veteran French film-maker Bruno Monsaingeon (who produced the beautiful documentary which is included as a DVD bonus with the recording), and how his interpretations of Liszt's music have evolved over the past few years…
You were born and grew up in Switzerland – have you visited (or do you feel a special bond with) the various locations which Liszt depicts here?
I've visited Lake Wallenstadt many times, and also Geneva is a city which I know very well. On the DVD we have featured those places and of course William Tell's Chapel, which is depicted in the first piece; some of these were very touristic spots in Liszt's time and indeed remain so today. Then of course there are other 'locations' depicted in these pieces which don't actually exist: the Vallée d'Obermann is an imaginary place, and Au bord d'une source is an imaginative source rather than being a specific stream…but in a sense, this even applies to those other pieces which do reference real locations. So while it is very nice to know the places and images which Liszt might have had in his mind, it's also important to study them as absolute music: the music of course goes its own way and one has to really understand how the pieces work, what their proportions are, and above all what the composer has to say with that particular piece.
With inspirations including Senancour, Byron and Schiller, this is one of Liszt's most literature-influenced works – how useful do you find it is to engage with the texts?
Oh sure, it's a wonderful basis. In many cases, like the Schubert or Mozart sonatas, we know very little about what images the composer had in mind. I know that towards the end of Beethoven's life he wanted to get together with Czerny and write some short sentences about every one of his own sonatas, to give an idea what they would be in terms of images - but in the end they didn't do it, and I imagine that Beethoven might have found it too narrowing. Debussy sometimes wrote the title of the pieces at the end, so as not to restrict ourselves too much, and probably Beethoven had the same fear. But for us as performers it's wonderful to have composers like Liszt (and Brahms, who also used a lot of literary quotations), because in any event as an interpreter one has to have an image in mind. You cannot play without imagining what the piece is saying to you - and starting from a painting, starting from a text, starting from an image from nature is always inspirational. It shouldn't be the end-point of your work - but it's a good starting-point, and from there you can construct the whole thing.
You included Vallée d'Obermann on your debut solo album in 2011 – why did you single this one out, and do you approach it very differently when performing it in the context of the whole cycle?
The first disc (which I think was recorded in 2009 and then came out in '10 or '11) was very much intended to be a recital; the producer came to a concert of mine where I'd played that exact programme, which was based around the idea of mirror-compositions (for instance it included Händel and Brahms responding to Händel, Bach and Liszt responding to Bach). This second recording was an idea that came together through my friendship with [the French filmmaker] Bruno Monsaingeon and our discussions about Liszt and music in general: I wanted to record the whole 'Swiss' year and he very much wanted to do a video on that.
I think Vallée d'Obermann benefited from that process because I simply knew a lot more about Liszt by then, but of course there was the challenge of integrating it into the work as a whole: arguably it's the main piece and the focal point of the entire cycle, so I had to record the whole thing in a way which would reflect that. And that meant that ideas emerged which I didn't have, of course, when I recorded Vallée d'Obermann with other pieces and didn't have to relate it to the rest of the Year: I didn't actually play the piece very much between the first and second recordings, and when I looked back and heard that older recording I was surprised at how much my mind had changed about this music, how much more drama I see in it now that I didn't see the first time round. So I think it's a journey of its own: it's wonderful to go back to one piece and record it two, three, even four times and bring something of added value to it in each instance.
What was behind the choice of the second Légende (St. François de Paule marchant sur les flots) as the coupling?
This is the first instalment and we are going to release the second very soon, with Italie and the first Légende, and then at some point I'd really like to do the third Year with the B minor Sonata. In a sense it would've made more sense historically and geographically to record both [Légendes] with Italie, but musically it works very well, I think. It uses the same poetic language as you can find at the end of the Bells of Geneva, and from a dramatic point of view I think it was a very good way to end the disc. Unlike the Dante Fantasia in Italie, the Bells of Geneva ends in a very self-effacing way, and I thought this would be a nice complement to the whole set.
Which artists have particularly inspired/influenced you in Liszt?
I of course worked on it a great deal with my teacher Alfred Brendel – for many years I saw him regularly and as far as I know he has recorded these pieces at least twice (possibly three times), and I benefited very much from him. And there are two other recordings which I love: one is the 1950s Decca recording with Wilhelm Kempff, and the other is the 1983 recording with Jorge Bolet, also on Decca. The Bolet is absolutely splendid, I think: it captures the atmosphere and the character of each piece so well. And even if some people think that some numbers are too slow, for me that's justified by the profound thinking which lies behind them…I think he slowed down the tempi because he had so much to say!
When will the second instalment of this project appear, and do you have plans to record more Liszt further down the line?
The second one is done now (we've just finished filming it, in the same kind of way as we did Volume 1), and it's not up to me when it's released but I guess it'll come out around Christmas. For the third Year I think we should wait a little bit longer…there is no definite plan or recording-date fixed, but it will probably have to be in the next three or four years.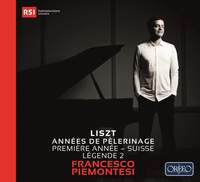 Francesco Piemontesi (piano)
Available Formats: CD + DVD Video, MP3, FLAC, Hi-Res FLAC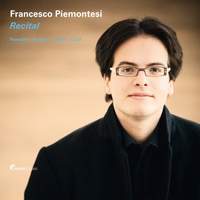 Francesco Piemontesi (piano)
Francesco Piemontesi (piano)
Available Formats: SACD, MP3, FLAC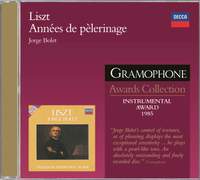 Jorge Bolet (piano)
Available Format: Presto CD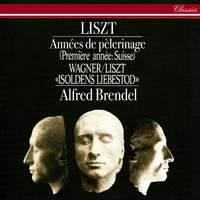 Alfred Brendel (piano)
Available Formats: MP3, FLAC