19th February 2018
 Interview

,

  Ben Goldscheider on Romantic repertoire for horn
After reaching the final of the BBC Young Musician Competition in 2016, 20-year-old horn player Ben Goldscheider has already built up a considerable career as a soloist, chamber musician and orchestral player. His first solo recording - appropriately enough, titled 'Début' - features horn repertoire both well-known and unfamiliar, including a composition by the conductor Esa-Pekka Salonen.
I spoke to Ben about the thinking behind his new album, and about his musical background and development to date.
You've eschewed many of the popular staples of the horn repertoire in favour of less well-known works – the Krufft and especially the Bowen sonatas have hardly ever been recorded. Was it a deliberate decision to give a place to these works rather than performing some great favourites?
There was a general idea behind the disc to programme works that gave as rounded a representation of all the horn's possibilities as possible. The CD starts with music from the twenty-first century and then cycles through from the classical, romantic and twentieth century until we are back in the twenty-first century. There was also an element to consider which was that this is my first disc, and therefore it would be wiser to record the greats (the Mozart and Strauss Concertos for example) in a few more years when I have (hopefully) reached greater musical maturity! It is also a great pleasure to be able to present lesser-known works.
Two of the items on this disc were written by composers who were once horn players themselves – York Bowen and Esa-Pekka Salonen. Do you think it makes a difference when a composer is writing for an instrument they can play, compared to one they've never picked up?
I think this is especially relevant to the York Bowen and Salonen, whose "advantage" of knowing the instrument means that they write so idiomatically. Knowing the instrument and its nuances will not help you write better music in terms of harmony, structure, rhythm etc. However, to have the knowledge of what is and what isn't possible technically, which particular registers have certain sonorities, and even the psychical aspect of playing, enables them to fully utilise the musicians and leave no stone unturned. The danger of writing for an instrument you aren't familiar with are things such as not giving enough time or space to breathe, writing notes that don't exist or simply writing music that is too difficult to achieve the desired result.
Pre-Beethoven works are noticeable by their absence on this album; do you simply prefer to perform the later, more Romantic repertoire, or might a future album focus on Haydn, Mozart and other earlier composers for the horn?
When it comes to horn repertoire, one would be shooting themselves in the foot if they started to get picky! I absolutely love to perform everything. With the exception of the Beethoven Sonata, most pre-Beethoven works are with orchestra and at the time, I didn't have the possibility to record a concerto disc. It is absolutely my mission to record as much of the horn literature as possible, and I like to think a few discs of the Mozart, Haydn and Strauss Concertos will come to fruition in the future!
Compared to some other instruments, the horn suffers from a relative lack of solo repertoire. Why do you think composers have written so much less for the instrument?
Generally speaking, first and foremost the horn is seen as more of an orchestral instrument than a solo instrument; certainly when you compare it with the violin, cello or piano. This is one thing I would love to change. Secondly, if we look at the fantastic repertoire we DO have, 99% of it has been written for specific individuals that have inspired the composers. It's a shame that there weren't more outstanding horn players in the eighteenth and nineteenth century that could have inspired concertos by the great composers of this time. Nevertheless, I am very hopeful that this is something I can deal with, and I am very keen to work with the composers of today to explore new repertoire for the horn.
With two professional string players for parents, it might have seemed more likely that you'd end up a string player as well; what led you to pursue the horn instead?
Well, I did actually start on the cello! When I was 6 years old, I was diagnosed with the lung condition "Bronchiectasis" which I will have for life. My parents thought that along with a lot of sport, taking up a brass instrument would greatly help my health because of the blowing aspect! I'm very grateful that not only did this decision give me my career, but I haven't been back to the hospital for over 5 years now!
You currently study with Radek Baborák, who by any measure is surely one of the best living horn players; are there any other people whose playing has particularly inspired or influenced you?
Radek, for me, has always been a huge inspiration and it's a dream come true that I am now able to study with him. My previous teacher, Susan Dent with whom I studied at the Royal College of Music Junior Department for 7 years was probably the most influential on me as she really nurtured my musical abilities both on and off the horn. I also find inspiration from other instrumentalists that have done great things with their instruments and have shown a huge passion for their art. Rostropovich is one of those people and also Daniel Barenboim.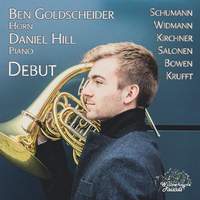 Debut was released on Willowhayne Records in January.
Available Formats: CD, MP3, FLAC, Hi-Res FLAC