9th February 2018
 Recording of the Week

,

  Murray Perahia plays Beethoven's Hammerklavier and Moonlight Sonatas
It's no exaggeration to say that Beethoven's Hammerklavier sonata is considered something of a juggernaut of the piano repertoire: not only is it arguably one of his most technically challenging works, but its sheer length means that the physical demands placed upon the performer are considerable. Although Murray Perahia first explored the piece when he was in his mid-twenties, it took four decades before he felt ready to perform and record it, and the benefits of such a prolonged gestation period are immediately audible in this new recording.
At just over forty minutes, it must be one of the swifter accounts out there, and yet it never feels hurried or "too fast", partly because of the clarity and conviction that Perahia brings (not least in the fugal section of the final movement, where his attention to the balancing of the different voices is a model of transparency), but also the care he takes over the ends of phrases. Aligned with this flexibility of phrasing, Perahia catches all the changing moods and colours, mainly through intelligent use of a great range of dynamics (particularly in the second movement, where he plays up the off-beat accents to great effect). For me, the key to a successful performance is very often the third movement, an extended Adagio sostenuto that frequently lasts upwards of seventeen minutes. Again, Perahia introduces just the right amount of rubato to allow the necessary space for some of the more florid right-hand passages, without ever losing focus on the overall direction.
And so to the Moonlight. The first movement of this sonata is surely one of the best-known in the repertoire, and so it would be easy to be somewhat cynical about what a new recording could possibly bring to the table. It's fascinating, therefore, to hear how Perahia manages to find moments of interpretative light and shade; it's certainly not simply a case of just ploughing through the notes. There are several moments of subtlety involving sudden changes of dynamics that Perahia makes sure to highlight, and it makes all the difference.
Again, because the piece is so familiar nowadays, it's easy to forget what novel ideas and effects Beethoven brought with this movement, both in terms of form (as Perahia explains, it is part-sonata, part-fantasy, and indeed is actually subtitled "Sonata quasi una fantasia") and also Beethoven's innovative use of the pedal to create new textures. Perahia latches onto this idea of it being more of a fantasy, and brings a wonderful freedom to his playing. Similarly, the last movement is not simply an exercise in playing arpeggios really fast (as impressively swift and crisp as they are on this recording!): Perahia focuses on the small details, such as the sforzando accents on the quavers that come at the peak of each arpeggio figuration, which here come bursting out of the texture like an electric shock.
It's certainly been worth the wait to hear Perahia's thoughts on the Hammerklavier, then, coupled with an equally illuminating account of the Moonlight. We've also included a link below to the printed music for Perahia's own edition of the Moonlight, published by Henle Verlag and including Perahia's own suggested fingerings, so if you like what you hear then you can have a go yourself!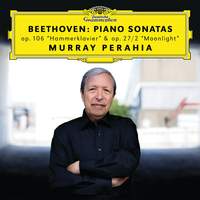 Murray Perahia (piano)
Available Formats: CD, MP3, FLAC, Hi-Res FLAC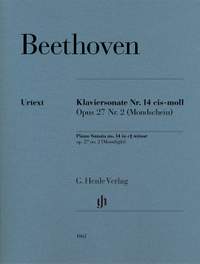 Murray Perahia has teamed up with respected publishing house Henle Verlag to offer new scholarly editions of Beethoven's Piano Sonatas. So far just over half of the sonatas have been published, including the Moonlight. This edition includes Perahia's own suggested fingerings.
Available Format: Sheet Music