US deliveries: Unfortunately we are receiving reports that some US orders are taking longer than usual to arrive. Find out more >>
Latest update: Changes to international postage charges. Find out more
6th July 2017
 Interview

,

  Joo Yeon Sir on Suites & Fantasies
South Korean violinist Joo Yeon Sir has made a point of perfecting a broad and diverse repertoire, with many works from the twentieth century at the core of her identity as a performer. Her debut disc with Rubicon showcases this focus, with a selection of fantasies and suites from composers active during the last century.
I caught up with Joo Yeon to talk about this unusual disc, and about the works she's chosen to feature.
You've chosen to record five colourful and varied twentieth-century works – perhaps an unusual choice for a debut disc. What led you to focus on these pieces rather than something more conventional such as a sonata or two?
After many discussions on our favourite works from our concerts, my pianist Irina and I realised that alongside our usual Sonata programmes we had also been programming smaller scale works, such as 'Suites & Fantasies'. I really wanted the album to showcase as varied aspects of our playing as possible, a programme that has vast capacity for expressions and emotions, and with different contents and vivid images. These five complementing yet contrasting works all have descriptive titles and calls for intimacy as well as richness at times. I also wanted the listeners to be able to listen to the CD from beginning to the end, almost as if they are at one of our concerts, and take them along on a journey through some of the best twentieth-century works for violin and piano.
Of the composers featured on this album, Igor Frolov is probably the least well-known. How did you first come across his music?
I was first introduced to Igor Frolov's music thanks to another fellow student who had studied with Frolov in Russia before joining my teacher's class. It is fantastically written both for the violin and piano, and cleverly intertwines the famous melodies from Gershwin's opera Porgy and Bess. Irina and I both instantly fell in love playing this fantasy for its jazz flavours and freedom, and it has since become a staple in our concerts.
Frolov was not just a composer but a very successful violinist himself; do you think there's a difference between how violinists and non-violinists write for the instrument?
Yes I think there is definitely a difference, and it can be an advantage and disadvantage at the same time. Some violinist-composers understands the violin writing so much so that it is simply idiomatic, with the best technical effects peppered in just at the right moments in their compositions, like in Frolov's fantasy. But this knowledge can also hinder them too, and in some cases they find it difficult move away from composing anything but exclusively for the violin. Benjamin Britten on the other hand is a great example of a non-violinist composer who writes exquisitely for the violin, in my opinion. As you can hear on this disc, Britten's violin part is equally demanding in his Suite, and I really feel that he understands the violin and how he wants to use it to serve a unique sound world he had in mind that hadn't been explored before.
You mention that you've been performing with Irina Andrievsky for ten years now; how important do you feel it is to build a musical relationship with one constant partner at the piano, rather than a series of accompanists?
We live in an age where we take it for granted and expect things to happen magically fast, but I find that it is very important to build relationships with pianists, in the same way we build relationships with people over a long period of time. Irina and I have been playing over ten years in rehearsals and concerts which have all contributed to how we perform, and I feel complete rapport with her. We continue to collaborate with other musicians too of course, which is always a fascinating process that could lead to other fruitful partnerships. But the times we perform together as a duo, it is really special, and most importantly, a lot of fun!
Can you tell us anything about your future recording plans?
I am delighted to share that there are plans for future recordings. I am currently discussing programmes with Irina, and we hope to bring another attractive programme for the listeners. It is slightly early to mention anything more specific at this stage, but I will of course share the first details with Presto Classical once they are finalised!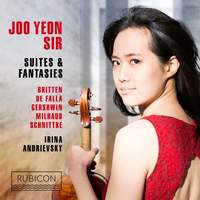 Suites & Fantasies was released on 26th May on Rubicon.
Available Formats: CD, MP3, FLAC, Hi-Res FLAC