17th February 2017
 Recording of the Week

,

  Thomas Hampson sings Lieder arranged for baritone and string orchestra
'Doch meine Saiten tönen/Nur Liebe im Erklingen!' ('But my strings sound out only love in their tones!') sings the bard in Schubert's An die Leier, the third track on my Disc of the Week. It's a sentiment which certainly resounds throughout this innovative and warm-hearted collaboration between American baritone Thomas Hampson and the Amsterdam Sinfonietta, which places Samuel Barber's setting of Matthew Arnold's Dover Beach alongside eleven songs by Schubert, Schumann, Brahms and Wolf in new arrangements for voice and strings by the British composer David Matthews (whose work includes arrangements of Mahler songs in partnership with his brother Colin as well as eight symphonies and thirteen string quartets). Hampson and the ensemble are old friends (they first worked together in the 1990s, and their projects together have included a chamber version of Mahler's Des Knaben Wunderhorn); the programme was put together for a European concert-tour in spring 2014, and arose from a desire to augment the rather scant repertoire for baritone and ensemble (even Dover Beach, the only work on the disc to include strings in the original scoring, is 'upscaled' here from the composer's setting for voice and string quartet).
Thomas Hampson
The results have immediate appeal and integrity, with the new timbres always enhancing rather than obfuscating the text, and striking a quite wonderful balance between fidelity to the spirit of the originals and little touches of happy anachronism here and there: the wide-open spacing of the chords in the second stanza of the first song (Wolf's raptly pastoral Auf einer Wanderung, brought to quivering life here with breathless tremolos and surging glissandi) rather put me in mind of Vaughan Williams's fantasias, whilst elsewhere the writing evokes the atmosphere of Britten's Simple Symphony and the string serenades of Elgar and Tchaikovsky. The macabre glee of Wolf's Der Rattenfänger (a distinctly adult incarnation of The Pied Piper) is captured with particular relish, all scurrying pizzicati and wiry sul ponticello (playing near the bridge of the instrument) effects as the itinerant musician-cum-pest-controller (appropriately enough, another string-player!) chases down vermin and erotic conquests alike with wily grace.
If verdant optimism is to the fore in the first part of the programme, the disc's heart, for me, is Brahms's Four Serious Songs, which Hampson imbues with a sense of autumnal resignation and nobility that provides a keen contrast with Matthias Goerne's raging against the dying of the light on another recent standout recording. The orchestration here feels almost Mahlerian, conjuring emotional landscapes a mere stone's throw away from the Wayfarer Songs and Kindertotenlieder, yet it all feels so idiomatic that after just one or two hearings I'd forgotten I'd ever heard them in any other incarnation.
In addition to the Matthews arrangements, there's also an utterly enchanting account of Ständchen (the D920 setting of a text by Franz Grillparzer rather than the better-known 'serenade' from Schwanengesang), reworked by Bob Zimmermann for upper voices, baritone and strings, in which the tender interplay between Hampson and the fresh voices of the Netherlands Female Youth Choir melted even the stoniest of hearts in the office! You can watch a short video of this track below – The Boss opined jokingly (I think) earlier in the week that it's so winning that I may as well dispense with writing a review altogether and simply direct you to this clip! But I couldn't resist sharing some thoughts on one of the loveliest discs to come our way this year; next week's newsletter (to coincide with the disc's release date) will include an exclusive interview with Thomas Hampson about the genesis of the project, so do keep an eye out if this has whetted your appetite…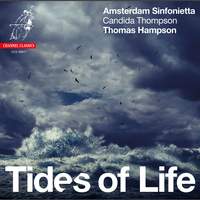 Thomas Hampson (baritone), Candida Thompson (violin), Netherlands Female Youth Choir, Amsterdam Sinfonietta
Available Formats: CD, MP3, FLAC, Hi-Res FLAC