20th February 2017
 Interview

,

  Brian Knowles on Love's Philosophy
Northern Irish composer Brian Knowles explores the possibilities of the guitar in his latest album - featuring star guitarist Craig Ogden, acclaimed tenor James Gilchrist and the orchestra of Opera North. The album centres on a new concerto entitled Visiones de Andalucia, but also features works for guitar alone and voice with guitar.
I caught up with Brian to talk about how this album came about, and his relationship with Craig…
How did you meet Craig Ogden, and was there something in particular you wanted to showcase about his playing?
I had an album out in 2008 called Poetry Serenade, and the arranger was a guy called James Morgan, who is the musical director for the Brighton Festival. So when I wrote the concerto, I sent him a demo and he really liked it. When he was at the Classical Brit Awards and Craig Ogden was there, he played it to him and Craig said, "I like that, and if the opportunity comes I'd like to play it." The reason I wrote the concerto was nothing to do with Craig – it was for my son, who is a guitar teacher. I thought, "Before I get too old, I must try to write him a guitar concerto," so that's why it was written in the first place. But Craig's been a great encouragement. Darrell Davison, MD of the Epsom Symphony Orchestra, had a concert coming up and the Rodrigo concerto was on the scheduled programme. He decided to switch it and include mine instead when he realised Craig wanted to perform it. It was a huge success. The Epsom Playhouse was full, and it went down extremely well. That encouraged me to take the next step of getting Craig to record it, because I didn't want to risk that until I'd heard what the public reaction to it would be – so having done that, I was much encouraged, and we went on to record it.
Before recording the concerto, Craig asked me to write him a guitar solo, which I did – that's how I came to write 'Poco Rondo', a very demanding piece. Because we had some spare time with the orchestra I also arranged a melody of mine, 'Fond Farewell', for guitar and orchestra. But all three pieces were not enough to make a CD – 33 minutes of music isn't enough – so that was a problem. We recorded the concerto in 2015, and it wasn't until November last year that I arranged some of my songs for guitar and voice that were originally for piano and voice. We engaged James Gilchrist as soloist, as Craig had worked with him previously, so they have a good rapport. We then recorded the eight songs, which are part of my Poetry Serenade. The problem with the original Poetry Serenade in 2008 was that there was a big financial crash, and it wasn't a good time to release an album by an unknown composer. But obviously, this latest album has the great advantage of Craig as a feature, which is a big selling point.
I guess the Rodrigo is the elephant in the room if you're thinking of guitar concertos. Is that something that influenced your own?
Not particularly, no – the first thing I did when I wanted to compose this concerto for my son was not listen to any guitar music, because I wanted to do it my own way. One advantage was that, in my very early days in music, I had a band called Saffron, and we had a contract with EMI so we had an album released. Previous to that I had been in folk bands – they were really in fashion in the 60s – so I had some knowledge of how the guitar worked, because I played a bit, not in a serious, classical way, but it was a lot of fun. That gave me some background knowledge, so I wasn't going to write impossible things. In fact, when I first wrote it I was teaching at the Royal School in Haslemere and I had a student who was very keen on the guitar. I went to see her guitar teacher after I'd written it to check whether I'd done anything silly, and he said it was absolutely fine, just changed one or two voicings of a few chords. I also got in touch with Richard Wright at the Menuhin School, he's professor of guitar there, and his comment was, "I would hardly change one note," so I felt that I must have got it just about right! So I sent it on to James Morgan, and it happened from there. He showed it to Craig, and I had it performed in May 2014 at the Playhouse Epsom with the Epsom Symphony, then the following year we had it recorded in Leeds, and the year after that we added the songs so we had a complete album. And the important thing is, it features Craig throughout.
The texts you've set for the song-cycle. Poetry Serenade, are quite wide-ranging in term of the time-periods, so did that affect the way you set the texts, and is there some sort of underlying theme that draws them together?
Poetry Serenade is just famous poems, most of which I got from the BBC book of the nation's favourite poems. Sometimes I am affected stylistically – for example, 'O Mistress Mine' by Shakespeare is written in more of a lute style, so it is definitely influenced by that period – but no, generally speaking I just did it the way I wanted to. I'm a very melodic composer – when I was at the Royal Academy of Music it was out of fashion. In 1965 it was all atonal, serial was the thing that was in, but that was never my natural style and I think you have to be true to yourself in the end. Hopefully I have a style and an identity of my own – I don't try to directly copy anything, but obviously you're influenced by what you've heard in the past.
You mentioned that the songs were originally for voice and piano but now you've reworked them for voice and guitar. Is there something that attracts you about that combination?
Oh yes – as soon as I realised I had to make up more time on the album I thought this would work really well, because voice and guitar is an extremely good combination. The guitar is gentle and the voice will naturally come through. I chose the songs that suited the guitar and also would be good for the tenor voice. Obviously love songs are going to be great for tenor. For example, in terms of the text, 'Shall I Compare Thee to a Summer's Day'.
One last thing: Apparently you used to work for Roger Whittaker, and there's some connection there with 'Fond Farewell'?
What happened was, I studied at the Royal Academy, took my teaching course and taught for three years, during which I formed a local band, which did rather well. I took the risk of leaving teaching, were signed by EMI, but unfortunately our album was killed by a strike at the EMI factory even though it was climbing up the charts! As we were involved in the same management as Roger Whittaker we started to open his shows with our own set. Eventually I became Roger's musical director for touring. He went from being quite famous to incredibly famous when a song called 'The Last Farewell' took off. He then broke into the US market, which kept us all extremely busy. One year I was touring for five months performing one-night shows! You have to be young for that. Eventually it had to end and I had the good fortune to secure a job at the Royal School, Haslemere, and I'm still there as Composer in Residence.
Is 'Fond Farewell' a tribute to those days?
When I wrote this melody Roger walked in for a sound-check, heard it, liked it very much and that night wrote words to it. Originally it was an instrumental piece, so I've just rewritten it back to its original form and arranged it for guitar and orchestra.
Do you think that people who have heard the song version will say, "Aha!" when they hear it?
Oh yes, I hope so! Roger knows all about this – I spoke with him, and he's fine.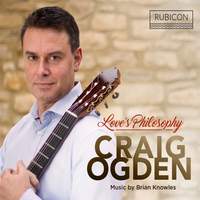 Love's Philosophy is released on 24th February on Rubicon Classics
Available Formats: CD, MP3, FLAC, Hi-Res FLAC