25th November 2016
 Recording of the Week

,

  Seong-Jin Cho, winner of the 2015 Chopin Piano Competition, performs Chopin
Korean pianist Seong-Jin Cho was thrust into the spotlight last year after winning the International Chopin Competition, and the subsequent CD released on Deutsche Grammophon, taken from live performances from the competition finals, was greatly acclaimed. Now comes his first studio album, for which Cho has, somewhat unsurprisingly, chosen to record the piece with which he won the competition: Chopin's First Concerto.
Seong-Jin Cho
And what a performance it is: utterly commanding and highly impressive. From his very first entry he shows off the range of his formidable technique: immaculate in the more fiendishly intricate bars, moving to beautifully-shaped melodies full of plaintive tone in some of the more lyrical passages. I was often struck by how little pedal he uses; it's always judiciously deployed and he never allows it to muddy the waters. All of the florid passagework is crystal-clear, and it's a joy to listen to.
The first movement is more than twenty minutes long, but it just flies by and is an absolute treat. Sharing the honours with Cho are the London Symphony Orchestra under their recently-appointed Principal Guest Conductor, Gianandrea Noseda. With Noseda's help, the LSO offers some of the most sensitive orchestral accompaniment that I can recall hearing. They're alive to every nuance of Cho's playing, and match his rubato perfectly.
It's easy to get the feeling sometimes with the Chopin concertos that the orchestral parts are, shall we say, not quite as interesting as the piano part, and that more than in other concertos the orchestra is reduced to a simple role of mere accompanist. Well, when you have the LSO as your orchestra, it takes about five seconds to demonstrate that that need not be the case at all, and this performance is an ideal example of how much detail there is to be found by a thoughtful conductor such as Noseda. The string tone is unbelievable; I was amazed at the quality of sound that they bring even to something as straightforward as held pianissimo chords.
The concerto opens with a four-minute orchestral introduction, and there's one phrase from the cellos (the final four bars before the pianist enters, in fact) that knocked me out with how astonishing it is. On the page it couldn't be simpler: just a few crotchets designed to lead into the piano entry, but those crotchets are played with such quiet passion that they almost steal the limelight from the pianist and turn it momentarily into a sneaky cello concerto! At the risk of being told I should get out more and stop being so excited over a few crotchets, it's extraordinary, and is one of countless moments that raise this recording to a higher level altogether.
To sit alongside the concerto, Cho has also recorded the four Ballades for solo piano. As thrilling as all of the flashy bits undoubtedly are, for me the real test of any pianist, particularly in this repertoire, is the ability to sustain a long, singing melody, and again I think Cho passes this test with flying colours. The opening of Ballade No. 2 is a case in point, where he conjures up a tender tone, delicate in touch and full of expression. When the stormier section starts at about two minutes in, it feels all the more pointed because of his gently graceful performance beforehand. This is a magical performance, and comprehensively justifies the jurors' choice. If this is what Cho offers us on his debut disc, then I can't wait to hear more from him.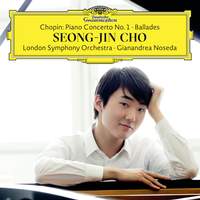 Seong-Jin Cho (piano), London Symphony Orchestra, Gianandrea Noseda
Available Formats: CD, MP3, FLAC, Hi-Res FLAC