14th October 2016
 Recording of the Week

,

  Bach and Telemann cantatas from Philippe Jaroussky
With last week's Liszt Études from Daniil Trifonov still ringing in my ears, today's disc is all about transcendence of a very different variety: Bach and Telemann sacred cantatas from Philippe Jaroussky, in a recording of such radiance and beauty that it almost seems sacrilege to pick it apart even to anatomise its virtues.
Philippe Jaroussky
Jaroussky pairs two of Bach's best-known and most-recorded solo cantatas, (Ich habe genug and Vergnügte Ruh'), with two less familiar works from Telemann's gargantuan output in the genre (I thought Bach was prolific on the cantata front until I realised a few years ago that Telemann wrote nearly 2000!), all on the theme of transfiguration through suffering. The pure-voiced French countertenor has often been one for thinking outside the box in previous projects (his recordings of French mélodies and chansons more usually undertaken by mezzos are favourites of mine, particularly the collection of Verlaine settings released last year), and this is his first recording of a composer who's often considered so central to the countertenor repertoire.
Indeed, it's his first German-language recording full stop, and right from the second syllable of Vergnügte Ruh' it's immediately apparent that he's at home: the German vowel-sounds somehow tap straight into the special qualities of a voice that's instantly recognisable for its cleanness, focus and androgynous beauty. And Bach's long lines and intervals prove the ideal showcase for the evenness and homogeneity of Jaroussky's tone: unlike another of my favourite high countertenors, Franco Fagioli, who's all about dramatic register-shifts and gear-changes, Jaroussky's singing is seamless and at times almost self-effacing, entirely appropriate in music that's all about the negation of the ego. (All four works here are essentially meditations on rising above earthly temptations and torments, though when virtuosity is called for – for instance in the final florid aria of Telemann's Jesus liegt in letzten Zügen - he's supremely equal to the task). He also works the text, particularly in Bach's dramatic recitatives, with care and clarity, and the frequent sustained notes (even at the bottom of the range, which seems to be filling out a little with age) either bloom organically or are simply allowed to hang in the air untouched – nothing's pushed, bent or otherwise messed with, and the effect is mesmerising.
There's wonderfully vibrant playing throughout from the Freiburger Barockorchester: the full-sounding strings are a treat, especially in the opening aria of 'Vergnügte Ruh', and Ann-Kathrine Brüggemann's oboe obbligato in the two Bach cantatas almost seems like an extension of Jaroussky's voice. The Telemann cantatas were both very welcome discoveries which merit repeated listening – transposed up the octave here, they're otherwise only available in their original versions for bass in eloquent accounts from Klaus Mertens (who, incidentally, appears on another superb disc of baroque cantatas that's out today on Challenge) – very much worth checking out for the first-ever recording of Handel's later version of Tu fedel? Tu costante?, which receives thrilling advocacy from Cuban soprano Yetzabel Arias Fernandez, Ton Koopman and the Amsterdam Baroque Orchestra).
Competition on disc is certainly stiff for the two Bach cantatas, and for Ich habe genug in particular (Dietrich Fischer-Dieskau alone recorded it three times); other recordings, perhaps, have conveyed more of a sense of pain transcended (Lorraine Hunt Lieberson's searing accounts of the work towards the end of her life spring most keenly to mind), but the calm joyfulness and sheer serenity of Jaroussky's Bach make this a precious recording for me, and one to which I can see myself returning time and again when in need of some 'vergnügte Ruh' of my own. Having heard what Jaroussky can do with German text and with reflections on awakening from dark nights of the soul, I'm gunning for him stray back into mezzo territory and have a crack at Mahler's Rückert-Lieder next…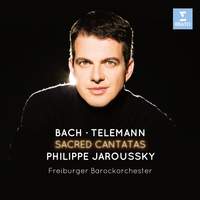 Philippe Jaroussky (countertenor), Freiburger Barockorchester
Available Formats: CD + DVD Video, MP3, FLAC, Hi-Res FLAC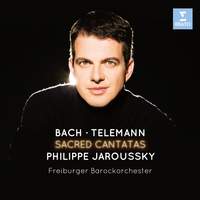 Philippe Jaroussky (countertenor), Freiburger Barockorchester
Available Formats: CD, MP3, FLAC, Hi-Res FLAC