30th June 2016
 Interview

,

  In Memoriam David Trendell
In October 2014, the organist and choirmaster David Trendell died suddenly and unexpectedly, leaving a huge gap in the music faculty at King's College London (as well as in the musical world at large). His friends and colleagues have put together a kind of memorial to him, reflecting the various aspects of his musical activity and interests - in particular his study of the music of the Renaissance, above all that of William Byrd, and his fostering of new composers' talents. Indeed, several new works written in his memory feature on the album.
I spoke to conductor Gareth Wilson about this album, and how he feels it commemorates David and enshrines his legacy.
Your sleeve-notes link this musical memorial to David back to Renaissance models such as those of Byrd in memory of Tallis – but this practice seems to disappear round about the seventeenth century. Why do you think this is, and what prompted you to revive it in this instance?
I'm not sure that the practice did disappear, although it may have taken differing forms. For example, some say that the bass-line which forms the final movement of Bach's Cantata 150 is a quotation of Pachelbel and might be seen as a tribute to the earlier composer. That same bass line, of course, was more famously adapted and used by Brahms for the final movement of his Fourth Symphony, which might in turn be read as a tribute to Bach. Brahms also used themes by Schumann and Handel as the basis for sets of piano variations and is is tempting to regard these pieces as tributes to his predecessors, certainly in the former case. I've no doubt, then, that composers have always composed in memoriam, but the reasons for our project were as much pragmatic as personal.
Given the unexpected nature of David Trendell's death, there was a considerable number of projects that he had set out but had not begun to plan, and it was our driving philosophy that we realise his intentions as fully as possible. One of those many projects was a recording with Delphian Records, with whom KCL Chapel Choir had been recording for a few years. Unfortunately, no-one had any idea as to what, exactly, he hoped to record, so it became necessary to devise a proposal which Delphian would also see as exciting and attractive since, after all, the disc would ultimately be a commercial project. So, while there was a sincere desire to do something which would honour David's memory (and we regarded everything we did that year as a tribute), there was also a concern to further the recording relationship between KCL Chapel Choir and Delphian, a relationship which had always been held as special to both parties.
This album follows a pattern that's very common at the moment for chamber choirs – the juxtaposition of English Tudor music with contemporary choral works hot off the press, with little or nothing inbetween. What do you think has led to this relative lack of interest in recording English choral music from the intervening centuries?
Firstly, the original proposal was that the disc would only contain new pieces in memory of David, but Paul Baxter at Delphian improved that idea considerably by suggesting that the inclusion of Renaissance polyphony would form a nod to one of David's interests; although David was passionate about, and deeply skilled in, many musical genres (e.g., Purcell, Bach, Haydn, Strauss, Zemlinsky, Ravel, Enescu, Poulenc, Desenclos, etc.), and although his expertise went well beyond sacred music, Renaissance polyphony did occupy a place close to his heart, and he was renowned for being able to dig deep into the scores and find precious musical details which would elude most other directors and listeners. Indeed, a CD in memory of David which did not include Byrd or Lheritier would be quite incomplete to the many who knew David and had the privilege of singing their music under his direction. Secondly, in order to make the disc unique, we sought the collaboration of composers with whom David had worked or whom he had known as friends, and the sudden aural shift from Renaissance polyphony to contemporary music, and vice versa, has long been recognised as an engaging aesthetic and spiritual experience. There was no studied avoidance of other English repertoire, then, just a desire to offer a gesture of affection to a great, unique, and generous talent.
If there has been a deliberate move away from other eras on the part of recording artists, it may be because new discoveries within the realm of earlier music are constantly being made (David's editing and recording of masses by Allegri, also for Delphian, being an example). There is also a plethora of living composers making distinctive contributions to choral music, and this is to be celebrated. How the value and potential longevity of new music should be assessed is impossible to say, but it certainly cannot happen if it is not made available to people through performances and recordings. So it is a very healthy thing that new music is being encouraged, and it is good that companies like Delphian deliberately set out to make that music available. At the same time, one need only look at the music lists of churches, cathedrals, and chapel choirs in order to see that repertoire from all eras is still being heard every day, so traditionalists need not fear! It is vital, however, that the tradition develop, because fresh modes of expression can help us see and hear things we had never imagined; the new can be revelatory (in every sense) and it is the responsibility of composers, and (perhaps more so) directors, record labels and broadcasters, as well as listeners, to allow it its voice.
Ushnarasmou, with its fascinatingly complex Sanskrit text, is very much a departure in both spiritual and musical terms from the otherwise uniformly Christian music on this album. What's the story behind the inclusion of this work?
Silvina Milstein, professor of Music at King's, was already a member of the Music Department when David was appointed, so it made perfect sense to invite her to contribute to the project and, before the arrival of her piece, two themes were clearly developing. One was the Song of Songs, which was a recurring theme in David's work and can be found on some of his other recordings; he had edited Lheritier's Nigra Sum, a Song of Songs text, but had never recorded it, so that became a prime candidate for the disc, and Francis Pott notes on the score of his setting of the same text that David's love for the Lheritier was the inspiration behind his own tribute. The other was the Christian liturgical year (Advent, Candlemas, Lent, Easter, Pentecost, Trinity, and Corpus Christi are present in the music of, respectively, Robert Keeley, Antony Pitts, Robert Busiakiewicz, Matthew Martin, Matthew Kaner, and Francis Grier). With its themes of Spring and rebirth, Milstein's piece spoke to both but, although every composer was made aware of which themes were emerging, and some were given suggested texts, none could have predicted what the final result would be from anyone, especially in Silvina's case! She was perhaps the composer whom one would least associate with the Anglican choral tradition, but such composers, for precisely that reason, often provide the most innovative work. Of the new pieces, it is perhaps the one which has attracted the most attention for all the correct reasons, and certainly brings a fresh dimension to the programme as a whole.
It also places unusual technical demands on the singers – how did you find the choir reacted to being taken out of their comfort zone by Silvina Milstein's writing?
I don't mind admitting to being apprehensive when I received the score, and I met with Silvina quite a few times to talk things through. The singers, on the other hand, dived straight in and seemed to relish the challenge. We planned sectional rehearsals and some of the choir, particularly the soprano soloists, memorised their parts. We took the piece with us on our tour of Italy (just over a week before the recording) and performed it several times. In fact, we learned it so thoroughly that it ended up being one of the easier pieces to record. For the first part, in particular, we basically sang it through four or five times and it was done. The second part took a little longer, but we were helped in our rehearsals as well as at the recording by the fact that Silvina was present and knew how best to help. There was a huge sense of achievement in having worked on something so very different from our usual fare. I'm glad that Silvina wrote that piece and incredibly proud to have performed and recorded it.
Many of the contemporary works on this disc are by new and emerging composers. Was it a deliberate decision from the outset to use this album not only as a tribute to David but also as a platform for this new generation – passing on the torch, as it were?
The concern was not so much to showcase new talent as to demonstrate the range of David's friendships, both personal and professional. Matthew Kaner and Rob Busiakiewicz had been students of David's at King's and had come back to teach alongside him - indeed, both had taught many of the choral scholars who appear on this recording. Rob had also been a choral scholar in the chapel choir and assisted David in the editions for the Allegri disc mentioned earlier, so it seemed appropriate to involve him. David had spoken to Matthew Kaner about a commission, but died before it materialised so, again, it felt right to ask him to compose for the project. David planned an evensong for the London Festival of Contemporary Church Music in 2013, which featured an anthem of Francis Grier's (Dilectus meus mihi - note the Song of Songs text!) which he had written for David in 1987, a setting of the canticles by Matthew Martin, and an introit of mine. For that same festival a year later, David's last, he performed music by Rob Keeley, and the following year, under my direction, the choir performed the pieces by Rob Busiakiewicz and Antony Pitts (who David had previously commissioned to write for the Advent Carol services at King's, one of the largest events in the College year) which appear on this recording. Francis Pott had known David since the early 1980s, and he and I had become acquainted through another composing project but did not meet in person until David's funeral at which nearly all of the composers were present. It was attended by some 600 people, including many of the country's top organists, choral directors, and singers (you can't imagine how the hymns sounded!), and that was where the project was born.
Although a tribute to David Trendell first and foremost, however, I should say that In Memoriam is also a tribute to the heartbroken friends and students he left behind who battled through personal bereavement in order to do their beloved choirmaster proud; while a list of David's accolades and achievements could continue indefinitely, it would pale into insignificance when placed against what he meant to us as a friend. This tribute to David can only be a token gesture, but I hope that it might be seen, even by those who did not know him, as a special one.
---
Gareth Wilson is Director of Chapel Music at Girton College, Cambridge, where he is also a member of the Faculty of Music, an academic professor at the Royal College of Music, and Director of Music at Christ Church, Chelsea. He taught in the Music Department of King's College London for fifteen years, and was Acting Director of the Chapel Choir following the death of David Trendell.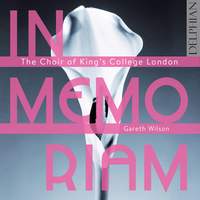 In Memoriam: A tribute to David Trendell is out now on Delphian Records.
Available Formats: CD, MP3, FLAC, Hi-Res FLAC