24th March 2016
 Interview

,

  Lotti from the Syred Consort
Mention Antonio Lotti to most classical music-lovers and you'll instantly put them in mind of the soaring, bittersweet dissonances of his eight-part Crucifixus, a work that is justly famous and beloved the world over.
Hardly any of us, though, could easily name a second work by Lotti; his reputation rests almost exclusively on this one "hit". This curious state of affairs is what conductor Ben Palmer has set out to change with his new disc, which includes the world premiere recording of the Mass from which that ever-popular movement is taken. Also featured are large-scale psalm settings and a second, standalone Credo.
I spoke to Ben about this project, which has seen him combine musicological research with performance.
It seems incredible that the work from which the ever-popular Crucifixus comes has never been recorded before. Why do you think the rest of the Missa Sancti Christophori has been forgotten for so long?
The eight-part Crucifixus became well known simply because it was included in an 1838 anthology of sacred music by Friedrich Johan Rochlitz called the Sammlung vorzüglicher Gesangstücke vom Ursprung gesetzmässiger Harmonie bis auf die neue Zeit, or 'Important Pieces from the Origin of Regular Harmony to Modern Times'. It's not such a catchy title as OUP's European Sacred Music (which, incidentally, also includes the piece), but it has meant that, over the last 170-odd years, many people got to know this one movement, while the rest of his music faded into obscurity. The Consort and I have been very lucky to work closely with Ben Byram-Wigfield, who is doing an astonishing job of finding these long-forgotten Lotti pieces in obscure libraries and archives all over Europe, and producing modern performing editions. He only published the Missa Sancti Christophori in 2012, and we were lucky enough to be the first ones to get our hands on it. Lotti has always been considered as a 'one-hit-wonder', but of course we're out to change that.
Of course, the whole point of this album is that it's not just about that one movement, but I can't resist one more question about the eight-part Crucifixus… Did you find that placing it in its proper context affected how you approached performing it, as distinct from how it's often heard when sung as a standalone concert item?
I don't think it's affected how we perform it (we first sang it in 2009, alongside some of Lotti's other Crucifixus settings) but it certainly affects how one hears and perceives it. The preceding 'Et incarnatus' is wonderfully slinky, almost barbershop-like in its descending harmonies, and more-or-less homophonic, and so this web of overlapping counterpoint, suddenly expanded into eight parts, is incredibly affecting, and the symbolism – the parts crossing to evoke the crucifixion – becomes a real coup de theatre. We recorded it with the orchestra (who, apart from cello and organ, are silent) sitting in their seats listening, and the atmosphere was absolutely electric.
It's noticeable that these are extensive pieces – the Credo in G minor is a full 13 minutes long! – and, if only for this reason, would surely hardly ever be used liturgically today. Do you think works like this can ever hope to regain an existence outside the concert hall?
It's funny that you should mention this, because Lotti was actually subjected to an investigation by a monastery committee in Venice because his Vespers services were far too long. In Dresden, too, there were reports that the Mass he performed with his Italian opera company for the Feast of St Cecilia lasted for three and half hours! Of course, you're right that it's very unlikely that his music will be used again regularly in a liturgical setting, but what an evening that must have been.
Given the way Mass sections were composed and used in Lotti's time (the accompanying notes mention that his pupil Zelenka amalgamated and repurposed various of his movements to suit his local liturgical practice), does the Mass you're premiering on this disc actually "exist" in any real sense?
In a sense, no, because Lotti never intended it to be performed as a single work, though it's certainly just as legitimate, for example, as the work we all think of as Allegri's Misere, or Süssmayr's completion of the Mozart Requiem. The Venetian habit was to throw together movements by different composers to form a complete Mass, so it probably wouldn't have occurred to Lotti to write a titled setting, such as the one Zelenka brought together as the Missa Sancti Christophori.
The notes also refer to Lotti having set the other Vesper Psalms as well as the Dixit Dominus, and indeed in even more lavish settings. Might we see more of these appearing on disc in the future?
I hope so! Paul Baxter at Delphian and I are planning something quite different for our second disc, but I think we'd both love to return to explore more of this amazing repertoire in future.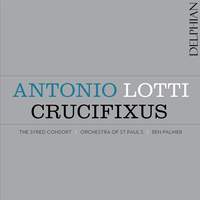 The Syred Consort's Lotti album is set for release on 22nd April, on Delphian.
Available Formats: CD, MP3, FLAC, Hi-Res FLAC