Over the past five years or so, the Albanian tenor Saimir Pirgu has emerged as one of the most exciting new lyric voices around - with awards including first prize in the 2002 Caruso Competition, the Franco Corelli Award (2009), the Golden Pavarotti Award (2013), his open, multi-faceted timbre and ability to spin a bel canto line are at once instantly recognisable and a throwback of sorts to the glory-days of the gentlemen mentioned above! Following beginnings in bel canto and Mozart, he's now much in demand at the world's most prestigious houses in roles like The Duke of Mantua in Rigoletto and Rodolfo in La bohème (and gave a show-stealing performance as The Shepherd in Kasper Holten's recent production of Szymanowski's Król Roger at Covent Garden last year, now available on DVD and blu-ray from Opus Arte). His new operatic recital-disc Il mio canto was released last month on Opus Arte, and provides a fascinating snapshot of where his voice blooms at the moment and where it might go in the future...
He's currently back in London to sing one of his signature-roles, Alfredo Germont in La traviata - his performances at the Metropolitan Opera back in 2013 (with Plácido Domingo making his role-debut as his father) garnered praise for his 'handsome, ringing sound' (Opera News) and 'exceptionally boyish, gently ardent' stage-presence (Financial Times). Saimir and I corresponded via email over the weekend, whilst he was unfortunately laid low with a throat infection which prevented him from singing the opening night in Richard Eyre's much-praised production - here's wishing him in bocca al lupo for his performance this evening!
It's over ten years since you made your first recital recording - how much do you feel your voice has altered since then? I see you sang a lot of Mozart and lighter bel canto at the beginning of your career and that the bigger lyric roles have been steadily taking over for the past couple of years...
Like you have said, the first album was recorded 10 years ago when I was just 22, and at this time I was a tenore di grazia focused on the Mozart and bel canto repertoire. With a voice so young it is just too early to sing Verdi, as much as I would have loved to. But going after such heavy roles at such a young age you just end up destroying your voice, and you aren't able to do his beautiful music justice yet. I am very happy that I had the time to slowly develop my voice: I was the youngest male debutant at the Salzburg Festival, and with the big success in Salzburg and at the Vienna State Opera, Universal decided to record my voice and to bring out an album. Our idea was to document the youth and genuineness of the voice to inspire the next generation of singers. In the new album Il mio canto, I am representing my full range of voice as it is now: the voice has become more lyrical, with a lot of colours and dramatic nuances, and is more specialised in the Italian and French repertoire.
Tell me a little about the story of your vocal training – when and how did you realise you had a voice, how much support was there to develop that when you were growing up in Albania, and what technical areas needed the most work when you started out?!
I was first a violinist and didn't have a lot of vocal training back in Albania. It is where I started, but my real studies began in Italy with Maestro Vito Maria Brunetti in Bolzano. I am very proud that my beginnings as an opera singer started in Italy because it gave me the chance to learn the language and the culture of this beautiful art form in its native country. Posare la voce, il legato, the Italian diction and the general Italian style is the biggest challenge for every young singer and what needs the most work. I am very fortunate to have been able to learn this craft in Italy, where this technique was born. My family was behind me from the very beginning and supported my choice to become a singer, and they truly gave all they had to help were they could. I am most grateful to them.
Which particular singers have been an influence and inspiration to you over the years, either on record or in person? You have such an individual, recognisable sound, but are there any singers of the past (or present) with whom you closely identify?
While I was studying at the conservatory in Bolzano I met Luciano Pavarotti, who became a great mentor and a wonderful inspiration for me. He taught me the key to bel canto, and it's only now that I am a bit older that I am fully starting to understand the incredible wisdom he has passed on to me. There are a few singers like di Stefano, Gianni Raimondi, Fritz Wunderlich, Franco Corelli, Nicolai Gedda where I find similarities, each one for different reasons. But all these tenors had a crystal clear pronunciation and pure sunshine in their voices, with the right technique to project the voice in the theatre. It was Luciano who "introduced" me to them to understand the importance of this.
Do any of the roles which appear here have a special significance for you in terms of career milestones, or simply in terms of personal identification with the characters?
Singing Traviata, Rigoletto, Lucia and Bohème have made a huge difference to my career. Especially Alfredo in Traviata, which I have sung in 22 new productions around the world. But the reason why I chose the roles for the album is just out of my admiration for some of the most beautiful arias that in my opinion were ever written.
The disc includes some roles that you've already made your own on stage, and others that you've yet to perform complete (specifically the French repertoire) – are all of the latter category things that you see in your future, or have you included arias from roles that you wouldn't necessarily see yourself taking on in the opera-house?
Most of the arias are part of the repertoire I am and have been singing until now, but operas like Luisa Miller or L'Arlésienne are roles I am preparing to add to my repertoire in the hopefully near future. In the French repertoire I have already sung Werther and Roméo a few times in the past on stage, but for the future I will be focusing more on Faust, Hoffmann, and eventually Carmen in a few years.
Of course voices can sometimes develop in directions that take us by surprise, but what sort of repertoire would you like to see yourself tackling in 10 years? 20 years?! Any dream-roles for the future that you don't mind sharing with us?
So far all the role choices I have made were well thought through to make sure the voice is ready and appropriate for them, and I have turned down parts that would be hurtful to the voice for the future. But I am already starting to experiment with more dramatic roles (last year I had a great success with Maestro Mehta and the Israel Philharmonic singing Un ballo in maschera in Israel). So I am quite happy with the direction everything is developing in. Otello is one of the roles I really would love to sing, but probably never will, because this part requires such a dramatic voice that I don't think I will ever have. It's a completely different voice. Honestly I think it would be a lot of fun to sing Barbiere, and I should have sung it before, but I never had the agility for it. But I am very happy with the parts I get to sing!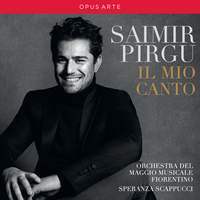 Il mio canto was released on 31st December on Opus Arte.
Available Formats: CD, MP3, FLAC, Hi-Res FLAC