4th June 2007
 Recording of the Week

,

  Elgar's Enigma Variations
As we are currently celebrating the 150th anniversary of Edward Elgar's birth I thought I'd take the opportunity to mention a new recording that I've been enjoying of his Enigma Variations and breifly summarize the fascinating puzzle behind the work. The recording is by Sir Colin Davis and the London Symphony Orchestra and out this week on the orchestra's own LSO Live label. The LSO also has a long association with the composer. Elgar was one of its first Principal Conductors and the orchestra premièred many of his works (including the coupling piece on this disc - the Introduction & Allegro for Strings).
Edward Elgar
There has been a lot of speculation about the variations and particularly over what the 'enigma' in the title actually refers to. Elgar dedicated the piece to 'my friends pictured within' and in the score each variation is prefaced with either a nickname or initials, a clue to the identity of the friend depicted. One puzzle therefore is working out who those friends actually are. This has now been largely done and you'll find full lists in most CD booklets and books about the composer as well as on numerous websites (eg. Wikipedia). There is still some speculation as to Variation XIII - refered to simpy as '***' but otherwise this part of the puzzle is solved.
However Elgar himself hinted at, and encouraged speculation over, a second, musical enigma, a popular tune which does not itself appear in the variations but of which the theme is the counterpoint. He once declared 'The enigma I will not explain - its 'dark saying' must be left unguessed'. This has led to a feverish debate that continues unabated to this day. Many suggestions have been put forward - the most popular being Auld Lang Syne and Rule Britannia - but unless some lost document revealing the answer is actually discovered it is entirely possible that we will never know the answer.
Elgar told critic Ernest Newman in 1912 that the variations expressed his sense of the loneliness of the artist. They undoubtedly begin with this feeling, but they progress to something very different and by the last variation (depicting Elgar himself) we hear a confident and triumphant finale.
This new recording under Colin Davis is beautifully played and very moving. He asks the strings to play with portamento (as they would have done under Elgar) and the whole performance has a wonderful nobility and stature.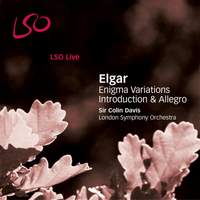 Available Format: Hi-Res FLAC