20th October 2015
 Interview

,

  Brazilian Adventures with Ex Cathedra
For the past decade or so, Jeffrey Skidmore has been championing the cause of Latin American early music, with three highly successful albums to date featuring his choir Ex Cathedra. His most recent, Brazilian Adventures, focuses on Brazil, and the slightly later repertoire of the late Baroque.
This is at least as much a musicological research project as it is a series of recordings; I spoke to Jeffrey about the challenges and rewards of uncovering the musical heritage of this vast and complex nation.
Other than the obvious linguistic distinction, do you think there's anything that distinguishes the Brazilian Baroque from other Latin American styles of the same period? Indeed, are there any particular stylistic features that mark it out from European Baroque music?
Good question…! I think partly South America is interesting just because it's there; it's South America and it needs to be explored. The other thing is that there's an opportunity; there's clearly a mixture of European, indigenous Indian (whether it's Aztec, or Inca, or Amerindian/Brazilian culture) and the African element, so there's that mixture of styles which is always interesting, and has certainly proved interesting in the Spanish repertoire.
With Brazilian repertoire, it's just very different; it was an eye-opener to me, as it will be to most people, who don't know much about it. Brazil was 'discovered' in 1500 but no manuscripts survive before about 1750ish apart from those few late-17th-Century pieces that we recorded from the Mogi [das Cruzes] manuscript. And to have lost all that repertoire is tantalising – because although in Spanish South America we've got music that does mix those three cultures, in the Brazilian music, that has been lost.
So the first colonial music you find is really late Baroque and early Classical, and very strongly influenced by Europe – even though the musicians and composers were often mixed-race composers, who had obviously come through a very interesting route to become composers. And I think the music we've recorded is very beautiful music, but it's European. There's that relaxed, sunny South American feel to it, that, certainly if you've been to South America, that means something. And I'm hoping to people in Europe, if they can put themselves in that context, it will mean something different, too. It's very relaxed, beautiful music.
It's a massive area, and a lot of research has been done; it moves really into ethnomusicology. You'd have to look at the Amerindian studies that have been done, and the Afro-Brazilian studies… there's a guy who was around in the 1920s and 30s called Mário de Andrade, and he published lots and lots of research findings that just don't seem to have been analysed with any kind of thoroughness, and you might find some help there… but the actual 'polyphony', the way it all mixes together, seems to have been lost.
And you get composers like Lésbio – a Lisbon composer of polychoral music which is very like the Araujo stuff we did, from Sucre in Bolivia – but unfortunately a lot of music was lost in the Lisbon Earthquake! It's tragic how much is missing. And when I was putting it all together, a couple of people joked with me – 'didn't you write most of it yourself anyway?' – and you almost could! You know what you want, but you can't find it. Do you recreate it, or do you just have to accept that it's lost?
You mention being tantalised by the prospect of uncovering Amerindian and Afro-Brazilian idioms on this musical journey; do you think this aspect of Brazil's musical heritage can be heard in these pieces – and do any show it particularly strongly?
I think by this point it's merged into the European style. There's very little, apart from the exuberance, there's nothing that really sets it apart, I think. But… when I've been to one of those beautiful churches in Ouro Preto and Salvador – they're World Heritage Sites! – and there is little music going on in them, this is the music that should be there. And if you hear that music in those contexts you might hear it with different ears.
I'd certainly like to do that music with Brazilian musicians and join with Ex Cathedra (we're trying to get some Brazilian scholars to come over and work with Ex Cathedra, that's one of our plans), and that also adds a lot to the music, and might change it in some way. We're very European, and we're approaching European music written in Brazil – is there something missing, and can we do it better?
Most of these composers will be completely new to listeners; why do you think this repertoire is so little-known today, even within Brazil?
Well, Brazil, like all South American countries, is evolving and changing, and has changed dramatically – there have been revolutions, political upheavals, and to a certain extent colonial music was regarded as evil, something pejorative, something we should forget. And I think the move now, I sense – in all South American countries, as they 'come of age' as it were, they realise that this is their heritage and they should value it and enjoy it.
You know, we perform Tudor polyphony and enjoy that as part of our heritage, but we don't associate with chopping bodies up and all the ghastly things that happened then. We see it as our heritage, and we see the good side of it. So I think that's probably happening in Brazil as well.
And the period-instrument revival is slowly gathering momentum in Brazil, but it's new. That's the other attraction of Curitiba [Music Festival], where Rodolfo Richter, who led our orchestra, is the artistic director – trying to establish strong period-instrument improvements. And in Curitiba there's lots of interest. All the concerts are packed out and there's lots of cheering and whooping – it's a big deal!
And his plan is to work through Italian music, this year French music, next year English, and then the year after that will be South American music, so it's sort of preparing the audience for their own music in a strange sort of way, which is quite exciting.
This is your fourth album focusing on the Baroque music of South America, and from your notes it's clear that you feel there's much more out there to be (re)discovered; where do you think you might go from here? Colonial Mexico, perhaps?
This is a massive, massive amount of music. And it's an issue of trying to work out what might have an impact, what might convert audiences the quickest! It certainly all deserves some attention. And there was a rumour that a guy in Chile was going to invite me to go to Chile next year… but I think I'm probably going to stay in Brazil. Brazil has got some tremendous repertoire. And I've certainly planned with Ex Cathedra next season – Christmas 2016 – to do some music by [João de Deus de] Castro Lobo that hasn't featured on the CD, who I think is one of the really great composers, probably along with Nunes Garcia, in Brazil, and who's hardly known at all.
Paulo Castagna – a very dynamic young musicologist from São Paulo – has compared Castro Lobo to a sort of Afro-Brazilian Mozart-type character. Totally brilliant, a fascinating personality, very prolific, so there's a good story there to latch onto when promoting his music. So that'll be the next step.
But there's loads of stuff – in Mexico and in Bolivia, in Sucre. There's a lot going on, and it's just a question of time and resources and funding, and getting a big enough team of people to help you make it work.
It's interesting that of the three Spanish South American CDs we did, the most popular was Moon, Sun and All Things, and the third one, Fire Burning in Snow, sold fewer despite being the best music! It's the best music by a long way. But it's persuading people to listen to it enough to realise how good it is.
And adding the whooping and the percussion… there's an Argentine musicologist [Bernardo Illari] who I was talking to about this, and he said 'don't get drawn down the exotic route. You can add percussion, jazz things up, but that's probably not how it was. You've got to enjoy it for what it is, as it is.' And that was certainly my attitude with Brazil: 'This is what I've found, this is how it is. It's very beautiful music, it's a very beautiful place, it's a wonderful heritage – accept it for what it is.'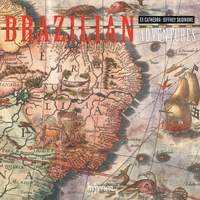 Brazilian Adventures is released on October 30th, on Hyperion.
Available Formats: CD, MP3, FLAC, Hi-Res FLAC
Other South American Baroque discs from Ex Cathedra...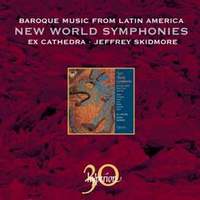 The disc that started it all - juxtaposing the music of the Old and New Worlds, and featuring the iconic Hanacpachap Cussicuinin.
Available Format: CD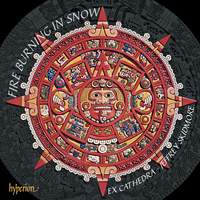 The polychoral immensity of Juan de Araujo is the focus of this album - his triple-choir Dixit Dominus is counterbalanced by settings of passionate love-songs.
Available Formats: CD, MP3, FLAC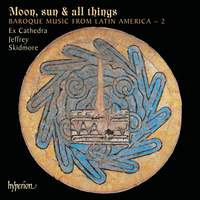 An imagined Vespers service as it might have been heard in colonial churches and cathedrals in the 17th Century, featuring psalm settings from a range of Latin American Baroque composers.
Available Formats: CD, MP3, FLAC