2nd October 2015
 Recording of the Week

,

  Antonio Pappano conducts Verdi's Aida with Anja Harteros and Jonas Kaufmann
It's been a long time (a good fifteen years, I think) since we had a major new studio-recording of Verdi's Egyptian epic, and Warner Classics have really pulled out all the stops with this no-expense-spared project, recorded in Rome earlier this year over an entire week. In an age where most complete opera-recordings are made from live performances with 'patching' (retakes and touch-ups after the event) it's a luxury which harks back to the glory-days of the 1960s and 70s, and the detail and fine-tuning of the finished product show it was worth every penny. (Full texts and translations, too, not to mention insightful booklet-notes).
Jonas Kaufmann, Anja Harteros, and Antonio Pappano
The cast really couldn't be bettered today. Jonas Kaufmann sings the role of Radamès for the first time here, and his sublime 'Celeste Aida' sets the tone for a recording that's full of fresh insights and attention to detail whilst never sounding clinical or micro-managed. He and Pappano pull off everything that Verdi requested but rarely gets, not least the treacherous diminuendo (to quadruple pianissimo!) on the final top B flat (viewers of Pappano's recent BBC series on operatic voices may recall the rather lovely moment when Pappano asks Kaufmann to demonstrate this and shakes his head in laughing disbelief when he complies!). Kaufmann's also so very alive to the contrasting sides of Radamès' character – he can switch from warrior to lover in an instant, never more so than in the 'Nile Scene' as he vacillates agonisingly between that old operatic conflict, love and duty.
Anja Harteros's very lyrical Aida may divide listeners: I love the fragility she brings to the role of the enslaved Ethiopian princess (the Nile Aria in particular is exquisite), but don't expect the steely inner fire and weighty lower register of Leontyne Price or Renata Tebaldi. She sails above the big ensembles with grace, though, and her approach complements and contrasts with her Amneris, the young Russian dramatic mezzo Ekaterina Semenchuk. This Mariinsky protégée is probably the most old-school 'Verdi voice' on the bill: a real metallic powerhouse mezzo with a formidable chest-register and lacerating top notes. She's also the only one of the principal singers to have sung her role on stage already, though she's quoted in the booklet-note as saying that the recording-process with Pappano has deepened her understanding of the character no end. It shows. I don't think I've ever heard an Amneris who better captures the youthful vulnerability of this entitled princess.
When she first appears, sulking in her boudoir, the sound's so lyrical that I thought she might be too light for the role, but once she's spurred into woman-scorned mode all hell breaks loose. Her Act Four confrontation with Kaufmann sent my heart-rate through the roof!
The smaller roles also receive luxury performances. Erwin Schrott is an imposing, fanatical Ramfis: it's good to hear him not playing the seducer for once, and he blends wonderfully with Kaufmann in their invocation to the gods (their joint cry of 'Immenso Fthà!' at the end of Act One will rattle your rafters!). He's also nicely differentiated from Marco Spotti's noble but vulnerable King: on other recordings it's sometimes hard to tell these two characters apart in ensembles. (One of the many strengths of the set, thanks to Pappano and the tireless recording engineers, is the way you can pick out every single line in even the densest ensembles - particularly crucial in those huge concerted scenes where several characters are going to pieces against a backdrop of general rejoicing...).
But in the final analysis the laurel-wreath must go to Pappano's wonderful Santa Cecilia Orchestra, who capture every facet of the score's astonishing emotional and dynamic range and get right behind their conductor's vision of the opera as a conflict between the public and the private: there's real chamber-music-like intimacy in the domestic scenes (especially from the marvellous woodwind principals), whilst the front on the brass sound in the big military set-pieces (augmented by the brilliant Italian State Police Band) is real all-guns-blazing stuff. Gloria all'Italia!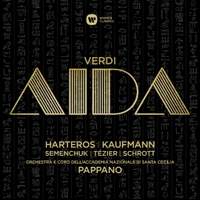 Anja Harteros (Aida), Jonas Kaufmann (Radamès), Ekaterina Semenchuk (Amneris), Ludovic Tezier (Amonasro), Erwin Schrott (Ramfis), Coro e Orchestra dell'Accademia di Santa Cecilia, Roma, Antonio Pappano
Available Formats: 3 CDs, MP3, FLAC, Hi-Res FLAC