10th August 2009
 Recording of the Week

,

  Bartok's Bluebeard's Castle
This week I've been enjoying a new recording of Hungarian composer Béla Bartók's only opera, Bluebeard's Castle. It was quite an early work in Bartók's output and is almost unique amongst 20th century opera in its design and style. It is only one act (less than an hour long) and is a dark and intense work, involving only two characters: Duke Bluebeard and his young bride Judith. Over the course of the opera Judith persuades Bluebeard to open seven doors in his castle in order to let light into the grim interior. Behind each she finds increasingly disturbing sights, until behind the final door she discovers Bluebeard's former wives and learns her own fate.
Elena Zhidkova
I think it is a brilliant opera, and it is a great pity that Bartók didn't explore the genre any further. Performances were very rare during Bartók's lifetime due to the librettist's (Béla Balázs) communist credentials, which made the opera unacceptable to the Hungarian political regime. In the last fifty years or so, however, its reputation has increased vastly, and it is now seen as a key work in Bartók's output.
Listening to it I'd suggest the influences of Richard Strauss and Debussy are the most apparent, but the harmonic language and treatment of rhythm is typical Bartók, while the textures are full of extremes, with his evocative use of orchestral colours contrasting brilliantly with huge dissonant waves of sound.
Sir Willard White
The new recording I've been enjoying comes from Valery Gergiev and the LSO and features two outstanding singers in the form of Sir Willard White and Elena Zhidkova. Sir Willard White has long been associated with the role of Bluebeard on stage and is renowned as one of its greatest ever interpreters. This, his first complete recording, has therefore been long overdue. The real revelation though is Berlin-based Russian mezzo Elena Zhidkova who was a late replacement following the withdrawal of Katarina Dalayman. The remarkable range of emotion in her voice is staggering and you really can't imagine a better Judith. On this evidence I'd be very surprised if a major recording contract doesn't follow shortly.
Overall it is an outstanding recording of a great work, which if you don't know already is well worth getting to know. A lot of it is dramatic, but no scene is more vividly portrayed, or more memorable, than the moment when Judith opens the fifth door to behold a vista looking out over all Bluebeard's vast and beautiful kingdom. It must be one of the most spine-tingling moments in all twentieth-century opera, as a violently dissonant passage suddenly transforms into a massive C major chord in the full orchestra. I've put this bit on the website for you to listen to where you hear about twenty seconds of gradually building dissonance followed by Judith's cry of 'Ah' as the fifth door swings open. Enjoy!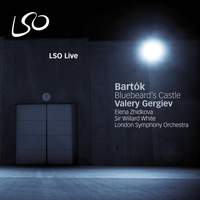 Elena Zhidkova (Judith) & Sir Willard White (Bluebeard), London Symphony Orchestra, Valery Gergiev
Available Formats: MP3, FLAC