Favourites

,

  Jacques Offenbach
He may not quite be up there with Catalani or Flotow in the 'one-hit-wonder' stakes, but it's probably fair to say that sometime cello virtuoso and man of the theatre Jacques Offenbach (1819-80) is best-known today for two of his operettas, the good-natured Classical burlesque Orphée aux Enfers (1858) and the darker opéra fantastique Les contes d'Hoffmann (premiered in 1881) - or, even more specifically, for the notorious Can-Can from the first and much-transcribed Barcarolle from the second.
Hoffmann has attracted some of the finest singers of the twentieth (and indeed twenty-first) century and continues to maintain a firm foothold in opera-houses and on recital-discs - but Offenbach was an incredibly prolific composer for the stage (and indeed beyond it - his compositions for his own instrument, in particular, deserve to be much better known), and many of his operettas languish unrecorded and no longer performed. However, in recent years conductors as diverse as Mark Elder, David Parry and even the late Carlos Kleiber have done sterling work to rescue some of his charming curiosities from obscurity.
Operettas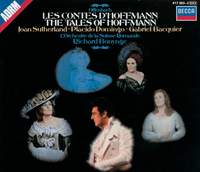 Hoffmann was one of Plácido Domingo's signature-roles, and he's caught in his prime here in 1971 under Richard Bonynge, with Joan Sutherland taking on all three heroines with aplomb (she's predictably brilliant in Olympia's stratospheric antics, and finds real emotional depth as Antonia) and Gabriel Bacquier all sinister suavity as the four villains.
Available Formats: 2 CDs, MP3, FLAC
Laurent Pelly's crepuscular 2013 production from the Teatro Liceu in Barcelona plays Hoffmann as a darkly surreal play-within-a-play. Stéphane Denève conducts a fine cast: the up-and-coming American tenor Michael Spyres has the perfect instrument for the title-role, with Natalie Dessay (previously a celebrated Olympia) a fragile, heart-rending Antonia, and Korean-American soprano Kathleen Kim (suspended from the ceiling in a metallic crinoline!) a superbly creepy mechanical doll.
Available Format: 2 DVD Videos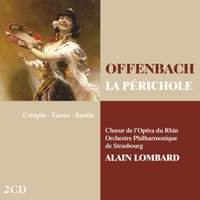 Famed for her Berlioz, Wagner and Strauss, the great French dramatic soprano Régine Crespin is perhaps not the most obvious choice for the role of the eponymous impoverished street-singer, but she exudes charm throughout - particularly in the famous 'Tipsy Waltz', which is all the more effective for being played relatively straight. Alain Lombard conducts on this 1976 recording.
Available Format: 2 CDs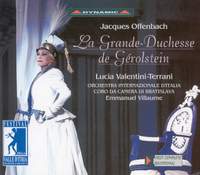 Famed as a Rossini specialist, the imposing Italian mezzo Lucia Valentini-Terrani brings her trademark agility and comic timing to operetta, delivering a marvellously imperious turn as the spoilt, uniform-loving aristocrat who eventually learns that happiness is wanting what you have rathe than having what you want; Emmanuel Villaume conducts.
Available Formats: MP3, FLAC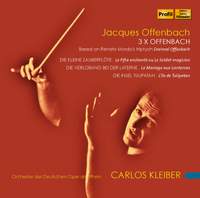 Carlos Kleiber might not be the first name you'd necessarily associate with operetta, but he presides over classy performances of three rare one-acters on this 2-CD set from the Deutsche Oper am Rhein: L'île de Tulipatan (1868), Le fifre enchanté (1864) and Le mariage aux lanternes. (1857).
Available Formats: MP3, FLAC
Other works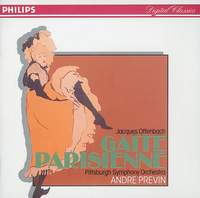 Recently resurrected on our in-house Presto CD label, André Previn's account of this one-act ballet with the Pittsburgh Symphony Orchestra brings out the effervescence of this one-act ballet about the comings and goings of the beau monde in a Parisian hot-spot over the course of one evening; the closing barcarolle is luminous.
Available Formats: Presto CD, MP3, FLAC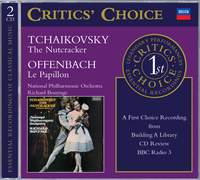 Another curio from the Presto CD collection, this account of the two-act 'fantastic ballet' about an abducted princess who escapes her captor by transforming into a butterfly (and, in the interests of living happily-ever-after, back again once a handsome prince proves his worth) is conducted by Offenbach enthusiast Richard Bonynge.
Available Format: 2 Presto CDs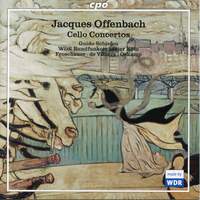 Offenbach began his musical career as a cellist Opéra-Comique, and during the 1840s went on to tour Europe as a virtuoso composer-performer (partially in order to secure funds to propose to his beloved, Hérminie d'Alcain); this lovely disc brings together half-a-dozen of his compositions for cello and orchestra, with Guido Schiefen as soloist.
Available Formats: CD, MP3, FLAC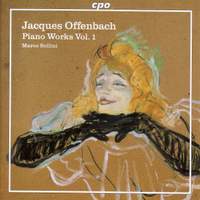 Offenbach was also quite a prolific composer for the piano, though until Marco Sollini began his survey on CPO in 2005 this was comparatively little-known; this first volume includes the Decameron dramatique (an 1854 collection of ten pieces dedicated to members of the Comédie-Française) and the six 'sentimental waltzes' Les roses du Bengale.
Available Formats: MP3, FLAC