5th November 2014
 Interview

,

  A new Bach Mass in B minor from Arcangelo
Relative newcomers to the baroque and early-music scene, Arcangelo have quickly made a name for themselves with a string of critically-acclaimed recordings. Their Handel disc featuring bass soloist Christopher Purves ('Handel's Finest Arias for Base Voice') was particularly well received, with Purves' ability to convey a huge range of emotions making a big impression on the critics at both this year's BBC Music Magazine Awards and the Gramophone Awards 2013.
For their latest recording, they have turned to Bach's mighty masterwork, the Mass in B minor. I asked artistic director Jonathan Cohen (whose brainchild the ensemble is) about the process of committing this often daunting work to disc.
The world is not exactly short of recordings of the B minor Mass – both time-hallowed performances of the old school and more recent ones informed by period performance practices. What would you say distinguishes this new one from the crowd?
The B minor Mass is like a musical Mount Everest. There will never be any shortage of mountaineers and keen professional adventurers that want to tackle its challenges and hence there are many many recordings. Some great veterans have now recorded it two or three times!
Our recording was made mostly live with a small number of patching sessions. I hope that ours captures a kind of performance aspect which is not so easy to maintain every day in a studio. The intensely personal and religious nature of the work I think benefits from this concentrated performance aspect. Also, I chose to do this reading with rich sounding and majestic choral forces. Sometimes the period performance readings tend to be deliciously light and the more 'time-hallowed performances of the old school' as you put it stoically grand. The music contains at the same time both these aspects. I hope it is possible to have both aspects at the same time. It is my hope that we manage to capture both elements: if we were successful then maybe that could be a distinguishing feature of this recording?
On a similar note – how much would you say others' takes on the Mass have influenced you? Did you consciously try to go right back to the drawing-board, or were there any performances that you found fed into your own approach?
All recordings and performances influenced me but as far as it is possible I feel it is always of foremost importance to take the score as the guiding inspiration.
You've opted for a countertenor for the alto parts, where many have 'cast' a female alto – is this simply a personal preference for the unique countertenor sound, or a historically-informed decision aiming to hark back to what Bach himself would have done?
When I heard Tim Mead with his beautiful plangent sound I felt his voice and musicianship was perfectly placed to express this music. In our day and age I think it's less about what is "right" and more about what serves best the music. And I'm sure we each have an imagination as to what is best for the music as the original interpreters did of the time. As Harnoncourt said this is maybe what is true meaning of authenticity? Of course I feel it very important to understand the cultural context of period performance and what was the aesthetic goal of the composer/artists of the time and their usual / inherited practises to achieve those goals. In understanding it as far as possible we can make better informed choices of how to devote ourselves to that goal for the same music in our modern age.
Most of your previous discs have been either of solo vocal repertoire or relatively light-weight choral music – for instance the Porpora cantatas and your multi-award-winning Handel disc with Christopher Purves. The monumental B minor Mass is about as far from this as it's possible to get; what was the thinking behind this substantial change of direction?
I don't think it is a change of direction. At Arcangelo it is my desire to work in all those genres of baroque and classical repertoire, but to always foster a spirit of passionate chamber music making and shared exploration as the core guiding principle. We have recorded also recently some Mozart and Haydn wind concerti, more 'historical singer' arias, this time Arias for Benucci (first Figaro, Leporello, Gugliemo) with Matthew Rose and also Charpentier Lecons de Tenebre with Stéphane Degout and Sam Boden. I'm neither keen only to work on 'monumental' projects, but it is nice to bring our instrumentally led chamber music spirit into these larger scale pieces from time to time. They are essentially all part of the same spirit...
Might this now be the start of a focus on choral Bach for you – could we expect a John or a Matthew Passion in the near future?
To tell you a secret, we are currently working towards another live record project of the Bach family Magnificats on one CD next season. After that in our choral series I would love to explore those colourful choral works of Handel and Haydn. But I shouldn't give away too many of our secret artistic planning ideas!!! As you know in our industry, much depends on resources, timings, casting and the success and momentum of our current releases!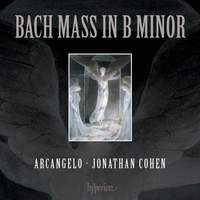 Arcangelo's recording of the Mass in B minor, with soloists Lydia Teuscher, Ida Falk Winland, Tim Mead, Samuel Boden and Neal Davies was released on Monday on Hyperion Records.
Available Formats: 2 CDs, MP3, FLAC, Hi-Res FLAC
Other recordings from Jonathan Cohen and Arcangelo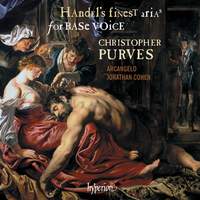 This fascinating disc, showcasing both the technical brilliance and the expressive variety of Christopher Purves' voice, made a great impression on the critics at both the Gramophone Awards 2013 and the BBC Music Magazine Awards 2014.
Available Formats: CD, MP3, FLAC, Hi-Res FLAC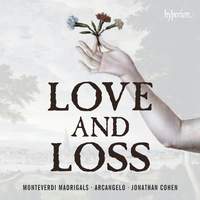 A delightful selection of madrigals from Monteverdi's sixth, seventh and eighth books, covering topics ranging from parting and loss to war and tumult. The seventh book, Concerto, features instrumentally-accompanied madrigals, while the highlight is the setting of Tasso's Combattimento di Tancredi e Clorinda.
Available Formats: CD, MP3, FLAC, Hi-Res FLAC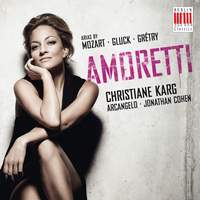 Soprano Christiane Karg's light voice shows a refreshingly different side to these arias from Mozart's early operas and works including Gluck's Iphigénie en Aulide and Gretry's La Fausse Magie - negotiating the most demanding of technical passages with apparent ease.
Available Formats: CD, MP3, FLAC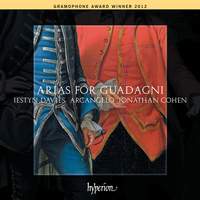 Countertenor Iestyn Davies is the star of the show on this disc, which explores the music written for the castrato Gaetano Guadagni (the first Gluck Orfeo). Arne's Vengeance, O come inspire me (from his cantata Alfred, today best known as the source of Rule, Britannia!), is a particular gem.
Available Formats: CD, MP3, FLAC, Hi-Res FLAC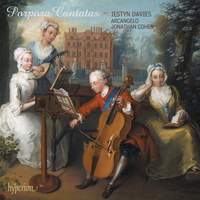 A second helping of Iestyn Davies - this time in the characterful solo cantatas of Nicola Porpora, dedicated to Frederick Prince of Wales in recognition of his patronage of the arts. Keep an ear out for Porpora's witty word-painting, brought to life by Davies' sensitive voice.
Available Formats: MP3, FLAC