14th May 2007
 Recording of the Week

,

  Debussy's new champion
I have spent much of the past week digesting and enjoying Debussy's two books of Preludes for piano. They are fantastic works (24 in total) full of rich, unusual and daring harmonies. Listening to them creates numerous different moods and images in your mind. Unlike Chopin's 24 Preludes (their obvious model and predecessor) Debussy is not concerned with employing all 24 keys but instead gives each one a title referring in some degree to the mood and character which they evoke.
Jean-Efflam Bavouzet
What started me along this route was a new recording by the French pianist Jean-Efflam Bavouzet. He's not yet a household name but I remember a very fine recording of Ravel's Gaspard de la Nuit that won the Building a Library recommendation for that work a few years ago and so when I saw this Debussy in the schedule I was eager to hear it.
As I had suspected Bavouzet shows that he has a deep understanding of the composer's idiom, but more importantly he is a superbly equipped virtuoso who puts the music first. Local colour, rubato fancies, and similar interpretive touches organically arise from what the score tells Bavouzet, not the other way around. For lovers of Debussy, and of great piano-playing, this is essential listening and comes highly recommended.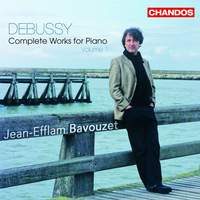 Available Formats: CD, MP3, FLAC, Hi-Res FLAC