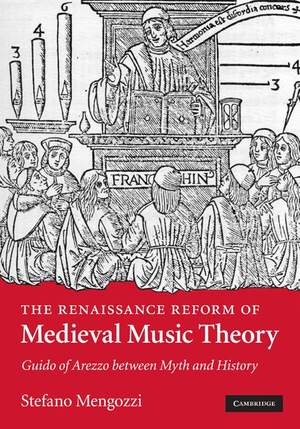 The Renaissance Reform of Medieval Music Theory
Guido of Arezzo between Myth and History
Author: Mengozzi, Stefano
Contents
Introduction: Guido's hexachord: old facts and new questions
Part I . Guidonian Solmization in Music Theory and Practice:
1. Guido's musical syllables: conflicting views from modern historiography
2. Inside the gamut: Guido of Arezzo and Hermannus Contractus on the major sixth
3. Hands off! Singing without syllables in the Middle Ages
4. The making of a system: medieval music semiotics in transition
Interlude: All hexachords are 'soft'
Part II . Reforming the Music Curriculum in the Age of Humanism:
5. Back to the monochord: church reform and music theory in the 15th century
6. Normalizing the humanist: Johannes Gallicus as a 'Follower of Guido'
7. Gafori's hand: forging a new Guido for a new humanist culture
8. Hexachordal theory and deductive method in Gioseffo Zarlino's Dimostrationi harmoniche (1571)
Epilogue: Discarding the Guidonian image of early music
Bibliography.