16th February 2021
 Announcement

,

  Frédéric Chopin: Trois Nouvelles Études
The Complete Chopin: A New Critical Edition
Established as the most important ongoing scholarly edition of Chopin's music, The Complete Chopin: A New Critical Edition from Edition Peters is indispensable for any discerning pianist. Under editor-in chief John Rink, some of the world's leading Chopin editors bring their exceptional collective knowledge to permeate the project with unique authority, utilising the latest international scholarship. A beautifully presented performing text of each work based on a single principal source together with important variants prioritises the needs of practical pianists. A thorough critical commentary, and illuminating prefatory essays in English, French, and German are also included in each edition.
The Complete Chopin is based on two key premises. Firstly, there can be no definitive version of the works as variants form an integral part of Chopin's music. Secondly, a permissive combination of readings from several sources (in effect producing a version of the music that never really existed) should be avoided. Therefore, the editors' procedure is to identify a single source for each work, and to prepare an edition of that source (regarded as 'best' even if it cannot be definitive). Simultaneously, important variants from other authorised sources are reproduced either alongside or within the main music text, in footnotes, or in the Critical Commentary, therefore enabling scholarly comparisons and facilitating choice in performance. Multiple versions of whole works are presented when differences between the sources are so abundant or fundamental that they go beyond the category of 'variant'.
Frédéric Chopin: Trois Nouvelles Études
The latest in Edition Peters The Complete Chopin, is Roy Howat's new edition of Trois Nouvelles Études. Originally published in 1840 in the multi-composer Méthode des Méthodes, these etudes are Chopin's least overtly virtuosic studies, but arguably the most quietly sophisticated of them all in terms of how they train the pianist's sensitivity to sound, rhythm, and texture. After 180 years it seems remarkable that new details can still be found in these pieces, but Howat's edition prints some for the first time; notably a number of melodic variants in the first etude and notes in the second etude that all previous editions bowdlerized. These authentic notes are sensitively restored and act as a pivot in the second etude's structure, altering our perception of the music's texture and voicing.
This edition also confirms some authentic fingering still unfamiliar to most pianists, such as whimsical thumb 'hops' down the black keys at the end of the third etude. In keeping with the editorial procedure of this series, the edition is based on a principal source, the manuscript Chopin carefully prepared for his friend Ignaz Moscheles. In addition, some changes that Chopin introduced after publication also feature here as variants, allowing pianists to choose options for performance in full awareness of where they come from. You can purchase the Trois Nouvelles Études, alongside other publications in The Complete Chopin series below.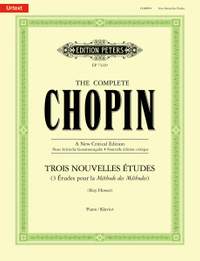 Frédéric Chopin's Trois Nouvelles Études in a new Urtext edition by Roy Howat for The Complete Chopin: A New Critical Edition. This authoritative critical edition based on Chopin's autograph restores Chopin's original text and corrects important pitches wrongly presented in previous editions. Includes Chopin's authentic fingerings with variants clearly presented as ossias within the main text of each etude. Includes a preface by Roy Howat in English, French and German, and a thorough critical commentary.
Available Format: Sheet Music
More from The Complete Chopin – A New Critical Edition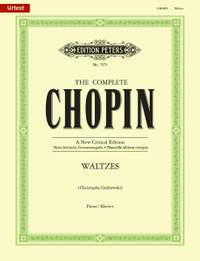 Chopin's Waltzes are among the best known and loved works by the composer.This edition includes an introductory essay examining the historical background, compositional features and performance practice issues, a detailed and comprehensive critical commentary, and notes on the editorial principles and methodology guiding the whole project.
Available Format: Sheet Music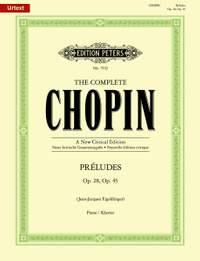 Among the most beautiful and important compositions in Chopin's oeuvre. This edition includes appendices containing earlier versions of the Preludes in G major and Ab major.
Available Format: Sheet Music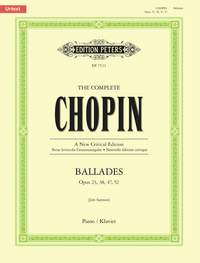 Elaborate one-section works, which cemented the new Romantic musical genre, the instrumental piano ballade. Combining epic-dramatic and lyrical elements, Chopin is undoubtedly the champion of this genre.
Available Format: Sheet Music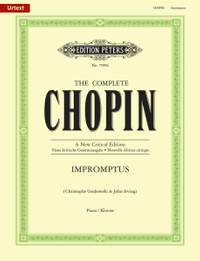 The most famous of the Impromptus, is the so-called Fantaisie-Impromptu. Because Chopin suppressed its publication during his lifetime, this work has suffered more than most from the editorial 'free-for-all' that disfigured most Chopin publishing for at least a century after his death. Propelled by Arthur Rubinstein's discovery of an autograph score, the situation improved markedly, and this edition is able to reflect the very latest source scholarship, both for the Fantaisie-Impromptu and the other Impromptus.
Available Format: Sheet Music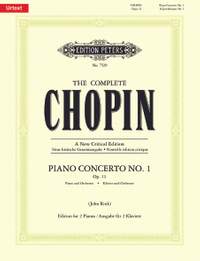 Chopin composed two piano concertos, Concerto in E minor, Op. 11, and Concerto in F minor, Op. 21. Both were composed by Chopin at a young age, and became widely renowned from the moment they were written. Composed in the style of the 'concert brilliant', a genre fashionable during Chopin's youth.
Available Format: Sheet Music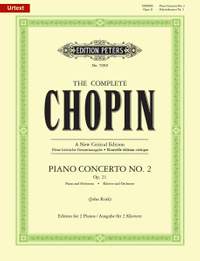 Although titled Concerto No. 2, op.21 was in fact the first concerto composed by Chopin. Often egarded as the more lyrical and delicate of the two piano concertos.
Available Format: Sheet Music