22nd September 2020
 Announcement

,

  Beethoven Complete Violin Sonatas
Bärenreiter are celebrating Beethoven's 250th birthday along with the entire world. For years they have spared no effort to present many of his great works in top-quality editions in time for his anniversary year. Ever since Jonathan Del Mar embarked on his edition of the nine symphonies in 1997, Bärenreiter have become, step by step, the premier Beethoven publishing house. The most recent addition is the Complete Violin Sonatas.
Beethoven's ten sonatas for piano and violin, along with those by Mozart, constitute the heart of this classical music genre. Following the lead of Mozart's late sonatas, Beethoven lets the violin part become increasingly independent from the piano part. Not only does Clive Brown's scholarly critical edition offer a meticulously edited text, but for the first time it presents a list of sources and a Critical Report. Furthermore, Brown documents a great number of passages where, by today's standards, the notation raises some questions. These passages had previously been overlooked in the autograph, but their significance is now clarified.
Clive Brown's edition of the Complete Violin Sonatas is the first edition to include a list of sources and a Critical Report, numerous corrections not found in previous editions, and a definitive Commentary on Performance Practice. This edition also contains an Urtext violin part and a second violin part with fingering and bowing. Bärenreiter are also offering a special set price for the Complete Violin Sonatas, though volumes one and two are also available separately.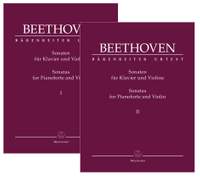 Watch the video below to hear some thoughts about this new edition from Viktoria Mullova (violin), and Alasdair Beatson (fortepiano).
Other Beethoven 2020 Bärenreiter Publications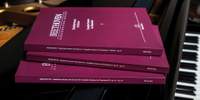 Following the critically acclaimed publication of the 35 Piano Sonatas in separate editions, Bärenreiter now presents Beethoven's Complete Piano Sonatas in three volumes. This edition, which is unparalleled in terms of its philological accuracy, has been edited by world-renowned Beethoven expert Jonathan Del Mar guaranteeing a musical text at the forefront of musicological scholarship.
Critical Commentary and Volumes I, II and III also available.
Available Format: Sheet Music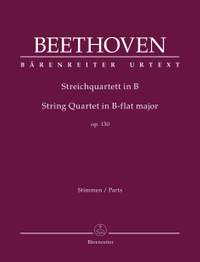 Although Beethoven did not live to see the publication of his String Quartets op. 130 and op. 133, he oversaw the production process, making corrections and putting the works into their final form. The String Quartet op. 130 is the longest piece within Beethoven's extensive chamber music oeuvre.
Critical Commentary, Facsimile Edition, and Study Score also available.
Available Format: Sheet Music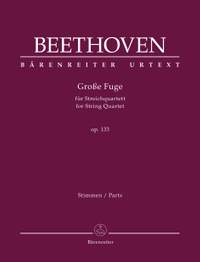 Even by today's standards, the Große Fuge is a complicated work and poses a challenge to performers. However it was the first work in music history to include a helpful addition: rehearsal numbers. These were included in the first edition so that during rehearsals musicians could find a common entry without having to start the piece afresh.
Available Format: Sheet Music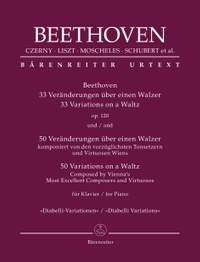 Beethoven's Diabelli Variations, written between 1819 and 1823, mark the pinnacle of his oeuvre for variations and next to Bach's Goldberg Variations form one of the most important contributions to this genre. The variations first printed by Diabelli fictively as Fatherlandish Union of Artists Part I (Beethoven's op. 120) and Part II (the 50 variations of Vienna's "most excellent composers and virtuosos") are presented here by Mario Aschauer for the first time in one edition.
Available Format: Sheet Music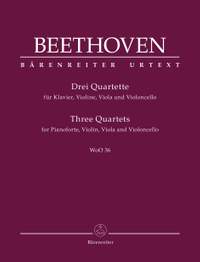 Piano, Violin, Viola, and Cello
When Beethoven wrote these three quartets he was fifteen years old and a composition student of Christian Gottlob Neefe in Bonn. They reveal a strong Mozartian influence while the brilliant piano writing already gives a sense of the mature Beethoven. He may conceivably have written the works for the wealthy Mastiaux family in Bonn, as he gave piano lessons to one of the daughters and the other three siblings played violin, viola and violoncello.
Available Format: Sheet Music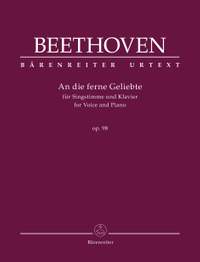 "My angel, my all, my self". With these words Beethoven, in July 1812, began his passionate love letter to a woman whose identity has eluded discovery to the present day. Was he perhaps addressing the same woman four years later when he composed An die ferne Geliebte, his song cycle on poems by Alois Jeitteles? Barry Cooper discusses this and many other questions in the introduction to his new edition of Beethoven's only song cycle. Not only does he present a meticulously edited musical text, he also delves into questions of performance practice that previous critical editions have overlooked.
Available Format: Sheet Music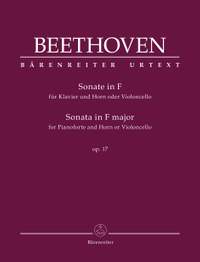 Beethoven wrote his Horn Sonata op. 17 for Johann Wenzel, one of the most famous horn players of his day. According to an anecdote from Beethoven's pupil Ferdinand Ries, he only completed it on the day before the première. Nevertheless, the piece was a rousing success. As the horn part demands a masterly technique, the publisher of the first print, Tranquillo Mollo et Comp., issued the piece in 1801 with an alternative part for violoncello. Since the autograph score has not survived, Jonathan Del Mar has based his scholarly-critical edition mainly on this first print.
Available Format: Sheet Music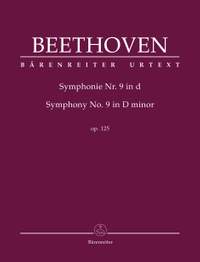 Beethoven and Bärenreiter – a marriage made in heaven! It all started in 1996 with Symphony No. 9: Jonathan Del Mar's groundbreaking edition of this masterpiece marked the beginning of his new edition of the complete nine symphonies. They became a huge success and have been used by countless orchestras all over the world. This new edition now has an optimised layout and an additional introduction by Barry Cooper. Rounding off this beautiful linen-bound volume are several pages reproduced in facsimile.
Paperback Full Score, Critical Commentary, Facsimile, Vocal Score, Individual Parts, and Study Score also available.
Available Format: Sheet Music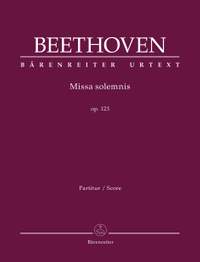 Beethoven described his grandly conceived Missa solemnis as "my greatest work" and sold manuscript copies to some of the subscribers even before it had appeared in print. This Urtext edition takes into account all the sources including the old and the new complete editions whose relationship is clearly explained in a stemma. This edition is designed for everyone seeking a combination of a reliable musical text and well-founded editorial suggestions for a successful performance of this masterpiece.
Vocal Score, Choral Score, Facsimile, and Individual Parts also available.
Available Format: Sheet Music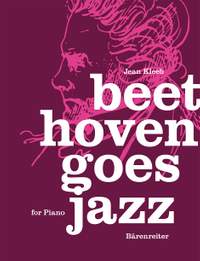 Ludwig van Beethoven had the ability to create an entire musical universe from the most unassuming and minuscule motif. No classical composer worked more consciously with rhythm than Beethoven: his unmistakable "drive" can be felt in every bar! Here familiar Beethoven themes are merged, liberated, shuffled, filtered and recombined with jazz harmonies, standard styles and rhythms. Jean Kleeb's arrangements sometimes closely follow the original, at other times they comment on or recall Beethoven's music from afar.
Available Format: Sheet Music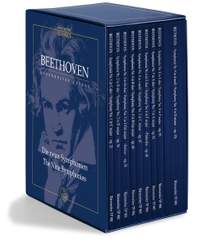 The scores and performing material to this most famous symphony cycle enjoy the unabashed praise of conductors, performers and critics around the world. This edition can be heard not only every day in concert halls, but also on CD recordings by John Eliot Gardiner, David Zinman, Jos van Immerseel and in the cycle conducted by Claudio Abbado and the Berlin Philharmonic released by Deutsche Grammophon. The reference set of Beethoven's Symphonies is available at an affordable price to every student, conductor and Beethoven fan.
Available Format: Sheet Music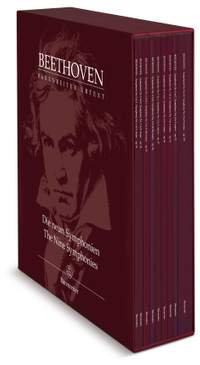 Between 1996 and 2000 Bärenreiter published scholarly-critical editions of Beethoven's Nine Symphonies edited by the first class musicologist Jonathan Del Mar. The editorial process was a huge undertaking because of the complex source situation regarding Beethoven's Symphonies culminating in the Choral Symphony which came down in nearly twenty different sources. So it was not surprising that Bärenreiter's new Urtext edition caused a considerable stir in the music world. Since publication, Del Mar's edition enjoys the unabashed praise of conductors, performers and critics alike and has become the most widely used publication of the Beethoven Symphonies.
Available Format: Sheet Music