UPDATE: Royal Mail have now resumed shipments on ALL International services but delays should be expected, please choose FEDEX if your order is urgent.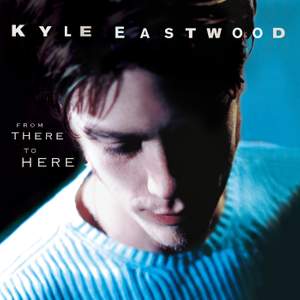 From There To Here
Kyle Eastwood (bass), John Steinmetz (bassoon), Mark Isham (trumpet), David Sanchez (tenor saxophone), Larry Hall (trumpet), Mike O'Donovan (bassoon), Warren Luening (trumpet), Phillip Yao (french horn), Andy Martin (trombone), David Duke (french horn), Rick Todd (french horn), Wayne Bergeron (trumpet),...
Contents
Doug Webb: Stanley Hill Dr.
Kyle Eastwood (bass), Gary Foster (woodwinds), Phillip Yao (french horn), David Duke (french horn), Rick Todd (french horn), George Graham (trumpet), Wayne Bergeron (trumpet), Warren Luening (trumpet), Larry Hall (trumpet), Mark Isham (trumpet), John Steinmetz (bassoon), Mike O'Donovan (bassoon), David Sanchez (tenor saxophone), Steve Kujala (woodwinds), Joel Peskin (woodwinds), Dan Higgins (woodwinds), Gayle Levant (harp), Peter Erskine (drums), Andy Martin (trombone)
Matt McGuire: Watch, Watch
Kyle Eastwood (bass), Kendall Kay (drums), Matt McGuire (piano), Doug Webb (tenor saxophone)
Kyle Eastwood (bass), Gary Foster (woodwinds), Phillip Yao (french horn), David Duke (french horn), Rick Todd (french horn), George Graham (trumpet), Wayne Bergeron (trumpet), Warren Luening (trumpet), Larry Hall (trumpet), Mark Isham (trumpet), John Steinmetz (bassoon), Mike O'Donovan (bassoon), David Sanchez (tenor saxophone), Steve Kujala (woodwinds), Joel Peskin (woodwinds), Dan Higgins (woodwinds), Gayle Levant (harp), Jim Cox (piano), Andy Martin (trombone)
Kyle Eastwood feat. Joni Mitchell, Kyle Eastwood (bass), Joni Mitchell (vocal), John Steinmetz (bassoon), Gary Foster (woodwinds), Plas Johnson (tenor saxophone), Mike O'Donovan (bassoon), Warren Luening (trumpet), Larry Hall (trumpet), Wayne Bergeron (trumpet), George Graham (trumpet), Rick Todd (french horn), David Duke (french horn), Phillip Yao (french horn), Steve Kujala (woodwinds), Joel Peskin (woodwinds), Dan Higgins (woodwinds), Gayle Levant (harp), Jim Cox (piano), T. Blade (guitar), Andy Martin (trombone)
Timothy Thomas: Why Can't We Live Together
Kyle Eastwood featuring Diana King, Kyle Eastwood (bass), Diana King (vocal), David Sanchez (tenor saxophone), Peter Erskine (drums)
Kyle Eastwood: Da Da Ba Ba Nu Nu
Kyle Eastwood (bass), Doug Webb (tenor saxophone), Matt McGuire (piano), Kendall Kay (drums)
David Mann, Bob Hilliard: In The Wee Small Hours
Kyle Eastwood feat. Julie Fordham, Kyle Eastwood (bass), Julia Fordham, Steve Kujala (woodwinds), Gary Foster (woodwinds), Mike O'Donovan (bassoon), John Steinmetz (bassoon), Larry Hall (trumpet), Warren Luening (trumpet), Wayne Bergeron (trumpet), George Graham (trumpet), Oscar Brashear (trumpet), Rick Todd (french horn), David Duke (french horn), Phillip Yao (french horn), Joel Peskin (woodwinds), Dan Higgins (woodwinds), Jim Cox (piano), Peter Erskine (drums), Gayle Levant (harp), Andy Martin (trombone)
Kyle Eastwood (bass), Steve Kujala (woodwinds), Phillip Yao (french horn), David Duke (french horn), Rick Todd (french horn), George Graham (trumpet), Wayne Bergeron (trumpet), Warren Luening (trumpet), Larry Hall (trumpet), John Steinmetz (bassoon), Mike O'Donovan (bassoon), Steve Tavaglione (soprano saxophone), Gary Foster (woodwinds), Joel Peskin (woodwinds), Dan Higgins (woodwinds), Gayle Levant (harp), Billy Childs (piano), Peter Erskine (drums), Andy Martin (trombone)
Matt McGuire: Chaff And Grain
Kyle Eastwood (bass), Kendall Kay (drums), Matt McGuire (piano), Doug Webb (tenor saxophone)
Matt McGuire: Enter Evening
Kyle Eastwood (bass), Sal Marquez (trumpet), Doug Webb (tenor saxophone), Kendall Kay (drums), Matt McGuire (piano), Michael Fisher (percussion)