UPDATE: Royal Mail have now resumed shipments on ALL International services but delays should be expected, please choose FEDEX if your order is urgent.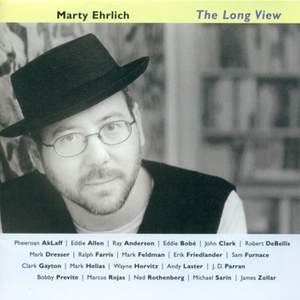 Ehrlich, M.: Long View (The)
Robert DeBellis (clarinet), Michael Sarin (drums), Andy Laster (baritone saxophone), J.D. Parran (tenor saxophone), Eddie Allen (trumpet), Marty Ehrlich (saxophone), Ralph Farris (viola), Mark Dresser (double bass), Ray Anderson (trombone), Marcus Rojas (tuba), James Zollar (trumpet), Mark Feldman...
Contents
Ehrlich, M: The Long View
Robert DeBellis (clarinet), Michael Sarin (drums), Andy Laster (baritone saxophone), J.D. Parran (tenor saxophone), Eddie Allen (trumpet), Marty Ehrlich (saxophone), Ralph Farris (viola), Mark Dresser (double bass), Ray Anderson (trombone), Marcus Rojas (tuba), James Zollar (trumpet), Mark Feldman (violin), John Clark (percussion), Wayne Horvitz (piano), Erik Friedlander (cello), Ned Rothenberg (bass clarinet), Bobby Previte (drums), Pheeroan Aklaff (drums), Sam Furnace (alto saxophone), Eddie Bobe (percussion), Clark Gayton (trombone)
Mark Helias