UPDATE: Royal Mail have now resumed shipments on their TRACKED, TRACKED & SIGNED and SIGNED services but delays should be expected, please choose these services if available to you or FEDEX if your order is urgent.
7th August 2019
 Classic Recordings

,

  Archie Shepp on Impulse!
Looking back to albums that I consider classics can sometimes be a challenge, as some of them are out of print, or as in the case of this week's artist, Archie Shepp, the individual albums that I once shelled out for individually at full-price are now collected together in nifty boxsets. The dilemma here being do I focus on just one album, or all of them? Seeing as this is such a strong collection, all of them classics from Shepp's mid-sixties golden period, I've decided to do the latter.
Born in Fort Lauderdale, Florida, in 1937, Archie Shepp became one of the most outspoken musicians of the civil rights movement, and aside from leading the charge for change through his music he was also a published playwright, having studied drama at Goddard College in the late fifties. The term 'firebrand' could have been coined with Shepp in mind, and a listen to any one of these albums reveals an artist on a mission to express the burning injustices of the black struggle through music. Shepp's tenor sax sound is instantly recognisable, often having a sharp and aggressive style with an R&B swagger and a Ben Webster influenced vibrato. Duke Ellington was also a huge influence on Shepp as a composer, informing some of the colours he added to his large groups, which regularly feature trombonists Grachan Moncur III and Rosewell Rudd (who appear together on Mama Too Tight) and also frequently included vibraphone, clarinet and tuba.
Four for Trane, Shepp's debut for Impulse!, is a sensible place to start, with Shepp reimagining Coltrane tunes in his own unique style. His first solo on Syeeda's Flute Song pretty much lays out Shepp's low-slung looseness on the tenor, always with a strong sense of the source material so that no matter how far-out he gets, he manages to keep our attention when other saxophonists of the era often seemed to possess more style than substance. He's similar to his contemporary Albert Ayler in this respect, sharing something of Ayler's deep vibrato tenor sound, but grooving in a much more direct way. The Impulse! contract actually came about because Coltrane recommended Shepp to producer Bob Thiele, and he was called up late at night to come to the studio to be photographed for the cover – as evinced by the fact that Coltrane is clearly wearing slippers!
The following year's Fire Music is where Shepp the composer comes to the fore, with several classics like Hambone and Los Olivados spilling over in righteous anger, whilst also having a satisfying sense of form, and something of Mingus's orchestral thinking. 'Fire Music' also became a term that was applied to a certain school of artists then engaged in the Black Power movement, many of whom recorded for Impulse! and ESP. Drummer Paul Chambers and bassist David Izenzon make for a swinging rhythm section, and this is one of the most satisfying elements about Shepp's music in this period – his rhythm sections are always a forward drive, at a time when many were deconstructing the notion of a drummer's role. Shepp also intersperses his poetry on several of these albums, starting here with Malcolm, Malcom – Semper Malcolm, a defiant tribute to the recently assassinated Malcolm X, with stark sax, bowed double bass and percussion.
Mama Too Tight is perhaps the definitive album of the period, the first side of the LP being taken up with one of Shepp's angriest moments, the eighteen-minute A Portrait of Robert Thompson. In terms of influence, Captain Beefheart is known to have been a fan of the album, with some of the skronk on Trout Mask Replica clearly being indebted. The second side balances the passion of the first with some more Ellingtonian moments that make use of the expanded brass section. On This Night is a collection of unreleased tracks from this 1964-66 period and stands as a solid collection in its own right, including a haunting rendition of Ellington's In a Sentimental Mood featuring vocalist Christine Spencer. The names in the band are a who's who of mid-sixties politicised jazz, with vibraphonist Bobby Hutcherson, Henry Grimes on bass, and Rashied Ali, J.C. Moses, Joe Chambers, and Ed Blackwell on drums.
The Way Ahead was Shepp's first recording to feature piano (many groups of the period avoided chordal instruments, feeling they restricted the music by tying it to explicit tonal centres) and opens with the bluesy Damn if I Know, a loose and rowdy track. This leads to another monster Shepp shred in Frankenstein, with drummer Beaver Harris laying down a phenomenal pulse with the help of bassist Ron Carter. Shepp understood the importance of tension and release, so the huge surges are balanced out with clearer textures, whilst the forward motion is maintained. This set is the ideal entry point into the work of Archie Shepp, offering some of the most exciting jazz of the sixties.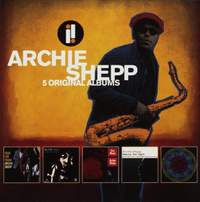 Including Four for Trane, Fire Music, On This Night, Mama Too Tight and The Way Ahead.
Available Format: 5 CDs
In the seventies Shepp's playing matured and he started to loose some of the rough edges and focus on the history of black music. This duo album with pianist Horace Parlan is a good example, a respectful collection of spirituals including Swing Low, Sweet Chariot, Nobody Knows the Troubles I've Seen and Deep River. I know some feel that Shepp went too soft after the wild years, but records like this demonstrate that he was convincingly exploring new areas whilst developing a more approachable sound.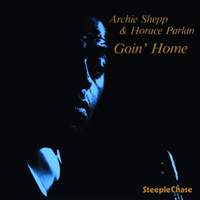 Archie Shepp / Horace Parlan
Available Formats: CD, MP3, FLAC