25th April 2019
 Classic Recordings

,

  Sonny Rollins - The Bridge
Sonny Rollins's The Bridge was the first album he recorded following a period self-imposed exile and wood-shedding from 1959-1961. In the mid-fifties Sonny Rollins was the hottest young player on the New York scene, undeniably Saxophone Colossus of his era (to quote the title of his most famous record). He had released a series of landmark albums that pushed sax virtuosity into new realms of both sophistication and grit, to the point where academic and composer Gunter Schuller wrote an essay analysing Blue Seven in which he stated "Today we have reached another juncture in the constant evolution of improvisation and the central figure of this present renewal is Sonny Rollins." He had pioneered performing and recording in a trio format with just a bassist and drummer, culminating in the acclaimed "A Night at the Village Vanguard" album on Blue Note. He had recorded with Miles Davis (who said Rollins was his favourite sax player), the Modern Jazz Quartet, Charlie Parker, Clifford Brown & Max Roach, Thelonious Monk, and with his only serious rival of the period, John Coltrane. Despite all of this success, by 1959 the notoriously self-critical Rollins was feeling unsatisfied by what he perceived as his own musical limitations and decided to go on sabbatical so that he could devote himself to practicing and further develop his musical language. At first he tried doing this in his home on the Lower East Side of Manhattan, but worried about disturbing an expectant mother in a neighbouring apartment he started taking his sax along the pedestrian walkway of the Williamsburg bridge, where he could practice all day without disturbing anyone, sometimes up to 16 hours a day. He did this everyday for over two years, reflecting back on the period that "I could have probably spent the rest of my life just going up on the bridge. I realized, no, I have to get back into the real world."
The Bridge was Rollins first album following his return, and his debut for RCA. At the time it disappointed many of the critics expecting a radical stylistic transformation – this was the period of Ornette Coleman's Shape of Jazz to Come and Coltrane's Giant Steps after all – but there is a genuine sense of reinvigoration about the album, and Rollins is in more of a team spirit here than on the trio sessions. It is comprised of four standards, two each bookending the album, and with a couple of brilliant Rollins originals in the middle. Of these two, John S opens with a strange passage with the band playing the theme in a slow, stop-start manner. This soon leads into a driving hard-bop workout, with Rollins daring to repeat his opening note as long as possible before leading into his joyous solo. The second Rollins tune The Bridge similarly delights in shaking things up compositionally, with the second half of the four-bar theme appearing like an unravelling of the first half, giving the comic impression of the band tripping over themselves. Rollins solo is a model of concision, racing around, excitedly telling anyone who will hear the good news, which clearly inspired guitarist Jim Hall to rise to the challenge. Hall worked well with saxophonists in the sixties, having played with Ben Webster, Paul Desmond and Lee Konitz, his clean guitar sound making a good alternative to the usual piano. There's a brilliant moment when everything breaks down to just Hall's staccato strum and Bob Cranshaw doing some fast-paced running bass figures. Pete La Roca's kit playing is consistently inspired throughout, always changing but never letting go of the thrust of the music.
Rollins was a master at re-interpreting the standards, using them a launchpad for his own flights of fantasy. God Bless the Child demonstrates Rollins powers of melodic invention, improvising around the melody in a romantically sparse manner, and You Do Something To Me is akin to a group of friends taking a stroll around central park in the evening, chatting amicably.
The Bridge is a great entry into the world of Sonny Rollins and will inevitably lead newcomers towards the more famous earlier recordings like Tenor Madness and Saxophone Colossus, whilst also pointing towards the more diverse styles of the later sixties and beyond.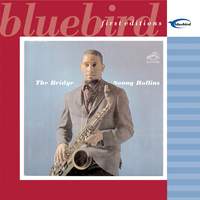 The classic album available in a nicely remastered version at a budget price.
Available Formats: CD, MP3, FLAC, Hi-Res FLAC, Hi-Res+ FLAC
Also highly recommended...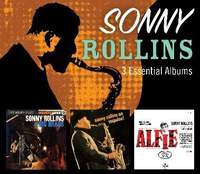 A diverse collection of Rollins albums in this boxset - 1958's Sonny Rollins and The Big Brass, a small-group-plus-horn-ensemble classic featuring Nat Adderley on cornet and Roy Haynes on drums; On Impulse! (1965), featuring Sonny's famous rendition of 'On Green Dolphin Street'; and Alfie, Rollins' score from the 1966 Michael Caine movie, featuring Oliver Nelson, JJ Johnson and Phil Woods.
Available Format: 3 CDs