UPDATE: Royal Mail have now resumed shipments on ALL International services but delays should be expected, please choose FEDEX if your order is urgent.
13th May 2021
Beginner's Guides

,

Best Saxophones for Beginners
With so many different options out there, it can be a daunting task trying to choose which model to purchase for your first instrument as a beginner. Our expert staff have looked through the range of instruments on offer, and selected our top four starter saxophones in order to help you make your decision. Have a look at our choices below, or click here to view our entire range of saxophones, including popular brands such as Yamaha, Trevor James, Jupiter, Odyssey, and more.
Don't forget also to check out our saxophone accessories, including reeds, cases & bags, instrument stands, and a wide selection of cleaning and maintenance products to keep your instrument in full working order. Finally, once you have made your choice, you will need some music to play! Visit our sheet music department in order to browse and purchase from our catalogue of over 11,000 saxophone titles, including solo & ensemble repertoire, studies, scales & sight-reading, and tuition books.
Our Top Four Starter Saxophones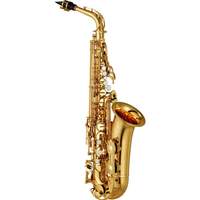 Yamaha is an established and reliable brand, and their instruments have been popular with teachers and students for many years. The Yamaha YAS-280 saxophone has been designed with students in mind, and is a high-quality instrument, robustly manufactured, with a strong mechanism and good key action. It is more free-blowing than most other student models, which makes learning more effortless. The Yamaha YAS-280 is one of the best student saxophones around and is well worth the price. A great investment for beginner musicians.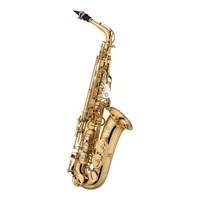 Jupiter is another trusted brand popular with students and teachers. All elements of the 500Q model have been made to ensure the best start to playing, and the instrument will last through the intermediate stages of playing. A durable and well set up starter instrument with a strong tone and easily accessible mechanism. A great choice for beginners.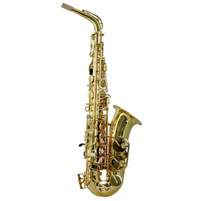 Trevor James are well-known for their excellent wind instruments, recommended by teachers and students. The Horn Classic II is a great choice for beginners, with ideal ergonomics and construction, making it easy to play. This saxophone has a warm and smooth tone, and is designed to be easy to blow. Comfortable, responsive, and easy to play, the Trevor James Horn Classic II is great value for money.
Also available from Trevor James is their Alphasax model which is perfect for younger beginners. Weighing much less than an ordinary saxophone, younger players are able to learn more quickly.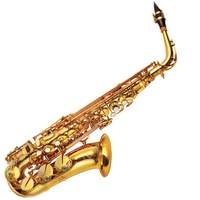 P. Mauriat is a well established brand with years of experience, and many professional players play on advanced P. Mauriat horns. Their instruments are extremely well made, have a great tone, good key placement for easy reach, and are known for being efficient instruments. Their technical precision combined with aesthetic beauty make these instruments a great choice for those serious about the instrument. The 185 Alto Saxophone has a classic rich sound with perfect resonance, a charming tone, and is full of expression, making it perfect for beginner and intermediate saxophone players.