US deliveries: Unfortunately we are receiving reports that some US orders are taking longer than usual to arrive. Find out more >>
Latest update: Changes to international postage charges. Find out more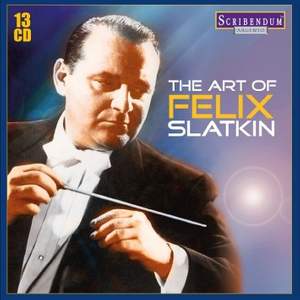 New

,

   Offer

,

 The Art of Felix Slatkin
Contents
Albéniz: Triana from "Iberia"
J. S. Bach: Air from BWV1068
J. S. Bach: Prelude & Fugue No.8, BWV 853
Bizet: Farandole from "L'Arlésienne"
Britten: Young Person's Guide to the Orchestra, Op. 34
Caplet: Conte Fantastique (The Masque of Red Death)
Carlos Chávez: Toccata for Percussion
Debussy: Petite Suite (orch. by H. Büsser)
Delibes: Pizzicato Polka from "Sylvia"
Delius: On Hearing the First Cuckoo in Spring
Delius: Summer Night on the River
Delius: Intermezzo from 'Hassan'
Delius: Serenade from 'Hassan'
Delius: Caprice for Cello and Orchestra
Delius: Elegy for Cello and Orchestra
Delius: Prelude to 'Irmelin'
Ernst von Dohnányi: Variations on a Nursery Theme, Op.25
Gershwin: Porgy and Bess, A Symphonic Picture
Gershwin: Rhapsody in Blue
Gershwin: An American in Paris
Glière: Russian Sailors' Dance from "The Red Poppy"
Morton Gould: Latin-American Symphonette
Grieg: Norwegian Dance No.2
Grieg: Peer Gynt Suites I & II
Grofé: Grand Canyon Suite
Grofé: Mississippi Suite
Ibert: Divertissement
Ippolitov-Ivanov: Caucasian Sketches, Op.10
Kabalevsky: Galop from "The Comedians"
Khachaturian: Sabre Dance from "Gayaneh"
Mendelssohn: Piano Concerto in D flat
Mendelssohn: A Midsummer Night's Dream
Massenet: Navarraise from "Le Cid"
Massenet: Méditation from "Thaïs"
McDonald: From Childhood Suite for Harp and Orchestra
Milhaud: Concerto for Percussion and Small Orchestra
Offenbach: Gaîté Parisienne (arr. Manuel Rosenthal)
Ravel: Boléro
Ravel: 1812 Overture
Ravel: Pavane for a dead princess
Rimsky-Korsakov: Capriccio Espagnol
Rimsky-Korsakov: Flight of the Bumble Bee
Rossini: William Tell Overture
Saint-Saëns: Carnival of the Animals
Saint-Saëns: Bacchanale from "Samson et Delilah"
Saint-Saëns: Introduction and Rondo Capriccioso
Sarasate: Zigeunerweisen
Johann Strauss II: Artist's Life
Johann Strauss II: Vienna Life
Johann Strauss II: Waltz from "Tales from the Vienna Wood"
Johann Strauss II: You and You from "Die Fledermaus"
Johann Strauss II: On the Beautiful Blue Danube
Johann Strauss II: Emperor Waltz
Johann Strauss II: Voices of Spring
Richard Strauss: Waltzes from "Der Rosenkavalier"
Suppé: Light Cavalry Overture
Tchaikovsky: The Nutcracker Suite
Tchaikovsky: Andante Cantabile
Tchaikovsky: Serenade for Strings
Tchaikovsky: Waltz from "The Sleeping Beauty"
Villa-Lobos: Bachianas Brasileiras No. 1, W.246
Waldteufel: Skaters' Waltz
Waldteufel: España
Weinberger: Polka from "Schwanda the Bagpiper"
Arrangements by A.R. Marino:
Arkansas traveler (Traditional)
Orange blossoms special (Traditional)
Listen to the mockingbird (Traditional)
Faded love (B. Wills)
Fisher's horn pipe (Traditional)
Chicken reel (J.M. Daly)
Devil's dream (Traditional)
Turkey in the straw (Traditional)
Back up and push (Traditional)
Maiden's prayer (Traditional)
Golden slippers (Traditional)
Fire on the mountain (Traditional)
Felix Slatkin (1915-1963) - Amerigo R. Marino (1925-1988)
Brass Pizzicato from "Symphony No.4" by Tchaikovsky
Hi-Fi Hero from "Symphony No.4" by Beethoven
For Elise from "Für Elise" by Beethoven
Pensive Prelude from "Prelude in C sharp minor by Rachmaninoff
Carmen's Hoedown from "Carmen" by Bizet
Wistful Haven from "Symphony of the New World" by Dvořák
Run Strings Run from "Rondo in D" by Mozart
Winter's Sadness from "Violin Concerto" by Tchaikovsky
The Merry Cobbler from "Zapeteado" by Sarasate
Havana Mist from "Havanaise" by Saint-Saëns
Three Plus Two from Symphony No.6 by Tchaikovsky
Twist the Can-Can from "Orpheus in the Underworld" by Offenbach
Reveille (Traditional)
U.S. Field Artillery march (Sousa)
Anchors Aweigh (Zimmerman)
U.S. Marines on Parade (Mancini)
U.S. Air Force song (Crawford)
Semper Paratus (van Boskerck)
Stars and Stripes Forever (Sousa)
Semper Fidelis (Sousa)
National Emblem (Bagley)
El Capitan (Sousa)
The Washington Post (Sousa)
The Thunderer (Sousa)
Under the Double Eagle (J.F. Wagner)
American Patrol (Meacham)
The Star-Spangled Banner (Smith)
Taps (Traditional)
Charge! (Arnaud)
Drummer Boys (Arnaud)
Buglers Dream (Arnaud)
Fifes and Drums (Arnaud)
Bagpipes and Drums (Arnaud)
When Johnny Comes Marching Home (Arnaud)
Bonanza (Livingston; Evans)
Golden Earrings (Livingston; Evans; Young)
Spellbound (David; Rózsa)
Terry's Theme from Limelight (Chaplin)
Theme from A Summer Place (Steiner)
Peter Gunn (Mancini)
Love Is A Many Splendored Thing (Webster; Fain)
Three Coins in The Fountain (Styne; Cahn)
Mr. Lucky (Mancini)
Gigi (Lerner; Vian; Loewe)
Green Leaves of Summer (Tiomkin; Webster)
Around the World (Adamson; Young)
Unchained Melody (A. North; H. Zaret)
The Magnificent 7 (E. Bernstein)
My Own True Love "Tara's Theme" (M. David; M. Steiner)
Last Date (F. Cramer)
Song from Moulin Rouge "Where Is Your Heart" (Auric; Engvick)
Theme from The Sundowners (Tiomkin)
Laura (D. Raskin; J. Mercer)
Never on Sunday (B. Towne; M. Hadjidakis)
Exodus (M. Gould)
Night Theme (R. Peterson; W. Cogswell)
Smile (Chaplin; Parsons; Turner)
It's Not Forever (D. Marks; D. Duran)