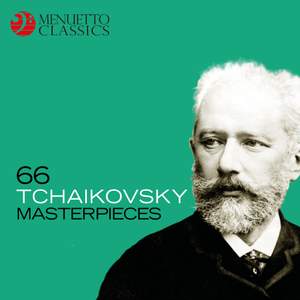 66 Tchaikovsky Masterpieces
Peter Toperczer (piano), Yuri Rozum (piano), Michael Ponti (piano), Klaus von Wildemann (piano), Hans Kalafusz (violin), Laszlo Varga (violin), Aaron Rosand (violin), Peter Becker (bass), Orchestra of Radio Luxemburg
Slovak Philharmonic Orchestra, Symphony of the Air, Belgrade Philharmonic...
Contents
 Excerpt,  Tchaikovsky: Piano Concerto No. 1 in B flat minor, Op. 23
Peter Toperczer (piano)
Slovak Philharmonic Orchestra
Bystrik Rezucha
I. Allegro non troppo e molto maestoso - Allegro con spirito
 Excerpt,  Tchaikovsky: The Nutcracker Suite, Op. 71a
III. Dance of the Sugar Plum Fairy
IV. Russian Dance (Trepak)
VII. Dance of the Reed Pipes
Tchaikovsky: Swan Lake, Ballet Suite, Op. 20a
Belgrade Philharmonic Orchestra
Igor Markevitch
I. Scene "Lake in the Moonlight"
Tchaikovsky: Sleeping Beauty, Suite, Op. 66a
The New Philharmonia Orchestra London
Lawrence Siegel
I. Introduction. the Lilac Fairy
Tchaikovsky: Romeo & Juliet - Fantasy Overture
London Philharmonic Orchestra
Lawrence Siegel
Tchaikovsky: Romance in F minor, Op. 5
Tchaikovsky: The Seasons, Op. 37b: June (Barcarolle)
Tchaikovsky: Scherzo à la Russe, Op. 1 No. 1
Tchaikovsky: Doumka, Russian Country Scene, Op. 59
Tchaikovsky: Valse-Caprice, Op. 4
Tchaikovsky: Valse Caprice in C Major
Klaus von Wildemann (piano), Hans Kalafusz (violin)
Tchaikovsky: Variations on a Rococo Theme for Violoncello and Orchestra, Op. 33: Var. VII e Coda. Allegro vivo
Laszlo Varga (violin)
Stuttgart Philharmonic Orchestra
Siegfried Köhler
Tchaikovsky: Marche slave, Op. 31
Cincinnati Pops Orchestra
Erich Kunzel
Tchaikovsky: Sérénade Mélancolique for Violin & Orchestra in B minor, Op. 26
Aaron Rosand (violin)
Baden-Baden Radio Symphony Orchestra
Tibor Szöke
Tchaikovsky: Mazeppa: Cossack Dance
Bamberger Symphoniker
Janos Furst
Tchaikovsky: Francesca da Rimini, Op. 32
Stadium Symphony Orchestra of New York
Leopold Stokowski
Tchaikovsky: Manfred, Symphony in 4 Tableaux after the Dramatic Poem of Byron, Op. 58: III. Andante con moto
London Symphony Orchestra
Eugene Goossens
Tchaikovsky: Capriccio italien, Op. 45
Slovak Philharmonic Orchestra
Bystrik Rezucha
Tchaikovsky: Eugen Onegin, Op. 24, Act III: Prince Gremin's Aria
Peter Becker (bass)
Bulgarian National Radio Symphony Orchestra
John Landor
Tchaikovsky: Symphony No. 1 in G Minor, Op. 13 "Winter Reveries"
Slovak Philharmonic Orchestra
Bystrik Rezucha
II. Adagio cantabile ma non tanto
 Excerpt,  Tchaikovsky: Symphony No. 2 in C minor, Op. 17 'Little Russian'
Utah Symphony Orchestra
Maurice Abravanel
I. Andante sostenuto - Allegro vivo
III. Allegro molto vivace
 Excerpt,  Tchaikovsky: Symphony No. 3 in D major, Op. 29 'Polish'
Utah Symphony Orchestra
Maurice Abravanel
II. Allegro moderato e semplice
 Excerpt,  Tchaikovsky: Symphony No. 4 in F minor, Op. 36
Utah Symphony Orchestra
Maurice Abravanel
IV. Finale. Allegro con fuoco
Tchaikovsky: Symphony No. 5 in E minor, Op. 64
London Symphony Orchestra
Sir Malcolm Sargent
I. Andante - Allegro con anima
II. Andante cantabile, con alguna licenza
III. Valse. Allegro moderato
IV. Finale. Andante maestoso - Allegro vivace
Tchaikovsky: Symphony No. 6 in B minor, Op. 74 'Pathétique'
Slovak Philharmonic Orchestra
Bystrik Rezucha
I. Adagio - Allegro Non Troppo
III. Allegro molto Vivace
IV. Finale. Adagio lamentoso
Tchaikovsky: Souvenir de Florence in D Minor, op. 70
Chamber Orchestra Conrad von der Goltz
Conrad von der Goltz
Tchaikovsky: Serenade for strings in C major, Op. 48
The World Symphony Orchestra
Leopold Ostrov
I. Pezzo in forma di Sonatina
IV. Finale. Andante - Allegro
Tchaikovsky: Violin Concerto in D major, Op. 35
Aaron Rosand (violin), Orchestra of Radio Luxemburg
Orchestra of Radio Luxembourg
Louis de Froment
III. Finale. Allegro vivacissimo
Tchaikovsky: Souvenir de Hapsal, Op. 2: No. 3. Song without Words in F major
 Excerpt,  Tchaikovsky: Morceaux (6), Op. 51
I. Valse de salon in A-Flat Major
VI. Valse sentimentale in F Minor
 Excerpt,  Tchaikovsky: Morceaux (6), Op. 19
Tchaikovsky: Six Piano Pieces Op. 21
I. Prélude. Allegro moderato
II. Fugue À Quatre. Allegro moderato
Tchaikovsky: Piano Sonata in C-Sharp Minor, Op. 80: I. Allegro con fuoco
Tchaikovsky: Piano Sonata in G Major, Op. 37: I. Moderato e risoluto
Tchaikovsky: 1812 Overture, Op. 49
Slovak Philharmonic Orchestra
Bystrik Rezucha