UPDATE: Royal Mail have now resumed shipments on ALL International services but delays should be expected, please choose FEDEX if your order is urgent.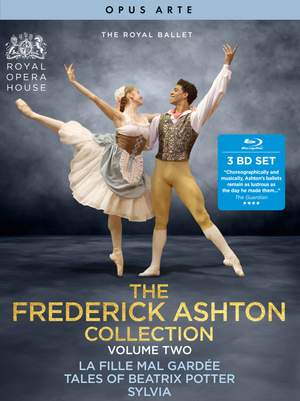 The Frederick Ashton Collection Vol. 2
Darcey Bussell (Sylvia), Roberto Bolle (Aminta), Thiago Soares (Orion), Marianela Nuñez (Lise), Carlos Acosta (Colas), William Tuckett (Simone), Jonathan Howells (Alain), Victoria Hewitt (Mrs. Tittlemouse), Ricardo Cervera (Johnny Town-Mouse), Jonathan Howells (Mrs. Tiggy-Winkle), Joshua Tuirua (Peter...
A happy collection of three noteworthy ballets presented in splendid style by a dance company at the top of its game

— More…
Contents
Darcey Bussell (Sylvia), Roberto Bolle (Aminta), Thiago Soares (Orion)
The Royal Ballet
Frederick Ashton (choreographer)
Hérold: La Fille mal gardée
Marianela Nuñez (Lise), Carlos Acosta (Colas), William Tuckett (Simone), Jonathan Howells (Alain)
The Royal Ballet
Frederick Ashton (choreographer)
Lanchbery: Tales of Beatrix Potter
Victoria Hewitt (Mrs. Tittlemouse), Ricardo Cervera (Johnny Town-Mouse), Jonathan Howells (Mrs. Tiggy-Winkle), Joshua Tuirua (Peter Rabbit)
The Royal Ballet
Frederick Ashton (choreographer)