UPDATE: Royal Mail have now resumed shipments on ALL International services but delays should be expected, please choose FEDEX if your order is urgent.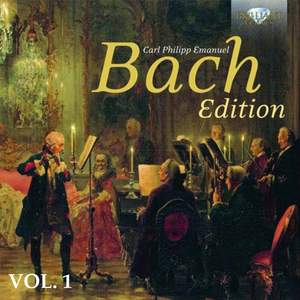 CPE Bach Edition, Vol. 1
Marek Toporowski (harpsichord), Klaus Kirbach (harpsichord), Anna Starr (oboe), Machiko Takahashi (flute), Pieter-Jan Belder (harpsichord), Stefano Bagliano (harpsichord)
Solamente Naturali, Carl Philipp Emanuel Bach Chamber Orchestra, Musica Poetica, Concertgebouw Chamber Orchestra, Musica...
Contents
Bach, C P E: Symphony in D major, Wq. 183 / 1 (H663)
Marek Toporowski (harpsichord)
Solamente Naturali
Didier Talpain
Sinfonia in D Major, Wq. 183 / 1, H. 663: I. Allegro di molto
Sinfonia in D Major, Wq. 183 / 1, H. 663: II. Largo
Sinfonia in D Major, Wq. 183 / 1, H. 663: III. Presto
Bach, C P E: Symphony in E flat major, Wq. 183 / 2 (H664)
Marek Toporowski (harpsichord)
Solamente Naturali
Didier Talpain
Sinfonia in E-Flat Major, Wq. 183 / 2, H. 664: I. Allegro di molto
Sinfonia in E-Flat Major, Wq. 183 / 2, H. 664: II. Larghetto
Sinfonia in E-Flat Major, Wq. 183 / 2, H. 664: III. Allegretto
Bach, C P E: Keyboard Concerto in C minor, Wq. 43 / 4 (H474)
Marek Toporowski (harpsichord)
Solamente Naturali
Didier Talpain
Keyboard Concerto in C Minor, Wq. 43 / 4, H. 474: I. Allegro assai
Keyboard Concerto in C Minor, Wq. 43 / 4, H. 474: II. Poco adagio
Keyboard Concerto in C Minor, Wq. 43 / 4, H. 474: III. Tempo di minuetto
Keyboard Concerto in C Minor, Wq. 43 / 4, H. 474: IV. Allegro assai
Bach, C P E: Symphony in F major, Wq. 183 / 3 (H665)
Marek Toporowski (harpsichord)
Solamente Naturali
Didier Talpain
Sinfonia in F Major, Wq. 183 / 3, H. 665: I. Allegro di molto
Sinfonia in F Major, Wq. 183 / 3, H. 665: II. Larghetto
Sinfonia in F Major, Wq. 183 / 3, H. 665: III. Presto
Bach, C P E: Symphony in G major, Wq. 183 / 4 (H666)
Marek Toporowski (harpsichord)
Solamente Naturali
Didier Talpain
Sinfonia in G Major, Wq. 183 / 4, H. 666: I. Allegro assai
Sinfonia in G Major, Wq. 183 / 4, H. 666: II. Poco andante
Sinfonia in G Major, Wq. 183 / 4, H. 666: III. Presto
Bach, C P E: Symphony in E flat major, Wq. 179 (H654)
Klaus Kirbach (harpsichord)
Carl Philipp Emanuel Bach Chamber Orchestra
Hartmut Haenchen
Sinfonia in E-Flat Major, Wq. 179, H. 654: I. Prestissimo
Sinfonia in E-Flat Major, Wq. 179, H. 654: II. Larghetto
Sinfonia in E-Flat Major, Wq. 179, H. 654: III. Presto
Bach, C P E: Sinfonia in F Major, Wq. 181, H. 656
Klaus Kirbach (harpsichord)
Carl Philipp Emanuel Bach Chamber Orchestra
Hartmut Haenchen
Sinfonia in F Major, Wq. 181, H. 656: I. Allegro
Sinfonia in F Major, Wq. 181, H. 656: II. Andante
Sinfonia in F Major, Wq. 181, H. 656: III. Allegro assai
Bach, C P E: Symphony in C major, Wq. 174 (H649)
Klaus Kirbach (harpsichord)
Carl Philipp Emanuel Bach Chamber Orchestra
Hartmut Haenchen
Sinfonia in C Major, Wq. 174, H. 649: I. Allegro assai
Sinfonia in C Major, Wq. 174, H. 649: II. Andante
Sinfonia in C Major, Wq. 174, H. 649: III. Allegro
Bach, C P E: Sinfonia in F Major, Wq. 175, H. 650
Klaus Kirbach (harpsichord)
Carl Philipp Emanuel Bach Chamber Orchestra
Hartmut Haenchen
Sinfonia in F Major, Wq. 175, H. 650: I. Allegro assai
Sinfonia in F Major, Wq. 175, H. 650: II. Andante
Sinfonia in F Major, Wq. 175, H. 650: III. Tempo di menuetto
Bach, C P E: Symphony in E minor, Wq. 178 (H653)
Klaus Kirbach (harpsichord)
Carl Philipp Emanuel Bach Chamber Orchestra
Hartmut Haenchen
Sinfonia in E Minor, Wq. 178, H. 653: I. Allegro assai
Sinfonia in E Minor, Wq. 178, H. 653: II. Andante moderato
Sinfonia in E Minor, Wq. 178, H. 653: III. Allegro
Bach, C P E: Oboe Concerto in B flat major, Wq. 164 (H466)
Anna Starr (oboe)
Musica Poetica
Jorn Boysen
Oboe Concerto in B-Flat Major, Wq. 164, H. 466: I. Allegretto
Oboe Concerto in B-Flat Major, Wq. 164, H. 466: II. Largo e mesto
Oboe Concerto in B-Flat Major, Wq. 164, H. 466: III. Allegro moderato
Bach, C P E: Pastorale in A Minor, Wq. deest
Anna Starr (oboe)
Musica Poetica
Jorn Boysen
Bach, C P E: Oboe Sonata in G minor, Wq. 135 (H549)
Anna Starr (oboe)
Musica Poetica
Jorn Boysen
Oboe Sonata in G Minor, Wq. 135, H. 549: I. Adagio
Oboe Sonata in G Minor, Wq. 135, H. 549: II. Allegro
Oboe Sonata in G Minor, Wq. 135, H. 549: III. Vivace
Bach, C P E: Oboe Concerto in E flat major, Wq. 165 (H468)
Anna Starr (oboe)
Musica Poetica
Jorn Boysen
Oboe Concerto in E-Flat Major, Wq. 165, H. 468: I. Allegro
Oboe Concerto in E-Flat Major, Wq. 165, H. 468: II. Adagio ma non troppo
Oboe Concerto in E-Flat Major, Wq. 165, H. 468: III. Allegro ma non troppo
Oboe Concerto in B-Flat Major, Wq. 164, H. 466
Machiko Takahashi (flute)
Concertgebouw Chamber Orchestra
Roland Kieft
Oboe Concerto in B-Flat Major, Wq. 164, H. 466: I. Allegretto
Oboe Concerto in B-Flat Major, Wq. 164, H. 466: II. Largo e mesto
Oboe Concerto in B-Flat Major, Wq. 164, H. 466: III. Allegro moderato
Bach, C P E: Flute Concerto in D Minor, Wq. 22, H. 426
Machiko Takahashi (flute)
Concertgebouw Chamber Orchestra
Roland Kieft
Flute Concerto in D Minor, Wq. 22, H. 426: I. Allegro
Flute Concerto in D Minor, Wq. 22, H. 426: II. Un poco andante
Flute Concerto in D Minor, Wq. 22, H. 426: III. Allegro di molto
Oboe Concerto in E-Flat Major, Wq. 165, H. 468
Machiko Takahashi (flute)
Concertgebouw Chamber Orchestra
Roland Kieft
Oboe Concerto in E-Flat Major, Wq. 165, H. 468: I. Allegro
Oboe Concerto in E-Flat Major, Wq. 165, H. 468: II. Adagio ma non troppo
Oboe Concerto in E-Flat Major, Wq. 165, H. 468: III. Allegro ma non troppo
Bach, C P E: Harpsichord Concerto in G major, Wq. 34 (H444)
Pieter-Jan Belder (harpsichord)
Musica Amphion
Keyboard Concerto in G Major, Wq. 34, H. 444: I. Allegro di molto
Keyboard Concerto in G Major, Wq. 34, H. 444: II. Largo
Keyboard Concerto in G Major, Wq. 34, H. 444: III. Presto
Bach, C P E: Keyboard Concerto in G minor, Wq. 6 (H409)
Pieter-Jan Belder (harpsichord)
Musica Amphion
Keyboard Concerto in G Minor, Wq. 6, H. 409: I. Allegro
Keyboard Concerto in G Minor, Wq. 6, H. 409: II. Largo
Keyboard Concerto in G Minor, Wq. 6, H. 409: III. Allegro di molto
Bach, C P E: Keyboard Concerto in E, Wq. 14 (H417)
Pieter-Jan Belder (harpsichord)
Musica Amphion
Keyboard Concerto in E Major, Wq. 14, H. 417: I. Allegro
Keyboard Concerto in E Major, Wq. 14, H. 417: II. Poco adagio
Keyboard Concerto in E Major, Wq. 14, H. 417: III. Allegro assai
Bach, C P E: Keyboard Concerto in D minor, Wq. 22 (H425)
Stefano Bagliano (harpsichord)
Collegium Pro Musica
Keyboard Concerto in D Minor, Wq. 22, H. 425: I. Allegro
Keyboard Concerto in D Minor, Wq. 22, H. 425: II. Poco andante
Keyboard Concerto in D Minor, Wq. 22, H. 425: III. Allegro di molto
Bach, C P E: Sonatina in E-Flat Major, Wq. 108, H. 462
Sonatina in E-Flat Major, Wq. 108, H. 462: I. Largo
Sonatina in E-Flat Major, Wq. 108, H. 462: II. Allegro di molto
Sonatina in E-Flat Major, Wq. 108, H. 462: III. Tempo di minuetto
Bach, C P E: Quartet (Trio) for Flute, Viola, Cello and Keyboard in A minor, Wq. 93 (H537)
Quartet No. 1 for Keyboard, Flute and Viola in A Minor, Wq. 93, H. 537: I. Andantino
Quartet No. 1 for Keyboard, Flute and Viola in A Minor, Wq. 93, H. 537: II. Largo e sostenuto
Quartet No. 1 for Keyboard, Flute and Viola in A Minor, Wq. 93, H. 537: III. Allegro assai
Bach, C P E: Trio in F Major, Wq. 163, H. 588
Trio in F Major, Wq. 163, H. 588: I. Un poco andante
Trio in F Major, Wq. 163, H. 588: II. Allegretto
Trio in F Major, Wq. 163, H. 588: III. Allegro