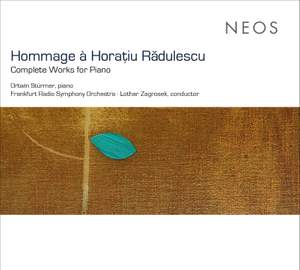 Hommage à Horațiu Rădulescu: Complete Works for Piano
Ortwin Stürmer (piano)
Lothar Zagrosek
Only the first of these discs is newly recorded but the other two have been remastered to convey the precision and panache of Sturmer's pianist with impressive clarity…This set is cordially recommended...

— More…
Gramophone Magazine

December 2019

Critics' Choice
Contents
Radulescu, H: Omaggio a Domenico Scarlatti, Op. 2
Radulescu, H: Piano Sonata No. 6, Op. 110 'Return to the Source of Light'
II. Kalotrope of the Eternal
Radulescu, H: Piano Sonata No. 5, Op. 106, "Settle Your Dust, This Is the Primal Identity"
I. The Path into the Light Seems Dark
II. Darkness Within Darkness - The Gateway to All Understanding
III. Use Your Own Light - And Return to the Source of Light - This Is Called "Practicing Eternity"
Radulescu, H: Piano Sonata No. 1, Op. 5 'Cradle to Abysses'
I. Giusto fluente - Lento
Radulescu, H: Piano Sonata No. 2, Op. 82 'Being and Non-being Create Each Other
Radulescu, H: Piano Sonata No. 3, Op. 86 'You Will Endure Forever'
I. If You Stay in the Center
II. And Embrace Death with Your Whole Heart
V. You Will Endure Forever
Radulescu, H: Piano Sonata No. 4, Op. 92 - 'like a well … older than God'
I. Trumpets of the Eternal
II. The Sacred Sound, the Second
III. Music... Older Than Music
Radulescu, H: Piano Concerto, Op. 90 'The Quest'
Ortwin Stürmer (piano)
Frankfurt Radio Symphony Orchestra
Lothar Zagrosek
II. The Second Sound. The Sacred (Live)
III. Ancestor's Chants (Live)