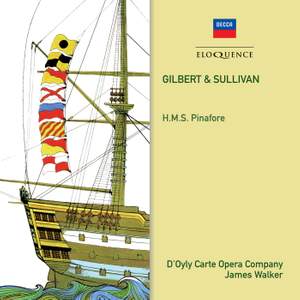 Offer

,

Sullivan, A: HMS Pinafore
John Reed (Sir Joseph Porter), Pauline Wales (Hebe), Thomas Lawlor (Captain Corcoran), Christine Palmer (Little Buttercup), Ralph Mason (Ralph Rackstraw), Valerie Masterson (Josephine), John Ayldon (Dick Deadeye), Arthur Jackson (Bob Becket), Jon Ellison (Bob Bobstay)
D'Oyly Carte Opera Chorus,...
2 CDs
Original price
($15.50)
Reduced price
$12.50
Contents
Sullivan, A: HMS Pinafore
Christene Palmer (mezzo-soprano), Valerie Masterson (soprano), Jon Ellison (baritone), Ralph Mason (tenor), Thomas Lawlor (baritone), John Alydon (bass), Pauline Wales (soprano), Arthur Jackson (bass), John Reed (baritone)
The D'Oyly Carte Opera Chorus, Royal Philharmonic Orchestra
James Walker
Recorded: 1971-02-14
Recording Venue: Decca Studios, West Hampstead, London
I'm called Little Buttercup
Aye, Little Buttercup - and well called (dialogue)
But tell me, who's the youth?
Ah, my poor lad, you've climbed too high
My gallant crew, good morning
I am the Captain of the Pinafore
Sorry her lot who loves too well
My child, I grieve to see
Over the bright blue sea...Sir Joseph's barge is seen
Now give three cheers...I am the monarch of the sea
When I was a lad I served a term
You've a remarkably fine crew
Ah! Sir Joseph's a true gentleman
A British tar is a soaring soul
It is useless - Sir Joseph's attentions...
Can I survive this overbearing?
O joy, o rapture unforeseen
Let's give three cheers for the sailor's bride
Fair moon, to thee I sing
How sweetly he carols forth
Things are seldom what they seem
Incomprehensible as her utterances are
A simple sailor, lowly born
Madam, it has been represented to me
Never mind the why and wherefore
Sir Joseph, I cannot express to you...
Kind Captain, I've important information
Dick Deadeye - I thank you for your warning
Hold pretty daughter...He is an Englishman
In uttering a reprobation
Now tell me my fine fellow
A joy! Oh rapture unforseen