UPDATE: Royal Mail have now resumed shipments on their TRACKED & SIGNED and SIGNED services but delays should be expected, please choose these services if available to you or FEDEX if your order is urgent.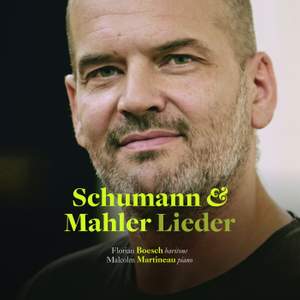 Offer

,

 Schumann & Mahler: Lieder
Florian Boesch (baritone), Malcolm Martineau (piano)
Boesch's flexible and rich-grained baritone blends with the colourful support of Malcolm Martineau at the piano to offer splendidly characterised accounts of the Schumann…It's in the Mahler,...

— More…
CD
Original price
($16.25)
Reduced price
$9.75
Contents
Schumann: Liederkreis, Op. 39
Florian Boesch, Malcolm Martineau
I. In der Fremde "Aus der Heimat hinter den Blitzen rot"
II. Intermezzo "Dein Bildnis wunderselig"
III. Waldesgespräch "Es ist schon spät"
IV. Die Stille "Es weiß und rät es doch Keiner"
V. Mondnacht "Es war, als hätt' der Himmel"
VI. Schöne Fremde "Es rauschen die Wipfel und schauern"
VII. Auf einer Burg "Eingeschlafen auf der Lauer"
VIII. In der Fremde "Ich hör' die Bächlein rauschen"
IX. Wehmut "Ich kann wohl manchmal singen"
X. Zwielicht "Dämmrung will die Flügel spreiten"
XI. Im Walde "Es zog eine Hochzeit den Berg entlang"
XII. Frühlingsnacht "Überm Garten durch die Lüfte"
 Excerpt,  Schumann: Lieder und Gesänge aus Goethes Wilhelm Meister, Op. 98a
Florian Boesch, Malcolm Martineau
I. IV. Wer nie sein Brot mit Tränen ass
II. VI. Wer sich der Einsamkeit ergibt
III. VIII. An die Türen will ich schleichen
Mahler: Lieder eines fahrenden Gesellen
Florian Boesch, Malcolm Martineau
I. Wenn mein Schatz Hochzeit macht
II. Ging heut' morgen über's Feld
III. Ich hab' ein glühend Messer
IV. Die zwei blauen Augen