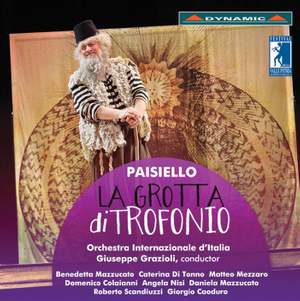 Paisiello: La Grotta di Trofonio
Benedetta Mazzucato (Dori), Caterina Di Tonno (Rubinetta), Matteo Mezzaro (Artemidoro), Domenico Colaianni (Don Gasperone), Angela Nisi (Eufalia), Daniela Mazzucato (Madama Bartolina), Roberto Scandiuzzi (Trofonio) & Giorgio Caoduro (Don Piastrone)
Orchestra Internazionale d'Italia, Giuseppe...
The music falls easily on the ear. The first part of Eufelia's 'In udir que-cari accenti', a gentle Andante, includes attractive writing for oboe and bassoon…Grazioli conducts a lively performance...

— More…
Contents
Paisiello: La Grotta di Trofonio
Benedetta Mazzucato (contralto), Angela Nisi (soprano), Giorgio Caoduro (baritone), Matteo Mezzaro (tenor), Domenico Colaianni (baritone), Roberto Scandiuzzi (bass), Daniela Mazzucato (soprano), Caterina Di Tonno (soprano)
Orchestra Internazionale d'Italia
Giuseppe Grazioli
Recorded: July 2016
Recording Venue: Palazzo Ducale, Martina Franca, Italy
Act I: Figlie di voi sapete
Act I: Largo, largo al matrimonio
Act I: Scusa sa, ca nuje aute napoletane
Act I: In udir que' cari accenti
Act I: Genero mio garbato
Act I: Vigliaccon, balordo, indegno
Act I: Se in quest'antro talun
Act I: Viaggiando e senza un soldo
Act I: Se un po' mi venissi la porta a bussar
Act I: Molti vidi dall'antro
Act I: Basta qui ragazza astuta
Act I: Che smania … che pena
Act I: Oh degli incanti miei
Act I: Perduto ho le mie figlie
Act I: Cavaglier yo son d'Espagna
Act I: E' troppo buona quella donzella
Act I: Gelo ohimé da capo a piede!
Act I: Di un tale affronto ingrato
Act II: Dunque creder potrò
Act II: Batti ben col martelletto
Act II: O guarda quel Piastron
Act II: Non son io qual mi credete
Act II: Come, ohimé! Che ardir, che orrore!
Act II: Si ritiri ciascun
Act II: Che vale un milordino
Act II: Ecco entrato Piastrone
Act II: Voglio comando ed ordino
Act II: Di qual scritto mi parlano quei pazzi
Act II: Dolce é la greca musica
Act II: Di che parlan costor?
Act II: Si vuol saper chi sono
Act II: Gnò pa', curre fa tu …
Act II: Eccomi in pianta, tiseco
Act II: Ambi partiti sono!
Act II: Trofonio Trofonio, filosofo greco
Act II: Giura alla locandiera dar la mano
Act II: Che delizie! Che contenti
Act II: Lo stupor mandiamo in bando